About Us
It happens millions of times each week – a patron goes into a bar and the bartender helps – but who helps the bartender?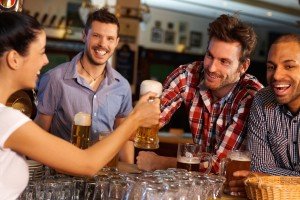 Some consider the bar the most honest place in the world. Although debatable, no one can debate that the bar is the one place we go all over the world to celebrate the good times and express our frustrations during the bad times. The bartender hears and sees it all. 
So how do you find the best bartenders?
Over the years, we've traveled to different places all over the world. We've spent a lot of time at the bars and it's been hard to get to know people in such a short amount of time. Our experience was always better in the presence of a great bartender regardless of the location. The bartender had a direct impact on how much fun we had, but noticed how undervalued they were.
Based on our experience with great bartenders, we found that some of them lost touch with their favorite customers when they moved to various establishments. We wanted to figure out a way  to make sure that they could always stay in touch with their customers no matter where they worked.
The bar is the place to go to figure out life's problems. And the bartender is the person to help people solve those problems. We want to empower the bartender because they are a very important part of the equation of helping others.
At BOTY, we want to help improve the way we connect while out by connecting people at bars all over the world.
Check out the mission statement and core values of the company!