World's best bars & drink guide
Humans  have basically been getting drunk since graduating from caveman status. Small amounts of alcohol have been found in the pottery of ancient Chinese civilizations.
And there's written mentions of the stuff as far back as the time of Julius Caesar. The earliest booze may have been crudely made from whatever was available, but everyone made something. Since those early days, alcohol has continued to be a major part of our daily life.
There's very few cultures that don't partake. Even those places where it's illegal often have loopholes like "hotel bars" for tourists. Because bars have been a staple of our lives for centuries and a popular public gathering place throughout history. In an interesting way, the history of bars and bartending is the history of humanity. Read on for some interesting facts about alcohol, getting drunk, and the people who make it all possible (kind of).  Click here to read more.

Best Bars
Across the United States there are thousands of great bars. Choosing only 10 U.S. bars was quite hard as there are so many amazing places to check out. However, I wanted to choose bars that were unique, memorable and unusual. Check out these 10 and let me know about your experience. Click here to read more.
1
Best Drinks
There are so many amazing alcoholic drinks on the market today make it hard to choose a favorite. However, after a bit of research, social media pondering and asking around I came up with the top alcoholic drinks this year. They are in no particular order, just 10 drinks that we all love and want more of in 2016. Click here to read more. 
1
Special Drinks for Special Occasions
Sometimes, a regular cocktail just doesn't do it, especially during the holidays. It's not that it tastes bad, but sipping something that looks like a regular glass of alcohol doesn't really scream "holiday spirit," if you ask me. Behold are some incredible layered drinks for popular occasions. Click here to read more.
Making the Best Drinks at Home
Not everyone wants to work as a bartender, but that doesn't stop us from becoming an occasional home bartender.Sometimes, though, something feels a little bit off when you try to play the part. Like something's missing. The problem isn't the dearth of customers—you're guaranteed at least one a night anyway. Rather, it's the lack of supplies. Sure, you might know how to mix some soda with vodka. But do you know how to make a killer cocktail for your friends? I'm talking about making a drink taste and look like it actually belongs in a bar. You know, instead of on some crumb-infested kitchen countertop.
Aside from the alcohol itself and whatever syrups and mixers you like, here are six bar staples that'll transform your home bar from just-out-of-college to pretty-damn-authentic.
Best Tap Rooms
Lately craft beer and even homemade beer has been all the rage across the United States. Beer can come in a variety of colors and distinct tastes. This gives beer lovers so many options. If you are into craft beer and want to be adventurous you definitely have to check out these 7 taprooms for yourself! Click here to read more. 
1
Non-Traditional Guide to Drinking Out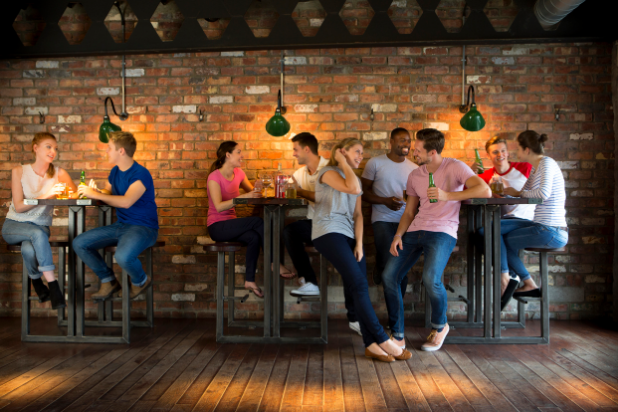 Bartending is a career that consist of a variety of venues to work at. When most people think about bartending jobs they automatically think about the stereotypical bartender who works at a bar. However, the types of places that bartenders can work at are endless. This career path really has many wonderful opportunities around the world. There are many nontraditional places bartenders work.  
Most bartenders work at nightclubs, bars, hotels, restaurants and catering companies. However, there is a whole range of fun venues and atmospheres that a bartender can work at.  Click here to read more.