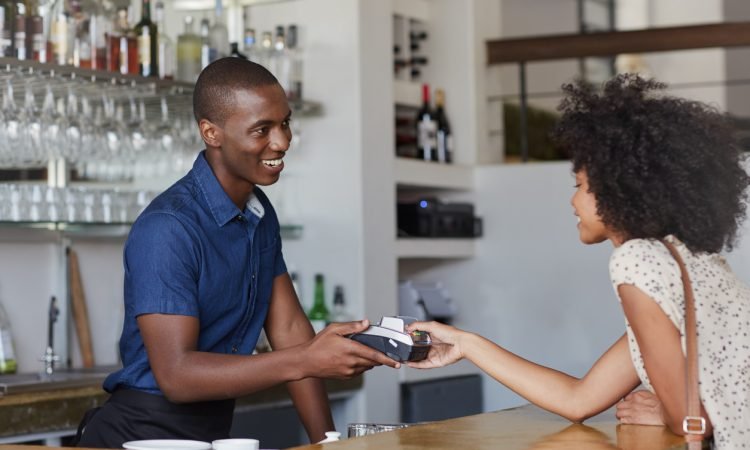 Bartending is all about interacting with guests, serving great drinks and making people happy. One of the most important aspects of the job is serving your customers.

Here are several tips to ensure you are serving your customers with the best possible care.
Be Prepared
Come to work prepared for the day. You can not serve your customers very well on only a few hours of sleep. This also applies to your work area. Make sure everything is in it's proper place and the bar is well stocked. Customers hate it when you say that you are out of something they want. If you are well prepared it will really help you serve your customers to the best of your ability.
Anticipate Problems
Many problems can be prevented if you pay close attention. If a customer has their glass too close to the edge of the bar, or a customer seems to have had too much to drink, you can fix the issues before they become a problem. This also applies to things like running out of ice, or not having enough clean glasses for drinks. If you pay attention to your surroundings and foresee possible problems you can keep things running smoothly.
Know The Menu
As a bartender you should know the menu at your establishment even if you only serve drinks. If you are knowledgeable, you come off as more credible to your customers. Keep in mind a few things on the menu that are great for recommendations when helping a customer decide what to order. Don't just hand your customers a menu and let them review it themselves. Tell them about specials and things you like on the menu. This will build up good rapport with your customers and regulars.
Work Fast and Efficiently
Bars get busy. If you want to better serve your clients you have to be willing to work fast without dropping the ball on your customer service. Customers do not like to wait, so it is important to get to them as soon as possible. However, if you are fast but messy, you are more likely to give poor service and upset customers. So, you need to find that happy medium.
Pay Attention To Customers
If your customer's drink is almost empty offer to refill it. If their meal is almost finished ask if they want the check. It's in the little details of your service that makes you a great bartender. Customers will come back if you are paying attention to their needs. If you make their experience personable and have things ready even before they ask you will be rewarded with loyalty.
Shhhh…
There are things that are okay to talk about and then there are things to avoid. Knowing when to tell a good joke or when to see yourself out of a conversation are key. Keep in mind you are there to serve and be there for your clients but there are also lines you can't cross. A good rule of thumb is to always stay away from topics on politics and religion. Also, don't over assert your opinions or push ideas onto your customers. It's okay to play the role of a good friend and listener, but it's not a good idea to get into controversial material.
Keep Your Work Area Clean
Nobody wants to order drinks at a dirty bar. People go to bars to have a good time and escape life for a while. So your bar has to keep up with the illusion of a fun place to be. Also, a messy bar poses health risks, so be sure to keep it clean. Your customers will appreciate it.
Control Your Environment
A lot goes on at the bar. In order to serve your customers you have to be mindful of the atmosphere. Is it too cold or too hot? Is the music too loud? Is a customer upsetting another customer? Are your customers into the television show that is on? If you control what's going on you will make your customers more comfortable and be able to serve them better. Also keep in mind there are things you can not control like the weather. But you can always find a way to make the best out of things you can control.
Good Money Handling Skills Are Key 
A good bartender knows how important money is to people. The way you handle people's money or credit cards ensures that you have satisfied customers. Take the time to make sure you are giving correct change every time and don't count your tips until you are off work. Serving your customers also means handling bar tabs and bills with great care.
Want to connect with people at your bar in a whole new way? Download the BOTY on iTunes or Google Play for free!