Everybody loves trivia. And once you add drinks and dozens of patrons, you're in for some good times. People love to compete, and with game trivia you can also cash in as people spend more money at your bar.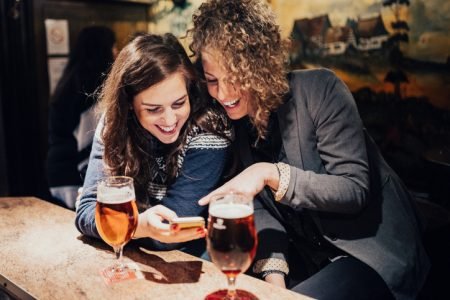 If you've thought about doing game trivia at your location, there's a ton of reasons why you need to make it happen now. Here's how game trivia makes for an awesome bar.
People Come From Miles Around to Be There
One of the coolest things about hosting trivia nights at your bar is that people will come from miles around just to be a part of it. Not only do people love competing, they also love the prizes and cash that come along with winning.
While the trivia team members give their best answers, the bar crowd will also get a kick out of making fun of stupid-funny wrong answers and cheering on the people in the game. Having game trivia can also mean the difference between the majority of patrons staying for one round of drinks versus staying for the duration.
Turns Around Slow Weekday Nights
What better way to put useless knowledge to good use than to use it to bring people in the door on a slow Tuesday night? While most bartenders chalk up slow tips on weekdays to just a fact of bartender life, a well-planned game of trivia will get people in the door on the off days.
Here's a pro tip: You can even hire an MC to shame people into staying longer by announcing bar specials during the game.
Brings Everybody Together
Under normal circumstances, strangers at the bar don't really have a reason to talk to each other. But suddenly when you add trivia to the mix, all bets are off. When game trivia night is on, suddenly you'll see a lot more people chatting it up about their favorite episodes of Game of Thrones.
With BOTY app, people can use their phones to participate in the trivia game rather than being bored and on Facebook. Make BOTY app and game trivia night at your bar the reason why Jane and Jim met and went on their first date!
Become Known for Something
So fancy cocktails or famous celebrities are simply out of the question for the crowd your bar usually attracts (or the bar owner's budget). Don't give up! Your bar can still become known for something!
Instead, turn your bar into the only one in town that has a themed trivia night. As people show up to participate each week, you'll create your own versions of local celebrities. Treat them like rockstars and encourage teams to create their own unique team gear to generate the excitement.


Want to connect with people at your bar in a whole new way? Download the BOTY App on iTunes or Google Play for free!
Want to work as a bartender but don't have any experience? Well, we've got good news and bad news for you.
The good news is; landing a job in the service industry is pretty easy. The bad news is; it may not be a bartending job right off the bat. Not to worry though, because we've got some tips for breaking into the industry.
Make Friends with Bartenders
By far the most important thing you can do to land yourself a sweet bartending gig is to befriend some bartenders. As with most industries, bars and restaurants are all about nepotism. If someone who likes you knows you need a job, the next time they hear of one they'll recommend you.
If you don't have any experience bartending, why not ask a friend if you can train with them? This may not fly in fine dining establishments but I know several dive bars where the bartenders train the occasional newbie.
Act Professional 
Just because bartending is a fun job in environments that are often relaxed and casual doesn't mean you should be too informal. Bring a resume to interviews, dress professionally, and be on time. It sounds ridiculous, but just these three things will set you apart from the rest.
Hit the Pavement
I've gotten two bartending jobs by simply walking in with my resume (during non-busy times of course) and asking if the place is hiring. Yes, this is tedious and time consuming but it can pay off if you're in the right place at the right time.
Start Small
If you've never bartended before you may need to start off in a different position such as barback or hostess. Then when a position opens up, you'll be there to fill it. Don't worry, turnover in restaurants tends to be high and an opportunity may arise  sooner than you think..
Skip Bartending School
Bartending school is widely laughed at in the service industry and the things you learn there rarely translate to reality. Instead, focus on getting actual training somewhere. Don't worry about memorizing a million drinks, that will come with time. Bartending is about being efficient, friendly, and good in a team setting.
Don't Skip Certifications
Many bars and restaurants require certifications such as a food handler's license or TIPS certifications. These courses are cheap and not too time-intensive and employers love to see that on a resume. 
Got any other tips? Let us know!
Want to connect with people at the bar in a whole new way? Download the BOTY App on iTunes or Google Play for free!
An apple a day keeps the doctor away, but what about an appletini? Is there a correlation with health benefits and drinking alcohol?
We've all said some stupid things at the bar, and especially when we've had too much to drink. However, your bartender should not be the person you say it to. Know what to say and what to never say to a bartender.
Have you ever just sat back and observed the different personalities that come in the bar? People are fascinating and when alcohol is involved they become even more so. From the hip, trendy bar customers to the every day regulars, there is never a dull moment at the bar. I have observed 7 different types of bar customers.
.
The Sophisticated Drinker
These bar goers are usually easy to spot. Their high-end clothes and trendy personalities usually shine through. A sophisticated drinker is typically into top of the line drinks like scotch, bourbon or dirty vodka martinis. However, they also may like a good red wine or a craft stout beer. Bartenders seem to like a sophisticated drinker.
It always impressed them when you order a good, classy drink. So, if you want to score points with your bartender, order their favorite scotch on the rocks or a gin and tonic. But a word of caution, being a sophisticated drinker is not cheap. It costs money to sling back those expensive drinks all night.
The Manly Drinker
A manly drinker is your beer drinker that frequents bars during big sports games or any other big event. Typically he never drinks alone. A manly drinker will have three to five of his buddies or co-workers with him. Drinking for them is so much more fun when you have buddies with you.
The manly drinkers will most likely hog one side of the bar or a pool table, but preferably they will be on the side of the room where they can see a television. In the eyes of a manly drinker nothing is better than a cold beer and big game. It doesn't matter what type of beer they are drinking, as long as it is beer. Occasionally, when the game is going well they may order a round of shots.
The Lover of Wine
These are most oftenly beautiful ladies who have a good palate and a taste for high-end drinks. There are three different types of wine lovers:The Red Wine Drinker: The red wine drinker typically will only like deep red, full body wines. They seem to have a passion for life and are very loyal to their friends.
-----The Red Wine Drinker: The red wine drinker typically will only like deep red, full body wines. They seem to have a passion for life and are very loyal to their friends.
-----The White Wine Drinker: The white wine drinker is usually a somebody who just started to take an interest in wine or the girl who is mainly likes sweet drinks. This wine lover is a lot of fun to hang out with and a bit of flirt.
-----The Wine Connoisseur: Now the wine connoisseur is a true wine drinker who will order a fine wine regardless if it's red or white. This type of wine drinker knows what goes into a great wine and will test your knowledge of the wine.Also, The wine connoisseur has a great palate and knows what he or she likes.
No matter what type of lover of wine a person is, one thing is for sure they tend to enjoy the finer things in life and they tend to not rush through life haphazardly.
https://botyapp.com/blog-people-love-bar/
The Shot Master
This type of bar goer loves to have shots. It doesn't matter what the shot is. He or she is a thrill seeker and knows the fastest way to a buzz is a by downing few shots. The shot master is always the life of the party. They love anything from Irish Car Bombs to a shot of Jack or even the popular Jaegar bomb. You have to watch out for these guys though, like that saying goes,'1 tequila, 2 tequila, floor', too many shots can mean trouble.
The Girlie Drinker
The girlie drinker is your average woman who likes a good daiquiri, margarita or a good mixed drink. Many of these drinkers love their vodka and red bulls or Tequila Sunrises. These are usually the fun ladies at the bar and can typically be found in the corner surrounded by 6 or 7 of their closest friends, giggling and having a good old time.
The Big Spender
This guy is usually harder to spot in crowd, at first. He tends to blend in well and starts out drinking slowly. However, after a few drinks he starts buying rounds for everyone while he flaunts his money. He quickly can become the life of the party until his money runs out. This is the guy you want to be friends with, because everyone likes free drinks.
The Drunk
This is a bartender's least favorite customer because they know sometime by the end of the night they will be babysitting this bar goer. The drunk has no real preference to what he is drinking as long as he is drinking. As a drunk starts drinking they got louder and more rambunctious. They eventually lose all ability to think with common decency and will hit on anything in a 5-mile-radius.Often times they can become argumentative and start fights. Beware of the drunk. He could be a regular or he could be the new guy, you never know. Either way his nights always end in disaster.

Bars are filled with many different personalities. I think this is the reason why bartending is such an interesting job. Everyday you get to meet people, with different personalities, preferences and experiences. Everyday is a new, interesting day as a bartender. I couldn't think of a more fascinating job.
Want to connect with people at the bar in a whole new way? Download the BOTY App on iTunes or Google Play for free!
How to best deal with that one horrible coworker?
I'm sure we've all been in those situations where we've seen unruly behavior at a bar. And you watch the bartenders suffer through it all. If you are a newbie and not sure of the proper conduct to follow. Here are 5 things that you don't ever do at the bar.
Do you love mixing drinks for people and showing off in the kitchen? 
Being a bartender can be a pretty fun and enjoyable profession. It can also be pretty lucrative given the right approach. 
Being as though the majority of a bartender's income comes from tips, it is important to provide excellent service and leverage the very best customers to build a good bartender following.
A considerable amount of bartenders get into the profession as a second or third job, yet many are left wondering how to turn that part-time bartending gig into a real money maker.  Well the best way to do that is to get the very best tippers to come back to see you over again and to get customers to refer others to you.   So how do you build that loyalty and a following with customers?  
.
First impressions are the best impressions
.
It is important to know that first impressions are lasting impressions.  There are 3 rules to follow with any customer.
     1.  Greet the person as soon as they sit down.  Acknowledging their presence right away helps them feel valued and important.
     2.  Ask them for their name and tell them yours.  Be sure to remember their name and address them by the name they provide when taking their order and engaging in dialogue.
     3.  Ask them one simple question, "how is your day going?"  Even though you may not truly care, saying this will get them to think that you do care and this goes a long way in customer retention.
https://botyapp.com/blog-bigger-bartender-following/
.
Take it serious
No matter how you got started with bartending, or how you view the job long-term, it is a profession and needs to be taken seriously.  Be sure to do the following:
Be professional
Bartending is your job and you must be competent person at all times even in a bar environment. This doesn't mean you can't have fun, just means you have take your profession seriously and continue to improve your craft.
Don't make things too personal
It's important to get to know the customer and that means that some conversations may get personal.  It's pretty common for this to happen in a bar setting, just be careful about sharing too many details about your personal life.  Be sure to protect you and your brand while learning as much about the customer that's useful.
Good service can equal good tips
It is common that good service equals good tips.  Smile often, listen, and set expectation from the start.  Yes it is hard to provide quality service and meeting all the different customers demands at the same time.  But by setting expectations and doing so with a smile, people will understand and not get frustrated if things are taking longer than they expect.  They will appreciate that you took the time to explain.
Create and track weekly income goals
Figure out how much you want to make during each shift.  Take into the consideration the following factors:
Morning vs. Nights

Weekdays vs. Weekends

Events vs. Non-events
Once you factor in this, factor how much you can make for each scenario.  For example, with morning shifts you typically make $300 vs. $450 at night.  Now you've determined how much you should make during each type of shift, write down you weekly income goal and then compare how much you made at week's end.
 For example, your monetary goal for the week may be $350 for a morning shift and $500 for a night shift. At the end of the week you made $375 in the morning and $450 for nights.  You can download this spreadsheet to keep track of your goals vs. actual income earned.  The objective is to figure out expected vs. real income.  Once you start tracking and monitoring, you can decide if you want to raise or lower your goals weekly/monthly/yearly.  Set weekly goals that challenge you and track them moving forward.
Figure out the Good, the Bad, the Ugly, and the Influencers
It is important that you learn who your customers are and do so quickly.  There is a reason why they visited the bar so you figure out why by listening effectively.  From there, mentally place them in 4 distinct buckets to determine who will get the majority of your time when you get some down time.
The Good
The good customers tip well because they recognize the value of a good bartender.  You will know who they are and if you show them great service, they will be back to tip well again.  Spend the majority of your time in conversations with this type of customer.
The Bad
The bad customers may not tip well.  They probably are not bad people, they just may not understand the value of a good bartender.  Listen closely to their concerns and leave the door open for a return.  They will take more time to win over than 'the good' so spend time conversing with them but not as much as 'the good' customers.
The Ugly
The ugly customers may not tip at all.  Provide good service but don't spend much time in conversations with this type as they will waste your time.  You don't have much time with customers so make it count.  And don't feel you can ignore this customer completely as others are watching.  Be sure to treat all customers with your professional respect, just don't spend too much time with 'the ugly.'
The Influencers
The influencers are potentially your biggest assets.  They may not tip good or bad, but if they like you and appreciate your service, they will tell others about you and that means more referrals coming through the door and more money in your pockets.  If someone visits you at the bar as says, "Susie told me about you," this shows the referrer is an influencer.  Be sure to spend time with an influencer almost as much as you do with 'the good' and don't be bashful about letting them know that referrals and good tips are welcome.
In part 2, we will go into more details of how to build a following as a bartender.
Want to connect with people at the bar in a whole new way? Download the BOTY App on iTunes or Google Play for free!
Hey you, be sure you know your rights like you know your drinks. 
If you're a bartender, you've seen it all: the drunks, the fighters, the pukers, the bubbly late-night bar crawlers. Part of you loves your eclectic customers, and the other part of you really wishes you could kick a few of these people out, given the opportunity.
Or, rather, given the right.
Bartending is a lifestyle all of it's own. In order to survive busy nights behind the bar, you not only have to take care of your customers, you have to take care of yourself.
Much of this could be considered common knowledge, however, sometimes in this fast-paced world, you tend to put your needs on hold while putting the customers first.
There are 7 tips that will help you get through a hectic night of bartending while still taking care of your own needs.
1. Be Prepared
Not every situation can be planned out. However, if you know how to prepare yourself and your bar for a busy night, you are one step ahead of the game. Being prepared for a busy night includes:
Getting enough sleep before your shift

Eating a healthy meal before you go in

Wearing comfortable clothes and shoes (if you are not expected to wear a uniform)

Making sure the bar is well stocked

Being aware of the specials for the night
2. Bring Snacks
Everyone knows breaks are few and far between when you are behind the bar. Most seasoned bartenders know that having a quick snack such as trail mix, fresh fruit, an energy bar or a protein packed tuna sandwich will keep you going until you can slip away for a break. However, be sure to know your establishment's policy about food behind the bar before you bring it in.
3. Set Your Tools in the Right Place
Bartending, especially on a busy night is a strenuous job. In order to work efficiently you need to have your bartending tools arranged in a way that you can use them fast and with ease. It's very important to know exactly where everything is and have items in a specific order which will allow you to do your job without fumbling for objects. There is a french saying 'mise en place' meaning everything in it's place. If you always have your items in a specific place that makes sense, you will develop a habitual serving pattern that will allow you to serve drinks in an efficient manner.
4. Drink Plenty of Water
There are some bars and clubs that allow the bartenders to have an occasional drink with customers. Be sure to pace yourself and drink plenty of water between drinks. Nobody likes a boozy bartender. In fact, if someone orders you a vodka shot, it's okay to fill your shot glass with water to give the illusion that you are drinking with your customers. On another note, even if you are not drinking with your customers, a busy environment can quickly dehydrate you. Drinking water will keep you going strong all night.
5. Learn Good Bartending Techniques
Multitasking is a critical skill to have success as a bartender. It's even more important on a busy night. It's essential to know different techniques that will allow you to quickly mix drinks and get onto the next customer quickly. Here are several techniques to learn and practice, if you don't do them already:
Speed Pouring

Shaking two drinks at once

Mixing a drink with two hands

Pouring multiple shots at once
6. Be Alert and Anticipate
You can't plan everything, however, you can be aware of your surroundings. Being alert and anticipating customers needs ahead of time will help your night go smoothly. If a customer's drink is almost empty be ready to get mix another one. If you see a customer who looks like they had too much to drink, offer them water or be prepared to cut them off. Anything can happen on a busy night, so if you are alert you will be able to anticipate the next step and prevent disasters.
7. Find Time For a Break
During the busiest nights, even the best bartenders get tired. Sneaking out for a quick break can be a challenge when the tips are flying in and the counter is deep with customers. However, even a five minute break will refresh you and keep you going until closing. Bartending is hard work, but it's not slave labor. Take care of yourself, so you can take care of your customers.
Want to connect with people at the bar in a whole new way? Download the BOTY App on iTunes or Google Play for free!
Depending on where you are in the world, tipping varies. In the United Kingdom, you don't tip in cash, but you would offer your bartender a drink. In Japan, tipping is an insult.  But, if you are in the United States and Canada, tipping is expected. I will share some of my top tips for tipping bartenders.