For those of us suffering in the brutal northeast, spring has finally sprung. But, even if you're lucky enough to enjoy beautiful weather all year round, we're sure you can appreciate the arrival of spring and summer beers.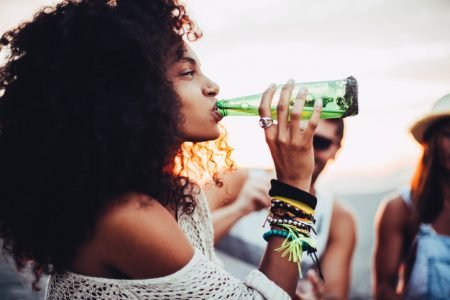 Gone are the bitter stouts and porters of winter to make way for sessionable ales and refreshing lagers. Read on for some trends you're sure to see this year and some fine examples of each.
New England India Pale Ales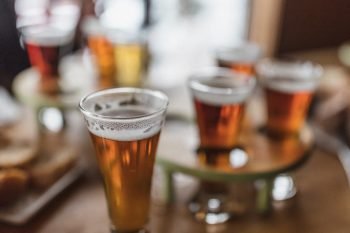 Unless you've never seen the inside of a bar before, you've probably heard of IPAs: the hoppy, bitter brew that's been dominating the craft beer world for the last 15 plus years. However, there's a slightly new style entering the field: The New England IPA, the regular ole' IPA's unfiltered cousin. These brews are packed with hops and are even hazier and fruitier than their predecessors, while actually being less bitter. A classic New England IPA is the Heady Topper from Alchemist Beer in Stowe, Vermont. Another popular example is the Vicinity Double IPA from Trillium Brewing Co. in Boston, Mass.
Easy Drinkin' Lagers and Pilsners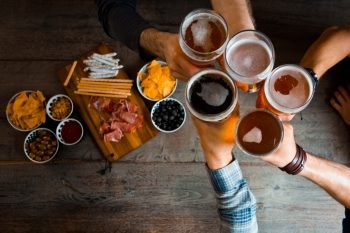 Everyone loves a super fruity IPA or aggressively flavored cider now and again. But there's something to be said for the simple. Lagers and Pilsners tend to fall by the wayside in conversations about craft beer. Yet, they remain staples that seasoned drinkers love. The difference between lagers and ales all has to do with the strain of yeast used. The yeast used in brewing lagers ferments on the bottom of the tank and produces a clean, crisp brew. A pilsner is a type of lager first created in Plzen, Bohemia (what is now the Czech Republic) in the 19th Century when a huge batch of beer went bad. Enter Josef Groll from Bavaria who added hops to the spoiled batch and created the pilsner!
A beautiful example of a clean yet flavorful lager is the Lager of the Lakes from Bell's Brewing in Kalamazoo, MI. If you're looking for a craft pilsner, try out the Polestar Pilsner from Left Hand Brewing in Longmont, Colorado.
A Renewed Appreciation for Lambics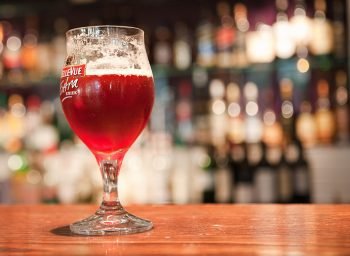 Unlike the specifically chosen yeast strains used to produce most beers, lambics are fermented in the open allowing wild bacteria to get right in there! The end product is pretty sour but is often cut with the natural sweetness from added fruits. A traditional lambic hails from Belgium; like the Lindemans Framboise. In the United States, this style of beer is generally referred to as an American Wild Ale. Try out the Cable Car Ale from Lost Abbey in San Marcos, CA or The Broken Truck from de Garde Brewing in Tillamook, Oregon.
Did we miss anything? Let us know what your favorite spring beers are in the comments!
Want to connect with people at your bar in a whole new way? Download the BOTY App on iTunes or Google Play for free!
Cinco de Mayo is almost here. If you don't speak Spanish, Cinco de Mayo translates to the fifth of May, which is just around the corner. Although Cinco de Mayo is a Mexican holiday, the party seems to be even bigger over here in the U.S.
You know what's better than celebrating Cinco de Mayo? Celebrating it in a packed bar! If you're looking for some great promotions your bar patrons will love, here are 5 ways to get this fiesta started!
Crazy Drink Specials
It's not called Cinco de Drinko for nothing. Instead of going with the usual Strawberry Margaritas and Tequila shots, why not offer your guests a little something different?
Get creative and serve up with some new Mexican-inspired drinks (Tamarind Margaritas or Horchata Cocktails) that your customers will be excited to try. If you can create a signature beverage that only your bar offers, you'll have a winner!
Cinco de Mayo Challenge
Host a challenge that takes place on the patio or at the bar. Create an awesome prize for the winners, such as a weekend beach getaway to the Bahamas. You can also do small giveaways, such as t-shirts, for everyone who comes to the bar.
A hot sauce contest or trivia contest is a great way to get the crowd going. Everyone will be sure to bring their friends along. You'll also be able to keep people in the bar longer.
Spread the Word and Get a Reward
Use BOTY App to hype up your celebration. Offer your fans an exclusive deal for spreading the word. You can give your customers a 10% discount, BOTY Points, offer a free drink for checking-in or entries to win the grand prize for the giveaway that you're hosting.
Celebrate All Weekend Long
This year, we're in luck because Cinco de Mayo falls on a Saturday. That means that you can actually keep the party going all weekend long. To keep people coming back for more, make sure that you offer different promotions for each night.
Start Friday off right by bringing in a local mariachi band to serenade your guests. Then make Saturday night into a crazy dance party.
Complimentary Tequila Tasting
Every hour on the hour from 7-10 p.m., offer a new brand of tequila for your customers to taste. Have servers bring around trays of shots for people to try so that they don't have to mob the bar area. Some ideas for tequilas that you can serve include Patron, Espolon, and Casamigos.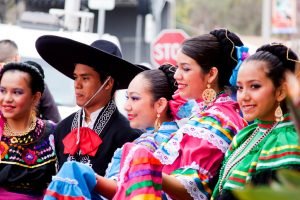 Regardless of what kind of crowd your bar attracts, remember that the goal is to have fun! So don't be afraid to get creative with your promotions this year so that you'll give everyone something to look forward to.
Want to connect with people at your bar in a whole new way? Download the BOTY App on iTunes or Google Play for free!
A badass bartender has to have many qualities. They save people after having a horrible day of work with their favorite cocktail and some light banter. At the same time, they have to keep their eyes on the person in the corner who has had a bit too much to drink.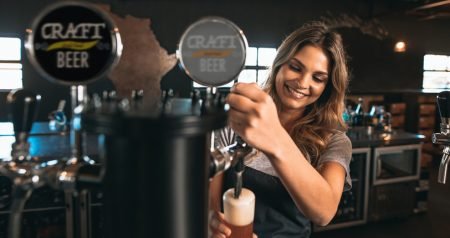 So how do you become a badass bartender? Just turn yourself into Superman (or Wonder Woman).
Yeah, right! Well, since that's not going to happen, here are some real tips to help you improve your bartending skills.
Anticipate
Being a badass bartender means that you're always two steps ahead.  You'll need to pay attention to your customers so you can anticipate who needs a refill soon. You also need to prepare for the big dinner crowd that will arrive around 6 or 7 p.m.
One of the most important things you can do as a badass bartender, is make drinks quickly and accurately. If you stay on top of your drink orders, it keeps the manager off your back and your customers happy.
Have Charm
Badass bartenders are everything pickup artists wish they could be. They're charming and know exactly what to say (without being jerks). The have good manners and being this way will earn you a great deal of respect (and... some big tips).
Becoming a badass bartender means that you know how to talk to people. You'll also need to learn how to deal with many different personalities since you'll meet all types of customers.
Pro tip: Treat every customer like an old friend even if you've never met them before.
Make sure that you introduce yourself to new customers and ask their names. Remember them so that you can start to call them by name every time they come in.
Keep It Positive
Become the person that motivates the team. No one wants to work with someone who's always in a bad mood. Being positive will also make your customers feel better and keep coming back.
Look the Part
Dress in a way that suits your bar where it's casual rocker gear or Brooklyn dapper style. Make sure that no matter what you're wearing, your clothes are always clean. No one likes having drinks poured by a sweaty, stinky mess.
Come Up With a Gimmick
Flair bartending doesn't have to involve juggling bottles of alcohol. In fact, it's much easier and at lot safer for your customers to keep things low-key.
However, if you want to become the celebrity bartender at your bar, come up with a joke that you always tell or a trick. Some popular tricks that you can practice include: The Tin Roll or The Hinge Cut. Do them every now and then to wow your customers.
That's all there really is to it. As you work to improve your craft and stay focused on providing excellent service, you'll earn your rep as a badass bartender.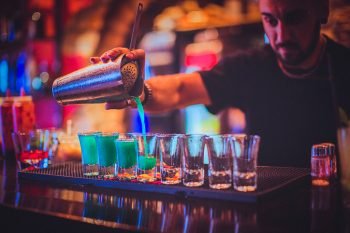 Want to connect with people at your bar in a whole new way? Download the BOTY App on iTunes or Google Play for free!
Ok everyone, let's talk about long shifts. Doubles, 20-hour marathon sessions during 'music weeks', and the dreaded "clopen". Why do we do this to ourselves? And why do bars and restaurants encourage it?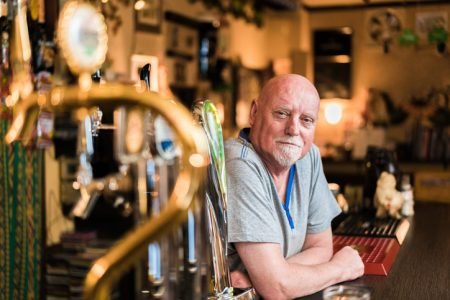 A Culture of Work
It can't be denied, the hospitality industry is a work-to-the-bone, never say no, go 'til you drop world. We pride ourselves on being able to make it through incredibly long shifts because the payoff is cash. In the bar environment, we're often encouraged to work ourselves to the point of exhaustion. This mentality is simply accepted as 'the way it is' and rarely questioned. However, there's often no place for us to turn when we get sick, injured, or forced to work shifts that border on inhumane. It's important to ask the question, "Are we truly signing up for this willingly or are we being forced by a philosophy that mainly benefits our bosses?"
Why Is It Like This?
Bartending is becoming more and more respected. As time goes on, it has earned appreciation for the art that it is. However, we are still shackled by a history of mistreatment. In many states, tipped employees are exempt from minimum wage. This means that employers can get away with paying us a fraction of what others receive. A lot of times this is fine because we make bank in tips. However, it subtly classifies us as less-than and makes us a largely disposable workforce. Restaurant employees almost never have health insurance or an HR department to turn to when we need help. There's no 401K savings plan to help us prepare for the future and any overtime pay is negligible. Because of all this, the opportunity to put a grand in the bank after one shift is too tempting to pass up, regardless of the consequences.
Don't get me wrong, hospitality employees can make great money. But we're missing the support that the majority of the modern workforce receives. All of these reasons combine to create a culture that encourages and rewards behavior that is sometimes dangerous.
The Consequences
While you may be totally willing and able to work for 20 hours straight, that doesn't make it good for you. Many bartenders experience joint problems from standing and shaking cocktails, exhaustion from lack of sleep, and long term issues that we rarely address because we don't have insurance. Not to mention, it's hard to plan your life when you may not know when and for how long you'll be working.
How to Mitigate the Consequences 
Since we all know you're going to work that crazy shift anyways, here are some tips for staying happy and healthy.
Look up the local labor laws in your area. Chances are, you're entitled to some sort of break. If you are denied what is your legal right, report it to your state's Department of Labor.
If you really can't take a break, make sure you stay hydrated and eat. Bring snacks from home or scarf something down in the kitchen but don't go without food. 
Sleep as Much as You Can
Try to get us much sleep as possible the night before and go right home after your shift. We know it's tempting to hit the bars but the more rest you get, the less likely you are to burn out and literally collapse from exhaustion.
 Ask for What You Need
Don't be afraid to ask for the support you need. If you need to use the restroom, don't hold it and risk a bladder infection. If you're hungry, ask the manager to get you some food. Again, if you're being mistreated, REPORT IT.
We want to hear about your experience with long shifts. Why do you do them and what tips do you have to make them bearable?
Want to connect with people at your bar in a whole new way? Download the BOTY App on iTunes or Google Play for free!
You love being a bartender. But people keep telling you to quit and "get a real job." Whatever that means!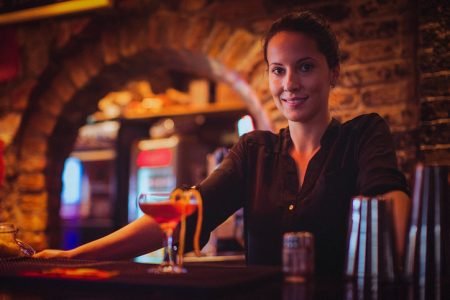 That doesn't sound like it's going to work for you and you can't figure out why. Here are 5 reasons why it's hard to work a traditional job after bartending.
You're Used to Being Up Late at Night
Let's face it, being a bartender makes you feel like Batman leaving to fight crime for another night. After skillfully serving drinks into the wee hours of the morning, somehow waking up at 6 a.m. to sit at a desk for 8 hours just doesn't sound like a good deal.
When you bartend, the social interactions with your coworkers and the bar patrons make your shift just fly by. So it doesn't feel like hard work, although it can be at times. You also get the luxury of going home to crash after having made your money while everyone else was sleeping. How great is that?
You Love Meeting Interesting People
How many jobs really let you meet all kinds of interesting people day after day? And if they tip well, they're pretty hard to come by. If the reason why you bartend is because you love meeting new people, you'll find it really hard to return to a traditional job where the only social interaction you'll get is gossiping around the watercooler about who's going to get fired next.
Tips, Tips, Tips
Tips aren't only for strippers! Bartenders can make a whole lot of cash in a night too. Isn't it great to get a cash windfall in tips after a busy night at the bar? Unfortunately, that 5% raise that traditional jobs pay after a year on the job simply doesn't give you the euphoria you're looking for.
Social Media Helps You Do Your Job Better
As a bartender, you use social media and other technologies to help you stay connected to what is going on in your local drinking scene and attract more patrons to your bar. At a traditional job, you'd probably literally feel like your arm is being ripped off as your boss confiscates your phone from too much Facebook surfing. Worse, you'd probably get fired for posting anything on your social media profiles that shows that you actually like to have fun at work. Oh gosh, the horror of it all!
You Don't Have a STEM Degree
Rumor has it that if you don't have a degree in science, technology, engineering, or mathematics, you'll be banished to minimum wage hell for the rest of your life. In fact, some people who do have these degrees don't even have a job! If bartending is already helping you to live without a traditional job, why not stick with it? After all, this isn't your parent's economy!


Want to connect with people at your bar in a whole new way? Download the BOTY App on iTunes or Google Play for free!
So you just turned 21. Well you don't want to go into a college bar and order a drink that will make you look foolish.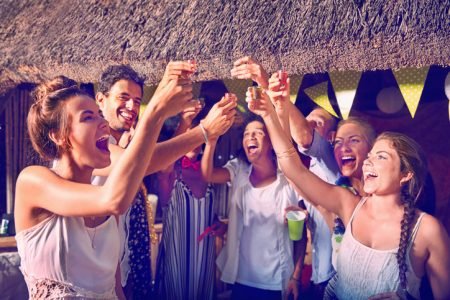 These are the years to have fun and learn all about drinking 101 before you enter the 'real' adult world. How and what you order will let others know a lot about you so choose wisely.
Get a Beer
College students are big beer drinkers. For one, beer is typically cheaper than most cocktails. Craft beers and IPAs are great choices to order for any college student. However, keep away from ordering what people think of as old beers like Old Style and Labatt Blue. Anything your father drinks is considered an old man beer and could quite possibly get you laughed at by your peers. Typically men are the bigger beer drinkers, but a girl who orders a beer may turn out to be the coolest girl on campus.
Don't Get Too Technical
If you walk into a bar and say something ridiculous like, "I want a dirty, dry martini with little ice, shaken not stirred and 3 olives for a garnish." You are going to look like a fool. This is not some fancy Speakeasy, this is your typical college bar where simplicity matters. Don't go overboard with ordering. Relax, ask for a cold brew, or whatever is on happy hour. Oh and lose the lingo! Don't make things too complicated and save the smart rhetoric for your college classes.
Order Shots for All
College kids love to drink and have a good time. Ordering a round of shots is a good gesture when making new friends and an acceptable way to say thank you. Don't order a round all the time because you will either end up broke or passed out. Pick your spots wisely and be selective with it. Also, taking shots are tricky. It's best as a college student to stay with Fireball or Tequila shots. Both make you sound like a college student who knows what they like. On occasion a new fun shot may be introduced, but keep it simple. This is college after all and just like a frat party nobody wants to have to think too hard about their drink choices.
Stay Away from Girly Drinks
It's 2018 and we are trying to get rid of gender biases. But in the eyes of most college students, girls still order mixed drinks and guys order beer and the hard stuff. So if you are a guy and you want to impress your friends, stay away from the girly drinks especially anything served in a Martini glass.
So there you have it. To order a drink like a college student, keep it simple, make sure it's cold and don't be afraid to order a few round of shots for old and new friends. Keep the complicated drink orders for you fancy gatherings. Drinking at a college bar is hardcore, so pace yourself and drink responsibly. Have fun!!


Want to connect with people at your bar in a whole new way? Download the BOTY App on iTunes or Google Play for free!
Summer is not that far off, yet in the midst of winter it seems like it will never get here. There are so many amazing bars that will get you in the mood for the hot weather.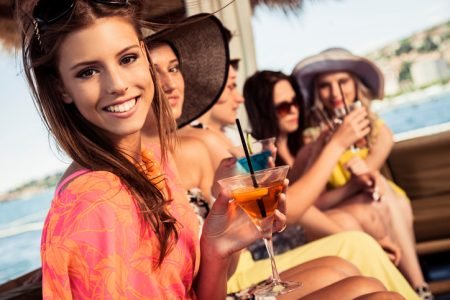 Here are the top seven bars we think will get you seriously thinking about warmer days.
Old Tony's on the Pier
Redondo, California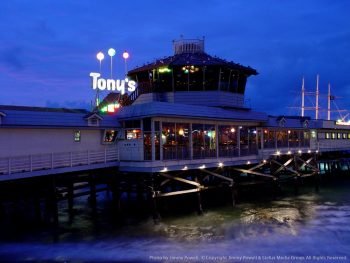 Photo by Jimmy Powell & Stellar Media Group
Old Tony's opened in 1961 as a small shack in Redondo, California. It is a family-owned business with deep roots in its community. This bar in California is on a pier and completely surrounded by ocean on all sides. Old Tony's is known for their fabulous seafood, their Mai Tai's and live music. The breathtaking views of Old Tony's will having you coming back again and again.
Ballard's Inn
Block Island, Rhode Island
Ballard's is a famous resort and bar beach located in Rhode Island. This place is typically hopping with tourists and even locals from the area. The beach offers umbrella seats and amazing ocean views. The servers come out to you so you can sit back and relax. Ballard's offers a great variety of food and drinks. They serve wine, beer and crafted cocktails. There is also a tiki bar on the beach if you feel inclined to order your own drink or even mingle a little. This place can get crowded but the fun never ends!
Landshark Landing
Pensacola, Florida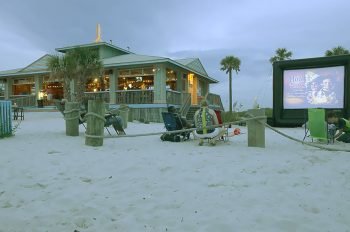 Landshark Landing is like a tropical paradise in Pensacola Florida with its beach views and lovely palm trees. This is the perfect spot to get you in the mood for summer. This paradise bar is located within the Margaritaville Hotel. The bar has volleyball nets, hammocks and a cozy fire pit. It serves some exquisite snacks, including seafood specials and amazing margaritas.There drink menu offers a wide array of drinks, including some of the traditional tropical style mixers. All in all, this is a bar that brings out the sunshine in everyone who visits.  
Pink Pony Pub
Gulf Shores, Alabama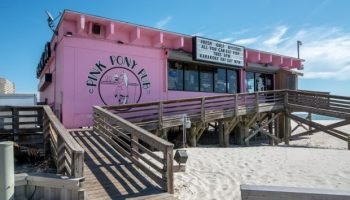 This bar in it's glorious pink color situated on the Gulf Shores in Alabama has been around for over 60 years and it boasts having survived hurricanes since 1956. They say if you visit the Gulf Shores and the Pink Pony Pub is no longer there, then the Gulf Shores has been lost to sea as well. This establishment was once part of the Seahorse Cottages and this is how it got its name.
You can even see a pink pony bellied up at the bar on your visit. The Alabama style food is sure to please you if you like gumbo and fresh Gulf seafood! All the beverages are frosty and cold. They offer a good selection of wine, beer, cocktails and frozen drinks. It's highly recommended you try their signature Pina Colada as you sit on the deck watching the ocean views. If seafood is not your thing, they also offer other delicious pub foods like buffalo wings and their famous nachos. This beach pub has everything you need to make you feel like it's summer.
Duke's Barefoot Bar
Honolulu, Hawaii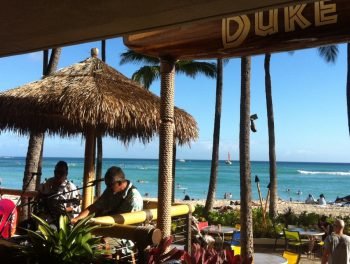 Photo courtesy of

AFAR
This fabulous beach bar in Honolulu sits outside the main Duke's establishment. It is literally on the Waikiki beach and shoes just may be optional. There is nothing that says summer more than a bar on a beach in Hawaii. Duke's Barefoot Bar offers a full menu filled with fabulous dishes, including a favorite of many their Korean tacos. They also offer a great selection of drinks including their signature Duke's Mai Tai. Just imagine sitting on the beach in Hawaii with a Mai Tai in hand. Pure paradise!
Ocean Grill and Tiki Bar
Carolina Beach, North Carolina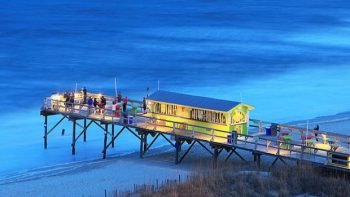 The Ocean Grill and Tiki Bar is located on the beautiful Carolina Beach overlooking the Atlantic ocean. It features an upstairs dining area with wide views of the shoreline, a downstairs dining on the patio area and just right outside on the pier is their famous tiki bar. When visiting the Ocean Grill and Tiki Bar in North Carolina you can enjoy fresh coastal cuisines and a wide variety of drinks like wine, champagne, beer and cocktails. Between the main building and the tiki bar this establishment has all the ambience of a mid-summer's day.
Pelican Brewing
Pacific City, Oregon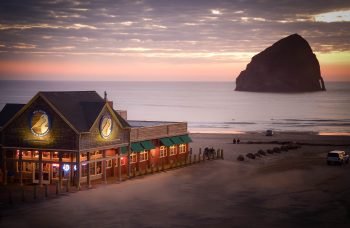 If craft beer and beach views are your vision of  summer fun, then the Pelican Brewing is the ultimate beach bar for you. This is notably the only beach brew pub in the Pacific northwest. Come relax, sample some brews and gaze out at the magnificent ocean views while you are visiting there. The establishment offers an extensive beer list including pale ales, lagers, porters, IPAs and stouts. If you have a palate for beer and love beaches, you are going to want to mark this on your 'must visit' list!
Whether you are looking for a small pub or huge hotel bar on the beach these seven bars will have the sun shining and thoughts of summer dancing in your head. There is nothing greater than sand, beach views and a cold drink in your hand. Summer is just around the corner, so indulge yourself!


Want to connect with people at your bar in a whole new way? Download the BOTY App on iTunes or Google Play for free!
Tonight you're feeling adventurous so you're going to check out a bar you've never been to. As you approach the door, you start getting some weird vibes. Is this a college bar?
While we all love to reminisce about our college days, all of your drunken escapades have probably made you forget what a college bar is really like. If you're not sure what you're in for before it's too late, here are 5 dead giveaways that you're at a college bar.

1. Happy Hour Specials for Amateurs

The list of drinks on the happy hour specials (along with the lack of fancy glassware) is almost a dead giveaway that you're at a college bar. Let's face it: college kids aren't the most sophisticated drinkers so to them any drink that gets them wasted is more than good enough. Rum and Coke, Screwdriver, Jungle Juice, Fireball, and Jäger bombs are pretty much par for the course. But if you can stomach well drinks, what's not to love about getting your drink on for $5?

2. Bros on Bros on Bros

If there are groups of rowdy Bros slamming down shot glasses on the bar and they're already shit-faced even though it's only 6 pm, it's almost guaranteed that you're at a college bar. And if you're still not sure, just check to see if they're drinking Tequila. If the answer is 'yes' and you're not ready to bounce yet, here's a pro tip. Make sure to leave enough room for them to do their thing because they take any "oohhhh shit…" song, like LMFAO's 'Shots', literally.

3. It's Going Down While You're In Line

Another thing that Bros are well-known for is fighting at the bar. So if you see people getting thrown out for being too drunk as you're going in, that's a good sign that you're in for a night at a college bar. Another telltale sign is that the bouncer is eyeing people's IDs with the flashlight way too hard as you watch them squirm in line hoping that their fakes are good enough to get them in.

4. Awkward PDA

There's PDA and then there's the "OMG, do you guys realize that you're in public?" If you see couples doing way too much right in the middle of the bar, you're probably in a bar packed with horny college students. Unfortunately, after some people have had enough $5 drinks, virtually anything goes.

5. You're the Creepy Older Guy or Gal

If you're older than almost everyone in the bar, even by just a few years, there's a good chance that you're actually the creepy oldie and everyone's wondering why you're there. Scope out the crowd. Does everyone seem to be the same age except for you? Don't feel ashamed now. Just accept the fact that you're at a college bar! 
Want to connect with people at your bar in a whole new way? Download the BOTY App on iTunes or Google Play for free!
So you are new on campus and looking for the coolest spots to hangout. A big part of your college experience is learning about the bar scene, or so every undergrad thinks.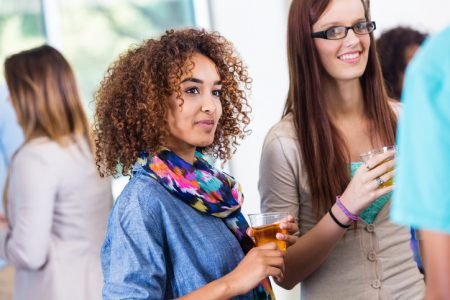 It's not hard to find the best local college bars near you. It's good to have a place to unwind, have fun and kickback with friends in between all of that studying.
So before you start looking, here are some helpful hints to help you on this mission.

1. Ask Around

If you are new on campus, it may take you a little while to adjust and to figure out the best places to go to meet people. That's okay though! You go to school with thousands of other college kids. If you don't know where the best bars are, somebody does. So just ask and you will be glad you did. Someone may even suggest a place you never heard of!

2. Google It

Ok, when in doubt. Google 'College Bars Near Me.' Just be cautious with this information though. Google may send you some place where nobody has ever been to. After you google it, be sure to scope the place out before heading there for a drink. If the place seems legit, go alone or with friends and throw back a few brews.

3. Just Go

I am sure you have passed that little tavern down the road often on your way to Sociology class. You never stepped into the place b/c it looks weird. Well if you want to find out if this is a cool, then just go and check it out. You never know until you go. What's the worst that can happen? You may meet some new friends at the bar. Just get a beer or two and take off if it's not your vibe. Life is too short to miss out on new experiences, so be gutsy and just go.
4. Look For Clues

You live on campus, right? There are community activity boards everywhere! If you have yet to find a great hang spot, check the physical and online bulletin boards. You will find local bars with bands and entertainment pinned up everywhere. Once you get a good clue, take note and definitely check it out. Seriously, it takes less work to find a good bar than it does to get an 'A' on your Biology exam.

5. Use the Right Bar Apps

There are many awesome bar apps that can help you find the right college bar to fit your needs. Use applications like the BOTY App to help you find the top bars and the best bartenders.
Keep in mind that college bars all have something different to offer. The best college bars will be close to campus, offer a variety of activities, have great drink specials and cater to a younger crowd. If you find a bar with these things, you just stumbled into a great college bar.
Want to connect with people at your bar in a whole new way? Download the BOTY App on iTunes or Google Play for free!
When bartenders think about how to increase their tips, not much thought typically goes into whether or not their gender helps. So do women or men make more in tips due to their sex?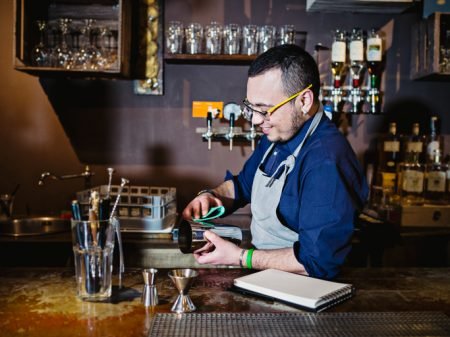 There is a stigma among men that beautiful ladies make more money than men. And many female bartenders believe they are underpaid compared to their male counterparts. So what is really the truth behind this matter?
The Battle Of The Sexes
In Render Food Magazine, they stated, in their article about servers, "The idea that women make more in tips due to sex appeal is an enduring cultural myth."
Rain Dove Blog did a study one night as the 'Battle of The Sexes' at a local bar in Brooklyn and at the end of the night, the male had around $100 more in tips than the female. 
In this article on waitbutwhy.com it stated one of the six proven ways to get better tips was,  "ideally, be a slender, attractive, big-breasted blond in your 30s." They based this off a scientific study down by Michael Lynn Ph.D. To view the study go here.
We did some research and the jury is still out on whether or not gender really will increase your tips. Many articles show that men make higher tips while other articles say women make more.
The Real Truth About Gender And Tips
After our thorough investigation, we believe that gender is not the issue when it comes to tipping. There are several factors that will determine how many you make in tips whether you are female or male.
The economic status of the person you are serving. It matters how many the customer makes and if they are in much debt. This has nothing to do with gender or how you are performing as a bartender. On average, the higher their social status, they more likely they will tip you well.

How great you are as a bartender will affect your tips. If you pay attention to your customers and make very little mistakes, you can end up with better tips. And if you don't have great people skills, your tips will reflect that.

Lastly, when it comes to tips it also depends on your establishment. More prominent locations will have higher tipping customers. Of course you may find those stingy ones too, but location does matters.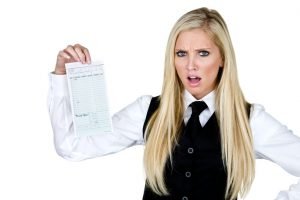 This gender debate will go on for years and years. However, the bottom line is if you do your job well, take care of your customers and interact with them you will see that you are making great tips whether you are a male or female. If gender does play a role, which we don't believe it does, it's only a small role. So be yourself, work hard and forget all those gender tipping stigmas.
Want to connect with people at the bar in a whole new way? Download the BOTY App on iTunes or Google Play for free!
A good bartender knows there are holidays and then there are drinking holidays.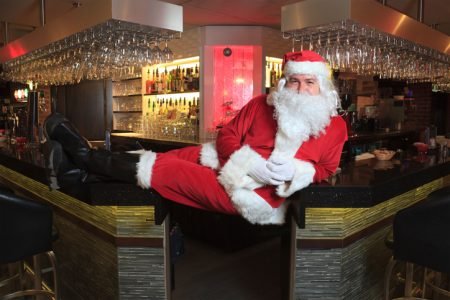 Drinking holidays are the days that your bar or tavern mostly likely will have a heavy flow of people coming into drink and have fun. These days can actually take a toll on the bartenders and servers. Yet they are also great days to make more money.
Survival Tip 1: Get Some Rest
Don't go into your shift unrested. Some bartenders have tried to work on a holiday on only a couple hours of sleep and can tell you it is unpleasant. Make sure the night before a big drinking holiday that you get a full 8 hours of sleep. You are going to need it!
Survival Tip 2: Wear Comfortable Shoes
Any bartender or server will tell you, it's a bad idea to wear dress shoes or heels on a day that you know you will be busy at work. Unless you are fine with pancake-size blisters and sore feet, wear a pair of comfy gym shoes instead. Your feet will thank you.
Survival Tip 3: Drink Plenty of Water
This is especially true if you are working on a really hot day. The last thing anyone needs is a dehydrate bartender passing out behind the bar. Also, when a customer offers you a shot, drink a shot of water or juice instead. It's better to be safe than sorry.
Survival Tip 4: Pace Yourself

It's important to serve as many people as possible in a timely manner, but don't allow customers to rush or take advantage of you. Pace yourself in order to make fewer mistakes and to keep your energy flowing throughout your shift. This will also help your tips to come in pretty steady.
Survival Tip 5: Don't Be Afraid To Cut It
People tend to let their guard down on holidays and you may see many of them get too drunk. Always be the smart bartender. If someone looks like they have had enough, cut them off and offer them a cab ride home.
Survival Tip 6: Be Aware of Longer Hours
On drinking holidays a lot of crazy things happen. Bartenders call in sick, go on vacation, or some simply just don't show up. Plus, it is busy and there may be more people than the bar may be able to handle. If you know in advance that you could possibly work longer than planned, it won't be so much of a problem.
Survival Tip 7: Be Prepared
Make sure you are prepared before the day. Overstock the bar, prep garnishes and set up a good workstation. It's better to be over prepared than not prepared at all.
Survival Tip 8: Look Out For Others
If you want the night to run smoothly, you and your co workers have to work as a team. If one of you is swamped, another should help out. If one of your co workers needs a breather, let them take a quick break and cover them. Working at a bar is hard work, it's even harder when it's busy and everyone is being selfish. Be a good team player and take care of your teammates.
Survival Tip 9: Stay Cool
Working the holidays can be very stressful. You are working and not enjoying time with your family. Sometimes your customers can be rude, obnoxious and unforgiving. No matter what the situation is you have to have patience and be understanding. Don't let anything get to you, it's just a job and you are there to work. If you remain calm regardless of what is going on around you, the night will go more smoothly and your tips will show it.
Survival Tip 10: Bring Protein Snacks
When you're busy, it is almost impossible to get a break. If it's allowed, bring peanuts, trail mix, an energy bar, raisins or a granola bar for a quick snack when you just can't get a way. It's important to have something that will help boost your energy and protein levels to help you make it through your shift. Of course if you get an official break, it's important to pack a lunch. Unfortunately bartenders may not get breaks during these busy shifts so don't forget to bring a snack.
Want to connect with people at the bar in a whole new way? Download the BOTY App on iTunes or Google Play for free!
There are ways to politely get your bartender's attention and then there are ways that will just annoy them. If you are flapping your arms and yelling most likely you will irritate them or get kicked out of the bar.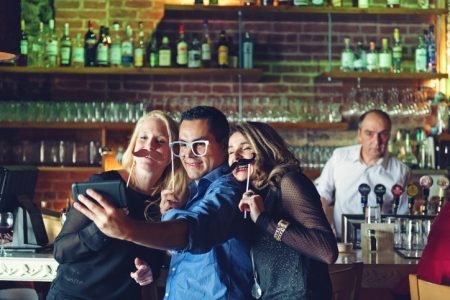 Your bartender will more likely serve you happily and quickly if you are not being rude, obscene or impatient. Follow these key rules if you want to get your bartender's attention and get your drink fast.
Remain Visible
You have to choose your spot correctly. Avoid standing in front of objects like a pillar, wall or other areas where you can not be seen very well. Also, stay out the way of waitstaff. If you are blocking their path it may be hard for the bartender to reach you. Besides, annoying the waitstaff will not help you get a drink or build a good reputation at the bar.
Make Eye Contact
Be sure to make eye contact with your bartender and smile. This will let them know you are waiting. Do not yell, snap your fingers, wave a menu or tap loudly while waiting. Also, don't call the bartender a nickname or say anything derogatory like, 'Excuse me, Honey Buns!' These things will annoy a bartender and by doing so the bartender may take their time getting to you.
Be Ready
When the bartender finally reaches you, you need to be prepared to order and pay. If you having trouble deciding what to get they may just skip you and come back to you later. Also, make sure to have your money out and ready. A bartender in a busy bar doesn't have a lot of time between customers. If you are not prepared, or take too long it may anger them so be respectful of their time.
Be Polite
Always be courteous and polite to your bartender, especially while waiting or order. Your bartender will remember you by your character and will try to serve you a bit more quickly if you are nice to them.
Tip Well
The reality is that money talks. A bartender will remember a customer who tips well and will give that customer excellent service. They will also remember the ones who are poor tippers. This affects how and when they serve you. A big portion of bartender's income comes from tips, so always take care of your bartender and they will take care of you.
What this all comes down to is respect. If you treat your bartender with respect, are polite, patient and understanding you will get served better. If you are rude or hostile it will only annoy the bartender. So, I know you are at a bar, but have good behavior, especially when it comes to your bartender.


Want to connect with people at the bar in a whole new way? Download the BOTY App on iTunes or Google Play for free!