There are ways to politely get your bartender's attention and then there are ways that will just annoy them. If you are flapping your arms and yelling most likely you will irritate them or get kicked out of the bar.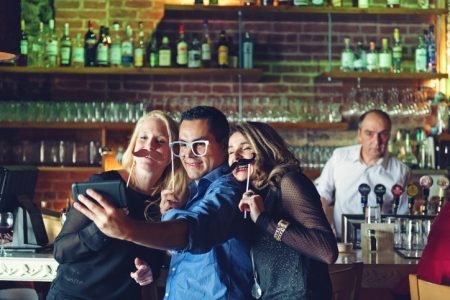 Your bartender will more likely serve you happily and quickly if you are not being rude, obscene or impatient. Follow these key rules if you want to get your bartender's attention and get your drink fast.
Remain Visible
You have to choose your spot correctly. Avoid standing in front of objects like a pillar, wall or other areas where you can not be seen very well. Also, stay out the way of waitstaff. If you are blocking their path it may be hard for the bartender to reach you. Besides, annoying the waitstaff will not help you get a drink or build a good reputation at the bar.
Make Eye Contact
Be sure to make eye contact with your bartender and smile. This will let them know you are waiting. Do not yell, snap your fingers, wave a menu or tap loudly while waiting. Also, don't call the bartender a nickname or say anything derogatory like, 'Excuse me, Honey Buns!' These things will annoy a bartender and by doing so the bartender may take their time getting to you.
Be Ready
When the bartender finally reaches you, you need to be prepared to order and pay. If you having trouble deciding what to get they may just skip you and come back to you later. Also, make sure to have your money out and ready. A bartender in a busy bar doesn't have a lot of time between customers. If you are not prepared, or take too long it may anger them so be respectful of their time.
Be Polite
Always be courteous and polite to your bartender, especially while waiting or order. Your bartender will remember you by your character and will try to serve you a bit more quickly if you are nice to them.
Tip Well
The reality is that money talks. A bartender will remember a customer who tips well and will give that customer excellent service. They will also remember the ones who are poor tippers. This affects how and when they serve you. A big portion of bartender's income comes from tips, so always take care of your bartender and they will take care of you.
What this all comes down to is respect. If you treat your bartender with respect, are polite, patient and understanding you will get served better. If you are rude or hostile it will only annoy the bartender. So, I know you are at a bar, but have good behavior, especially when it comes to your bartender.


Want to connect with people at the bar in a whole new way? Download the BOTY App on iTunes or Google Play for free!
Want to work as a bartender but don't have any experience? Well, we've got good news and bad news for you.
The good news is; landing a job in the service industry is pretty easy. The bad news is; it may not be a bartending job right off the bat. Not to worry though, because we've got some tips for breaking into the industry.
Make Friends with Bartenders
By far the most important thing you can do to land yourself a sweet bartending gig is to befriend some bartenders. As with most industries, bars and restaurants are all about nepotism. If someone who likes you knows you need a job, the next time they hear of one they'll recommend you.
If you don't have any experience bartending, why not ask a friend if you can train with them? This may not fly in fine dining establishments but I know several dive bars where the bartenders train the occasional newbie.
Act Professional 
Just because bartending is a fun job in environments that are often relaxed and casual doesn't mean you should be too informal. Bring a resume to interviews, dress professionally, and be on time. It sounds ridiculous, but just these three things will set you apart from the rest.
Hit the Pavement
I've gotten two bartending jobs by simply walking in with my resume (during non-busy times of course) and asking if the place is hiring. Yes, this is tedious and time consuming but it can pay off if you're in the right place at the right time.
Start Small
If you've never bartended before you may need to start off in a different position such as barback or hostess. Then when a position opens up, you'll be there to fill it. Don't worry, turnover in restaurants tends to be high and an opportunity may arise  sooner than you think..
Skip Bartending School
Bartending school is widely laughed at in the service industry and the things you learn there rarely translate to reality. Instead, focus on getting actual training somewhere. Don't worry about memorizing a million drinks, that will come with time. Bartending is about being efficient, friendly, and good in a team setting.
Don't Skip Certifications
Many bars and restaurants require certifications such as a food handler's license or TIPS certifications. These courses are cheap and not too time-intensive and employers love to see that on a resume. 
Got any other tips? Let us know!
Want to connect with people at the bar in a whole new way? Download the BOTY App on iTunes or Google Play for free!
America: land of the free, home of the brave, birthplace of the cocktail. This great country of ours has produced many of the world's most important inventions, with the cocktail (in our humble opinion) being high up on that list.
Bartending is an awesome job, but understand all the challenges with it.  Before choosing it as a career, please consider your bartender time.
Standing for 10-12hr shifts at a time with no break is exhausting. And doing that with no customers is even worse.  
Your pay comes mainly from tips, so no customers means no money. And that is a big waste of time. You can't purchase or borrow more, so time is a limited resource that runs out every day.
Use it wisely.  
 
You Can Make Good Money
The money in bartending is lucrative but may not be consistent.  It depends greatly on the establishment you work for, the loyalty of your customer base, and the hours you work.  The shifts you get and the customers you retain greatly impact how much you actually earn.  
People are more than willing to take your time so you have to figure out what your bartender time is worth to you.  
Bartenders and other tipped workers get screwed royally.  Only seven states require employers to pay tipped workers the same minimum wage as workers who do not receive tips.  The United States federal government requires a wage of at least $2.13 per hour be paid to employees that receive at least $30 per month in tips.
If wages and tips do not equal the federal minimum wage of $7.25 per hour during any pay period, the employers are supposed to increase cash wages to compensate.  The sad reality is a lot of employers don't do it.  
Bartender Time Management
So, you are a bartender and love what you do and enjoy the people you meet and work with.  You just hate that you get no benefits or leave. And more importantly, you work many long hours, and not compensated for your time.  
What's even worse is when your employer over schedules the shift. You split tips with other bartenders when so many bartenders didn't need to be there in the first place.  Employers are not on the hook for any hourly costs, so they over schedule bartenders without any repercussions. Maybe if you understand the importance of bartender time, they would manage the schedule better.   
Time Isn't On Your Side
People don't seem to understand what goes into a bartending shift.  The hours of prep work, clean up and dealing with demanding people who have no idea of the importance of bartender time and responsibilities.  
A bartender works at 10am but the restaurant does not open until 12pm. The restaurant closes at 11pm but the bartender doesn't leave until 1am.  That is 4 hours of unpaid services. Keep in mind effective bartenders split shifts with ineffective ones and also has to pay the barback.  Your tips cover the time that you interact with customers, so 4 hours of free labor never hurt anyone.  #sarcasm
Bartending is not all bad.  Your income is comprised mostly of tips in cash so there is no way for the government to know how much you received. That means you get free money with cash tips. Don't tell the IRS that.  #sarcasm 
Bartending is easy to get into and the job is fun. The work schedules are flexible, and you get to meet some great people.  It's not all bad but it could be a lot better.
Time is Money
No matter how you look at it, there are only 24 hours in a day. Realize that money isn't the most important resource, time is. Money comes and goes and you can make it through a variety of resources. But once time is gone, it's gone for good. If a bartender spends 12 of those 24 hours working at the establishment, there should be compensated for your time.  
A good bartender consistently brings in the regulars and wears company apparel. They promote the establishment, set the mood, and make sure everyone has a good time. There is a price to pay for that and it ain't just in tips.  
Want to connect with people at the bar in a whole new way? Download the BOTY App on iTunes or Google Play for free!
As Americans, we love to celebrate and kick back with a few good drinks. This is also very true when it comes to certain holidays. Here is a list of the top ten drinking holidays in no particular order.
1. Super Bowl Sunday 
The season's biggest game is much more than just a sports event.  The Super Bowl has become a bona fide American holiday. Football fans across the U.S. flocks to bars on this big day for some good bar food, drinks, entertainment and the game.
2. Mardi Gras
Mardi Gras started out as a day that came after lent when people could start eating food they gave up for lent. Over time it has become one of the most celebrated drinking holidays in New Orleans.
3. Cinco de Mayo
Cinco De Mayo is a favorite day for those who love tequila and celebrating Mexico. This holiday marks a battle that Mexico won over France. Many people believe it is Mexico's Independence day, which is actually a totally different day. Either way American culture has embraced this holiday and it has become a heavy day of drinking.
4. Labor Day
This holiday was meant to celebrate the workforce in America, however many people are unhappy with their jobs and career choices. This holiday has become almost a mandatory day to barbeque or to head to a bar. Of course, that is if you are lucky enough to have the day off from work.
5. 4th of July
The 4th of July is a great drinking holiday because so many people are celebrating our independence. There are even red, white and blue cocktails to go along with all the fireworks. And let's not forget the spiked watermelon or jello shots! In the U.S. we do love a great holiday that encourages drinking.
https://botyapp.com/blog-social-drinker-fun/
6. Halloween
Halloween was meant to be a kids holiday, however what do you do when you have no kids and you don't feel like sitting at home handing out candy? You either head to an adult Halloween party or you head to your local bar. Yes, as adults we still do love to get dressed up but we love that we can drink even more.
7. St. Patrick's Day
This holiday of drinking green beer, eating corned beef and cabbage and dressing like a leprechaun is a big favorite for many. Any holiday that takes you to your local Irish pub or any bar for that matter is going to be a big drinking holiday. Just don't leave home without wearing green.
8. Thanksgiving Eve
I don't know if it's the football, relatives or the food that drives us to drink on Thanksgiving.  It's most likely a combination of these things. Or maybe it's the fact that you just burned your turkey and ended up eating at local Chinese restaurant instead. Either way, many Americans across the nation take up lots of drinking on this holiday. It's interesting - What is advanced mac cleaner?
9. Memorial Day 
Memorial day is typically the first summer holiday of the year. It's a holiday where we honor the soldiers who gave their lives for our freedom. It's a holiday most of us get off from work, giving us a three or four day weekend of fun. And just like Labor day this drinking holiday is marked with backyard barbecue and attending local bar events.
10. New Year's Eve 
A new year is a way to celebrate the past and start anew. New Year's Eve is a day where you are encouraged to open a bottle of champagne at midnight and indulge with friends and families. It's no wonder with all the big New Year Eve events at many bars and drinking establishments that this is one of biggest drinking holidays in the United States.
Want to connect with people at the bar in a whole new way? Download the BOTY App on iTunes or Google Play for free!