You want your bar to become the place "where everybody knows your name" or perhaps you just want a reliable stream of tips. Whatever your motivation is to attract new people to your bar, you need regular customers.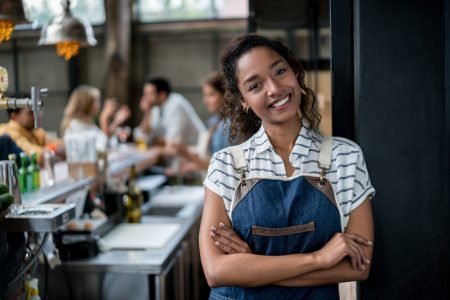 Here are 5 things bartenders can do to attract more regulars to make the bar experience better for all involved.

1. An Awesome Happy Hour
When it comes to winning over new customers so that they come back to your bar over and over, a 'killer' happy hour is key. If your bar offers awesome deals on drinks and food, you can convince customers to stop by during those times. Once they stop by, it becomes a part of their regular routine. And you'll have regulars that you can count on for consistent tips.

2. Create Photo-Friendly Opportunities
Be sure to create photo-friendly opportunities at your bar. This helps customers to remember that they had a great time while they were there. You can do this by hosting silly events to giving out free prizes. When customers come to your bar not knowing what exactly to expect, they'll be more likely to come back for more if they had a good time.

3. Make Sure There Are Plenty of Singles
Why would customers come to your bar versus all the other options? The answer is simple: the people. That is one thing that they won't be able to get anywhere else. Trivia games, speed dating, and other events that are likely to attract the single crowd.
If your bar is known as a place where singles are ready to mingle, guys and gals will hang out often. People will have more fun and will think of your bar as a great place to make new friends.

4. Reach Out to Your Neighbors
If you haven't had a chance to check out other restaurants, bars, and businesses in your neighborhood, now is the time to start. All you have to do is introduce yourself and offer the them discounts, free drinks or invitations to a special event at your bar. Or just tell them about the happy hour specials.
In no time, they'll start to feel like your old friends. Then on the days when your bar is slow, these are the people who will become the regulars that stop in for a few drinks just to support.

5. Learn Your Customers' Preferences
One way to turn customers into regulars is by getting to know them better. Find out their names and their favorite drink orders. If Julia always orders a dirty martini, be ready to pour that drink as soon as you see her walk into the bar.
Every time that you interact with a customer, you should always seem happy to see them and ready to serve them. Having a friendly attitude towards your customers is the best way to develop relationships to create regular customers.
Want to connect with people at your bar in a whole new way? Download the BOTY App on iTunes or Google Play for free!
Have you ever just sat back and observed the different personalities that come in the bar? People are fascinating and when alcohol is involved they become even more so. From the hip, trendy bar customers to the every day regulars, there is never a dull moment at the bar. 
.
Here are 7 different types of bar customers.
The Sophisticated Drinker
These bar goers are usually easy to spot. Their high-end clothes and trendy personalities usually shine through. A sophisticated drinker is typically into top of the line drinks like scotch, bourbon or dirty vodka martinis. However, they also may like a good red wine or a craft stout beer. Bartenders seem to like a sophisticated drinker.
It always impressed them when you order a good, classy drink. So, if you want to score points with your bartender, order their favorite scotch on the rocks or a gin and tonic. But a word of caution, being a sophisticated drinker is not cheap. It costs money to sling back those expensive drinks all night.
The Manly Drinker
A manly drinker is your beer drinker that frequents bars during big sports games or any other big event. Typically he never drinks alone. A manly drinker will have three to five of his buddies or co-workers with him. Drinking for them is so much more fun when you have buddies with you.
The manly drinkers will most likely hog one side of the bar or a pool table, but preferably they will be on the side of the room where they can see a television. In the eyes of a manly drinker nothing is better than a cold beer and big game. It doesn't matter what type of beer they are drinking, as long as it is beer. Occasionally, when the game is going well they may order a round of shots.
The Lover of Wine
These are most oftenly beautiful ladies who have a good palate and a taste for high-end drinks. There are three different types of wine lovers:The Red Wine Drinker: The red wine drinker typically will only like deep red, full body wines. They seem to have a passion for life and are very loyal to their friends.
-----The Red Wine Drinker: The red wine drinker typically will only like deep red, full body wines. They seem to have a passion for life and are very loyal to their friends.
-----The White Wine Drinker: The white wine drinker is usually a somebody who just started to take an interest in wine or the girl who is mainly likes sweet drinks. This wine lover is a lot of fun to hang out with and a bit of flirt.
-----The Wine Connoisseur: Now the wine connoisseur is a true wine drinker who will order a fine wine regardless if it's red or white. This type of wine drinker knows what goes into a great wine and will test your knowledge of the wine.Also, The wine connoisseur has a great palate and knows what he or she likes.
No matter what type of lover of wine a person is, one thing is for sure they tend to enjoy the finer things in life and they tend to not rush through life haphazardly.
https://botyapp.com/blog-people-love-bar/
The Shot Master
This type of bar goer loves to have shots. It doesn't matter what the shot is. He or she is a thrill seeker and knows the fastest way to a buzz is a by downing few shots. The shot master is always the life of the party. They love anything from Irish Car Bombs to a shot of Jack or even the popular Jaegar bomb. You have to watch out for these guys though, like that saying goes,'1 tequila, 2 tequila, floor', too many shots can mean trouble.
The Girlie Drinker
The girlie drinker is your average woman who likes a good daiquiri, margarita or a good mixed drink. Many of these drinkers love their vodka and red bulls or Tequila Sunrises. These are usually the fun ladies at the bar and can typically be found in the corner surrounded by 6 or 7 of their closest friends, giggling and having a good old time.
The Big Spender
This guy is usually harder to spot in crowd, at first. He tends to blend in well and starts out drinking slowly. However, after a few drinks he starts buying rounds for everyone while he flaunts his money. He quickly can become the life of the party until his money runs out. This is the guy you want to be friends with, because everyone likes free drinks.
The Drunk
This is a bartender's least favorite customer because they know sometime by the end of the night they will be babysitting this bar goer. The drunk has no real preference to what he is drinking as long as he is drinking. As a drunk starts drinking they got louder and more rambunctious. They eventually lose all ability to think with common decency and will hit on anything in a 5-mile-radius.Often times they can become argumentative and start fights. Beware of the drunk. He could be a regular or he could be the new guy, you never know. Either way his nights always end in disaster.

Bars are filled with many different personalities. This is the reason why bartending is such an interesting job. Everyday you get to meet people, with different personalities, preferences and experiences. Everyday is a new, interesting day as a bartender. 
Want to connect with people at the bar in a whole new way? Download the BOTY App on iTunes or Google Play for free!