Chicago is a buzzing city filled with amazing places to go and so many awesome activities. Among all these great places are 7 iconic bars that makes drinking a must thing to do.
These bars are synonymous with this windy city. If you haven't been to any of these spots before, it's definitely time to check them out. Chicago is so alive during the summer, so check in and don't miss out on all the fun!
Green Mill Cocktail Lounge
The Green Mill in Chicago is iconic. This bar was once a speak-easy for Al Capone and his crew who were known to visit this establishment quite frequently. The very booth they sat in is still in the bar. They chose a particular booth that allowed them to see the front and back exits easily in case they needed a quick escape. This bar is also very known for it's jazz music and it's poetry shows. In fact, the Green Mill was the birthplace of slam poetry. If you are looking for a bar filled with history, music and performing arts the Green Mill has it all. Just the history a lone is worth the trip.
The Cubby Bear
Chicago is known for it's sports and it's sports bars. The Cubby Bear on Addison is located right across the street from Wrigley Field, home of the Cubs. This bar is a well known destination for fans after every Cubs game. Win or lose, Chicago fans always celebrate here after. And now that the Cubs broke the curse and won the World Series in 2016, this bar has become even more popular. The Cubby Bear offers good food, drinks and even has private events upstairs with great views of Wrigley Field.
Maria's Packaged Goods And Community Bar
There are very few liquor stores that serve alcohol, especially in the city of Chicago. However, that is exactly what Maria's is. It was originally opened in 1939 as Kaplan's Liquor store. Later, in 1986 it fell under new ownership and people started calling it Maria's after the owner Maria who was like the 'mom' of the neighborhood. In 2010, Maria handed the bar over to her sons who gave it a facelift and officially named it Maria's. There is nothing more convenient than going to a liquor store, sitting at the bar for a few drinks and then taking a 12 pack of beer home with you. If you have never seen a liquor store and bar combination you may enjoy this quaint little place.
Three Dots And A Dash
Are you looking for a fun bar that sends you straight to an island paradise? Three Dots and a Dash is just that. This iconic Chicago bar is a tropical tiki bar decked out to look like paradise in the city. In morse code, three dots and a dash stands for the letter "V" which during World War II meant victory. At this modern and timeless bar in Chicago, their signature drink is also their name. Three dots and a dash is a drink that was created nearly 70 years ago and consists of rum, allspice, honey and bitters. This island paradise bar in Chicago is also well known for their amazing food such as their Tuna Poke, Kimchi Pork Belly and Thai Fried Chicken. So many people have said this is a hidden gem in the city and a great spot in the dead of winter in Chicago.
Durkin's
In 1918, Durkin's was opened as a bar for older gentleman and also used as a speakeasy. This is one of the oldest, longest running bars in Chicago. Today it is known as one of the best Irish pubs in Chicago. Chicago has a big history with Irish pubs, and during their St. Patty's Day celebration, they dye the Chicago river green each year. It has been known to be a happening spot with good music, fun and great history. If you want to visit a historical bar while in Chicago, this is a great spot to check out.
ROOF on theWit
Maybe, you are looking for that more upscale, glamorous bar in Chicago. The Roof is a modern, upscale establishment some 27 stories above the streets of Chicago. They offer Mediterranean dishes as well as high-end drinks. The views of the skyline are fabulous. They do have a strict dress code so dress casual. You can sip on drinks on the patio or head indoors and warm up near the fireplace. The Roof is known as a great place to enjoy the breathtaking views of the city while drinking your favorite cocktail.
Old Town Ale House, Chicago
The Old Time Ale House is known as one of the best dive bars in Chicago. It has a fun and friendly atmosphere that you are sure to love. The Ale House opened in 1958 and has changed hands over time. In 1971, it caught fire and was moved. It has remained in that location ever since. The entire decor has not been remodel ever. It's like stepping back into time when you walk through those doors. The walls are covered with many framed-art vintage pieces that are occasionally for sale. They serve a variety of cheap beer but that coupled with the regulars makes this place feel like cheers. If you want an authentic Chicago bar to visit while traveling through Chicago, this is it. It's a dive bar, but it's a classic.
Want to connect with people at your bar in a whole new way? Download the BOTY App on iTunes or Google Play for free!
Wine has been enjoyed through the ages of time by so many people around the world. However, there are different myths about wine whether it's the way it's packaged to the foods you should eat with it. 
Here are several myths about wine we will attempt to debunk.
1. All wines are better with age.
If you keep a bottle of wine in your pantry thinking it will be better if you save it for several years, you may ruin a perfectly good bottle of wine. In addition, the majority of wine is to be consumed within the first year or two. About 90% of wines are made to drink right away.
2. Always serve red wine with meat and white wine with fish.
It is true red wine tastes good with meat and white wine is lovely to pair with fish. Seems like tuna or even salmon go excellent with some red wines. While white wine that is fruity or distinguished pairs nicely with a slab of beef. Therefore, you really need to have a better understanding of food pairings before making wide assumptions.
3. Expensive wines always taste better.
This may be true of a lot of wine. But a lot more goes into the price such as the location, quantities, exclusiveness, celebrity ratings and a whole slew of other reasons. Don't believe us? Well go to your local liquor store and see which wines are flying off of the shelves.
4. The bigger the wine better the wine will taste.
It is true the bigger the bottle the more you have to drink. However, there are plenty of wines that come in big bottles that we feel taste terrible. The size of the bottle doesn't make wine taste any better.
https://botyapp.com/blog-healthy-benefits-drinking-alcohol/
5. Age-worthy wines are always sealed with a cork.
There are amazing wines that have aged beautifully with a screw top cap. Some age better than some that are corked. And don't let the old myth that 'corked wine is more prestigious' stop you from trying some wines that are not corked. As a result, you may just discover your new favorite wine is cork-free.
6. Boxed wine is inferior and cheap.
While boxed wine may be inexpensive, it does not mean all boxed wines are bad. Box wine is portable, convenient and many of them taste really good. As a result, don't judge a wine by it's box.
7. Small, private wineries make the most prestigious and noteworthy wine.
While there are many small and private wineries that make exceptional wines, don't rule out wines from big corporations. Big corporations have a lot of money and people working for them to perfect the taste of the wine. Therefore, be open about wine makers so you don't miss out on some truly wonderful varietals and blended wines.
8.  Blended wines are not as good as wines made with one type of grape.
It is very true that many wines with only one type of grape in them can be labelled as authentic and prestigious. However, there are several wineries who do blend their grapes and pass the wine off to even the most professional wine tasters as varietal, or single grape wines. As a result, labels can fool you. Not only that, there are so many delicious types of blended wines. 
9. Red wine should be served at room temperature while white wine should be ice cold.
Red wine at room temperature can speed up the aging process and may ruin the taste of the wine. And white wine should not be served ice cold. Ice cold wine can change the chemistry of the wine and change the taste. So there you go. You should keep your wine at the recommended temperature that you would store it at.
10. You should always let your wine breathe before drinking.
For some wines this may be quite true but not all wines need to breathe. However, not only that, just uncorking a wine bottle will not give a bottle of wine enough air to breathe. And the best way to aerate wine is by putting it into a decanter.
Want to connect with people at your bar in a whole new way? Download the BOTY App on iTunes or Google Play for free!
Bartending is more than just serving customers drinks. Walk into any bar on a Friday night and you will see an array of drinks being served, music blasting and happy customers enjoying themselves.
You are looking to have an enjoyable time at your local bar. The best times typically involve good customer service.  A good bartender tip is to know it's all about the cash.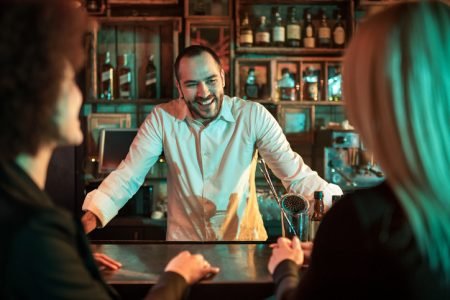 Bartenders know nothing about you when you first meet. The only thing they are likely to remember are how much you tipped them (if you did) and what you ordered.  
If you don't tip, chances are they won't have fond memories of you. Bartenders determine who gets priority by those helping them earn a living. While your having fun at the bar, bartenders are working to pay the bills. The best way for you to get their attention is by taking care of them.
Check out a few things to remember when your at the bar.
Bartender Tip: Make sure they see you
If you just leave your tip on the table after they gave you your order, you never gave the bartender/customer relationship time to develop. And if they are busy, chances are they will have no idea who left the tip.
Give them a tip as soon as you order. This way, they know where it was coming from and are more likely to pay attention to you once the bar gets busy.
https://botyapp.com/blog-tips-tipping-bartenders/
Bartender Tip: Provide Gratuity in Cash
Even if you plan to tip well when closing out your credit card tab, remember that bartenders don't know that. You just spent your entire time at the bar not giving the bartender any assurances that you are not cheap and plan to tip well.
A good strategy is to pay for your first few drinks in cash. Even if you plan to use a credit card to pay the entirety of the bill. This shows the bartender you appreciate them and their service.  
Be mindful, it's not always the same bartenders taking care of the same individual. Oftentimes credit card tips end up being split amongst all the bartenders during that shift. So even if you tip well, it won't matter to that particular bartender since they only get a part of that tip. Cash may be split too, but at least they will be able to take home those tips the same day.  
Bartender Tip: Designate One Person to Buy Drinks
Don't confuse the bartender. If you're with a group, try to assign one person in particular to buy the drinks. The bartender probably has no clue who you're with. They aren't going to acknowledge you as being with your friend who just tipped them 10 minutes ago.  
If you plan to rotate who takes care of the drinks in any given outing, be sure to introduce the "new person." The bartender need to know your friends of friends who tipped well last time. As time goes on, the bartender will eventually remember your group and know they can count on you all as reliable customers for bartender tips. This ensures that all of you get well taken care of by that bartender whenever you are out.  
Remember when you tip via credit card, that income is taxable and the bartenders don't make as much. Understand they may not be able to take the tips home for the night. And when you mess with a bartender's money, that takes the excitement and fun out of the job. If you are headed to the bar, take some cash and look forward to having a better time out.
Want to connect with people at the bar in a whole new way? Download the BOTY App on iTunes or Google Play for free!
Do you ever wonder how much the most expensive alcoholic drinks cost? 
In order to impress your friends or even customers with your knowledge of the world of alcohol, it is a good idea to familiarize yourself with the most expensive alcoholic drinks. 
1. Legacy By Angostura $25,000
Legacy is a very expensive rum. It consists of seven of the brands most outstanding and rare rums. This unique blend creates a delectable and prestigious taste. Angostura's mission is to create the world's best sipping rum and many believe they have with Legacy by Angostura.
2. 1940 Wray And Nephew Rum $54,000
J. Wray and Nephew is one of Jamaica's oldest and well-known makers and exporters of rum. This 1940s rum is well known for its purity and age which is why it's so valuable. It is much better straight up and not watered down!
3. Penfolds Ampoule $170,000
Penfolds Ampoule is a prestigious 2004 Kalimna Block 42 Cabernet Sauvignon with only 12 bottles ever made. This handmade vessel is truly remarkable. When an owner decides to open a bottle, one of the senior winemakers from Penfolds Ampoule travels to the destination, have a little ceremony and use a special tool to open the bottle. Drinking this wine is not just about the fine wine but it is about the experience as well.
4. Bombay Sapphire Revelation $200,000
Bombay Sapphire Revelation is a world famous distilled London dry gin. The design concept behind the vessel came from Designer Karim Rashid who wanted to have the bottle represent jewellers the brand Garrad and crystal Baccarat. Each bottle is hand cut with a sapphire and diamonds. This could be a bottle any women falls in love with.
5. The Macallan 64 year old in Lalique, Cire Perdue $460,000
This scotch is the oldest single malt whiskey ever produced by the Macallan. The Macallan and glass artist company Lalique joined forces to have this scotch and a one of a kind crystal decanter sealed with wax united. It toured many cities until it was finally sent to auction and raised $460,000 at auction for a charity, making this the oldest and most expensive bottle of scotch.
6. Diva Vodka $1 million
This prominent and delicate looking bottle of triple-distilled vodka pours through precious stones and gems. It is luxurious and feminine in every way. The company offers this vodka at a low price of $3,700 if you feel you want to live the high-life. However, it does not come with the precious stones that are available with the $1 million dollar bottle.
7. Pasion Azteca Platinum by Tequila Ley $3.5 million
The idea behind making this tequila is to offer the world the best tequila the world. This precious tequila is made from the sap of a blue agave plant. It was then fermented, distilled and left to age for 6 years. Each bottle is engraved by the artist Alejandro Gomez Oropeza and made to represent a barbed shell.
33 additional bottles are made in silver and gold and has a much more affordable price, $150,000. Whether or not you want to own the 3.5 million dollar bottle or a bottle for $150,000 one thing is for sure, this is one pricey alcohol. I wonder how much it would cost to make it into a margarita? 
The finer things in life may intrigue you. Or if you're serious about buying one of the most expensive bottles of alcohol in the world one day. Each of these 7 are refine and prestigious. It doesn't matter if you like vodka, rum, wine, gin, tequila, vodka or whiskey, some prices you can afford and then some insane prices that only a select few will pay.
If you try any, let us know. 
Want to connect with people at your bar in a whole new way? Download the BOTY App on iTunes or Google Play for free!
Humans  have basically been getting drunk since graduating from caveman status. Small amounts of alcohol have been found in the pottery of ancient Chinese civilizations.
And there's written mentions of the stuff as far back as the time of Julius Caesar. The earliest booze may have been crudely made from whatever was available, but everyone made something.   
Since those early days, alcohol has continued to be a major part of our daily life. There's very few cultures that don't partake. Even those places where it's illegal often have loopholes like "hotel bars" for tourists.
Because bars have been a staple of our lives for centuries and a popular public gathering place throughout history. In an interesting way, the history of bars and bartending is the history of humanity. Read on for some interesting facts about alcohol, getting drunk, and the people who make it all possible (kind of).
Humans Were Getting Drunk Since the Very Beginning
In ancient civilizations, alcohol was mainly used for medicinal purposes. Ancient people believed it could heal disease and fight infection. It was also used in ceremonial service to the gods. And there is evidence to suggest that humans have been producing alcohol as early as 10,000 BC. This is now known as the Neolithic period. The ancient Greeks in particular loved their booze and had many mythologies surrounding it. They even had a specific God, Dionysus, devoted to wine and merriment. Sounds like a fun time.
At first, alcohol was just the accidental by-product of rotten fruit: fermentation. The first record of an actual distillation process which vaguely resembles what we know today wasn't until the 1st Century AD in Greece.  
So, the very first bartender was whichever dude realized that eating rotten fruit made you feel funny.
The Modern American History of Bars
Diving into alcohol throughout history across the entire planet is a bit much for one article. Let's focus from this point forward on bars in America. It's hard to determine which bar is the oldest in the US because of lack of records. And the obvious fact that the very first bar ever built probably doesn't exist anymore. Currently, it is thought that the oldest bar in the US is The White Horse Tavern in Rhode Island. This place claims to be in operation since 1673.  
The first bars in America were gathering places for people of all types and often served as official meeting locations. Supposedly you could find priests giving sermons and government officials discussing legitimate business. 
It is often cited that many historical events took place in bars. Supposedly George Washington met John Adams at the City Tavern in Philadelphia and from there the seeds of the Independence were sowed. Even Abraham Lincoln was a bartender of sorts, working the counter at a general store that sold bottles of booze!
Prohibition and the Black Market
In 1920, thanks to the growing Temperance Movement, the sale and manufacture of alcoholic spirits was nixed by the Volstead Act. During this time that bootlegging was born, Boardwalk Empire style. This law was pretty tough to enforce though and as the great Depression began creeping in. Making bars legal again would have led to much needed jobs and tax revenue.  
Bartenders at the time of prohibition would have been working in secret "speakeasies" and charging a super high price for booze. 1933 saw the end of prohibition and the biggest night of alcohol consumption in history (just kidding, but maybe though!).
Alcohol and Beer Today 
Today the bar industry is thriving. The demand for quality, craft beer and liquor is higher than ever before. The Brewers Association estimates that the total beer market was worth $105.9 billion in 2015, with the craft beer market making up a whopping $22.3 billion of that figure!
Us bartenders get a lot more respect too. There's recently been a push to give us minimum wage across the US and there's a growing number of resources available to us.

So, throw a few back (responsibly) and think of the truly great tradition you're a part of. Just don't tip like it's the 1600s.  
Want to connect with people at your bar in a whole new way? Download the BOTY App on iTunes or Google Play for free!
When's the last time you saw a big, burly man order a cosmopolitan or a sex on the beach? Probably not recently, right? Or maybe not ever. Because remember don't drink girly drinks. 
Have you ever wonder why people love the bar so much?
Being in my late 20's I've come to realize that there are two different types of a 'night out'. There's the one where you put on one of your better dresses. You do your hair and makeup just right and go to a club where you and your friends dance with strangers and drink the night away. 
Then there's the night where your clothes consist of comfortable jeans and a stain free shirt. Your hair is in a messy bun as you walk into your favorite bar to relax for the evening. It probably comes as no surprise that I prefer the second type of night.
There is something cozy and homey about bars. And after spending time visiting ones from all around the world, I've come to realize a few things about why people love the bar so much.
Fact #1: Variety 
No matter your lifestyle there is always a bar out there for you. From the upper class that serves prohibition style cocktails. To the dive bars where country and rock pour from the jukebox. There is a bar for everyone. Personally I prefer the Irish pubs, where the main drinks are Guinness and Heineken while Dropkick Murphy's plays in the background.
Fact #2: Want to Talk, Don't Want to Talk?
Have you ever had one of those days where you don't really feel like talking to anyone? But you don't necessarily want to be alone.  The wonderful thing about bars is that they are always full of people and there's no obligation to talk. Sometimes it's just nice to be a part of a collective conversation and too just nod your head along. And sometimes it's just nice to be surrounded by quiet chatter while you reflect over your drink.
https://botyapp.com/blog-make-new-friends-bar/
Fact #3: A Place to Vent
Being in a bar, it's almost a requirement to share the details about something that may not be going great in your life. Here no one is passing judgment because they may be going through a similar experience.  It's not all bad news because the bar is also the place to have a shot to celebrate a birthday or toast to a new promotion.  The bar is the place to express yourself through the good or bad times.  
Fact #4. Introvert, Extrovert? We Love Them All!
Bars are definitely the place where everyone can come and find themselves at ease.  An extrovert is a friendly person who truly enjoys talking to and being around other people.  If you're an extrovert there will be plenty of people to talk to and swap stories with.  It's not as easy for introverts to make new friends because it takes up so much energy to get to know someone.  So introverts will most likely be the one listening to the most outrageous stories.     
Fact #5. Comradery
If you're lucky enough you will find a bar that becomes your home away from home.  You know the one where you know the owners, all of the bartenders know you by name. And they have your drink poured as you walk through the door.  The other patrons warmly welcome you and probably know details about your life that no one else knows. It is in these bars where stories and advice are doled out over beer and anyone can be dragged into a conversation.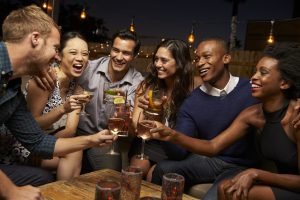 The thing I personally love about bars is the ease of the atmosphere. No one cares where you've been and no one cares about your mistakes, everyone is just looking for the same thing - a cold drink and a fun story to listen to.
Want to connect with people at the bar in a whole new way? Download the BOTY App on iTunes or Google Play for free!
Not everyone wants to work as a bartender, but that doesn't stop us from becoming an occasional home bartender.
Sometimes, a regular cocktail just doesn't do it, especially during the holidays. It's not that it tastes bad, but sipping something that looks like a regular glass of alcohol doesn't really scream "holiday spirit," if you ask me. Behold are some incredible layered drinks for popular occasions.
There are so many amazing alcoholic drinks on the market today make it hard to choose a favorite. However, after a bit of research, social media pondering and asking around I came up with the top alcoholic drinks this year. They are in no particular order, just 10 drinks that we all love and want more of in 2016.
There are several things bartenders can teach you.
It's been one of those days where all you want to do is have a drink. But unlike George Thorogood's famous song, you don't feel like 'drinking alone.'  So instead you make your way over to your favorite bar where the bartenders know your name. And can tell by the expression on your face exactly what you need.
Before you even manage to sit, there's a drink waiting for you and a smile on the face of the bartender. You take a sip and suddenly things fall into place. And all is right with the world once again.  This is what I love about bars.
Being in my mid-twenties I have visited my fair share of bars and have spoken to many bartenders from all over the world.  I have come to realize that bartenders can unknowingly teach you valuable lessons about life.
1. Bartenders Can Teach about Alcohol
Bartenders are obviously exposed to the world of liquor at many different levels. If you ever have a question about any type of alcohol or drink, the best person to ask is a seasoned bartender.  They can tell you about the best liquors and what to avoid.  
2. Bartenders Can Teach about Limits
Dealing with intoxicated people comes with the territory of the job.  As a bartender gains experience on they job, they become excellent at determining what someone's limit is. This is great for anyone to learn in order to keep themselves and their friends safe from alcohol poisoning and getting themselves out of trouble.
3. Diffusing
There are always going to be those incidences where bartenders are going to have to diffuse a situation between two patrons. Bartenders will rarely use physical force for this, only if necessary and more commonly use different verbal methods to rein the situation under control.
4. Storytelling
If you are a writer or someone who wants to be able to learn how to tell a great story, ask a bartender to tell you one. You cannot work in a bar and not have some juicy tales to spill, and for some reason bartenders just have the charisma that allows them to be exceptional storytellers.  Maybe it's the drinks.  
5. Patience
If patience is a virtue then bartenders are the holy saints of it. In a bar you deal with people from all walks of life. And while that makes for an interesting work environment, it can also be pretty frustrating. There are always going to be those nasty customers who are rude, disrespectful and very critical right from the start and a bartender has to take it all while providing good service and timely drinks.
6. Understanding People
Bartending is one part providing and creating drinks and one part people watching. If you work in a bar long enough, you will figure out someone from the moment they step through the door.
7. Maintaining Stamina
People don't think that bartending is a physically demanding job and they are completely wrong. You are standing/running around for up to 12 hours shifts with barely any breaks. Bartenders definitely know some tricks of the trade when it comes to keeping their stamina.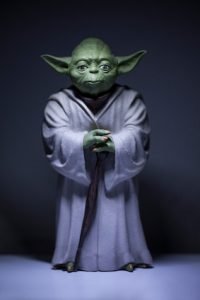 Next time you go to a bar don't just think of your bartender as someone who lives to serve you. Think of them as a teacher, a Jedi perhaps, who can teach you some valuable life lessons.
Want to connect with people at your bar in a whole new way? Download the BOTY App on iTunes or Google Play for free!