Success in business isn't built by working alone. If you want to get ahead, you'll need to build new relationships and expand your network. Shockingly, one of the best places to do this is at the bar.
Whether you find yourself at a networking event at a restaurant or you happen to wander into a bar during happy hour, these tips will help you make some good connections.
The Approach
Whether or not you're drinking, it's always a good idea to make sure that you position yourself near the bar. If you position yourself close to all of the action, you can easily strike up a conversation as people place their drink orders.
Don't Get Drunk
If your goal is to meet people concerning your career or for business purposes, hold back on the drinking. While it's okay to have a drink or two, remember that you're trying to chat with strangers about work activities. You need to be focused and too many cocktails can take you off your game.
Set Reasonable Expectations
At most, you should secure a business card or a contact phone number for your new acquaintance. Don't expect to get hired for a job or strike a business deal the same night. Sometimes the consumption of too much alcohol can inflate expectations. Give it a few days to sink in!
Don't Make It Obvious
Let's face it. No one likes a social climber. If people see that you're trying to work the room, they'll probably decide that you're someone that's not worth knowing. Remember, you're not a politician and this isn't a re-election campaign.
Instead of trying to meet everyone, zero in on a few people who pique your interest for whatever reason. You can also work on becoming a regular at the bar so that you can meet more people gradually. That way you won't feel pressured to try to meet as many people as possible in one night.
Ask Genuine Questions
Let the other person speak to you more than you speak to them. Make sure to ask thoughtful questions. Instead of the usual "So, what do you do?" ask about their hobbies and interests.
Not only will they remember having an enjoyable conversation with you, they'll also feel great about the fact that you really wanted to get to know them.
Treat Networking Like a Puzzle
Even if the person you meet can't help you directly, keep in mind that someone in their network might be able to. You can find out who they know later by checking out their social media accounts and following up.
Ask Yourself Why They Should Want to Meet You
Think carefully about why these new acquaintances might want to meet you in the first place. You only have a short time to make a good first impression so think about how you might respond to basic questions about yourself and your professional life.
Always Be Ready
If want to network, you should always be ready. Have business cards available or send your e-card if your new acquaintance asks for your contact information. Make sure that you're dressed appropriately for the scene, have gum available, and freshen up.

Want to connect with people at your bar in a whole new way? Download the BOTY App on iTunes or Google Play for free!
Let's face it, college students don't make that much money. Shocker! And the little they do make goes towards college expenses, student loans, and food.
All of this makes going out and having fun so difficult. But since your college years are supposed to be the best years of your life, you have to figure it out. You're not obligated to a home mortgage, kids or a spouse, so how best to get the most out of it with so little?
Drink On Campus
Okay, this can be tricky depending on your campus rules. However, the surefire way to have some fun and save money is to just get a six pack and hang out in your friend's dorm room or hit up a house party. It might not be as fun as hitting the bar, but saving money requires a few sacrifices.

Buy Lower Priced Drinks
Forget the shots! They go fast and the money adds up. Instead buy cheap beer. Most beers are pretty inexpensive and will not damage your pockets. If you have to have a shot or a cocktail, don't buy top shelf. The cheap, generic brands work just as well.
Go To College Only Bars
There is a huge difference between a college bar and tourist bar. College bars expect to have tons of students with little money. So this will fit better with your budget. Tourist bars jack up the prices because they understand that people who are on vacation like to spend money. Take the time to know which bars are college bars. You will enjoy cheaper drinks and make new college friends in the process!
Save For A Rainy Day
Instead of letting a few dollars burn a hole in your pocket, invest in a piggy bank. This way when your college buddies decide to go out, you already have some spare cash lying around ready to be spent. And instead of getting Starbucks every morning, ask your parents to buy you a small coffee pot to keep in your dorm room. Put the money you save into your piggy bank for your next bar outing!
Know When It's Happy Hour
While you are out at your favorite bar, study the happy hour menu like your cramming for an exam. These drink specials will help you stay within your budget. And do some math to figure out if it's cheaper to buy an individual beer or a pitcher. Using the skills you acquire in college will help you drink all night for a reasonable price.
Leave Your Credit Card 
Before you head out, decide how much you are willing to spend and only take that amount of cash. Leave the rest of the cash and your credit card at home so that you are not tempted to spend more once you put on your whiskey face. It's easy to go broke being undisciplined. Don't be the idiot who wakes up the next morning to say, "How did I spend $300 last night?"
Being a college student doesn't mean you have to be broke and stay in night after night. Just get creative with your spending and saving habits. Take time out to have fun! And if worse comes to worse, have one of your buddies buy for the night. You can treat them the next time around. You are only in college once after all!


Want to connect with people at your bar in a whole new way? Download the BOTY App on iTunes or Google Play for free!
Tonight you're feeling adventurous so you're going to check out a bar you've never been to. As you approach the door, you start getting some weird vibes. Is this a college bar?
While we all love to reminisce about our college days, all of your drunken escapades have probably made you forget what a college bar is really like. If you're not sure what you're in for before it's too late, here are 5 dead giveaways that you're at a college bar.

1. Happy Hour Specials for Amateurs

The list of drinks on the happy hour specials (along with the lack of fancy glassware) is almost a dead giveaway that you're at a college bar. Let's face it: college kids aren't the most sophisticated drinkers so to them any drink that gets them wasted is more than good enough. Rum and Coke, Screwdriver, Jungle Juice, Fireball, and Jäger bombs are pretty much par for the course. But if you can stomach well drinks, what's not to love about getting your drink on for $5?

2. Bros on Bros on Bros

If there are groups of rowdy Bros slamming down shot glasses on the bar and they're already shit-faced even though it's only 6 pm, it's almost guaranteed that you're at a college bar. And if you're still not sure, just check to see if they're drinking Tequila. If the answer is 'yes' and you're not ready to bounce yet, here's a pro tip. Make sure to leave enough room for them to do their thing because they take any "oohhhh shit…" song, like LMFAO's 'Shots', literally.

3. It's Going Down While You're In Line

Another thing that Bros are well-known for is fighting at the bar. So if you see people getting thrown out for being too drunk as you're going in, that's a good sign that you're in for a night at a college bar. Another telltale sign is that the bouncer is eyeing people's IDs with the flashlight way too hard as you watch them squirm in line hoping that their fakes are good enough to get them in.

4. Awkward PDA

There's PDA and then there's the "OMG, do you guys realize that you're in public?" If you see couples doing way too much right in the middle of the bar, you're probably in a bar packed with horny college students. Unfortunately, after some people have had enough $5 drinks, virtually anything goes.

5. You're the Creepy Older Guy or Gal

If you're older than almost everyone in the bar, even by just a few years, there's a good chance that you're actually the creepy oldie and everyone's wondering why you're there. Scope out the crowd. Does everyone seem to be the same age except for you? Don't feel ashamed now. Just accept the fact that you're at a college bar! 
Want to connect with people at your bar in a whole new way? Download the BOTY App on iTunes or Google Play for free!
You want your bar to become the place "where everybody knows your name" or perhaps you just want a reliable stream of tips. Whatever your motivation is to attract new people to your bar, you need regular customers.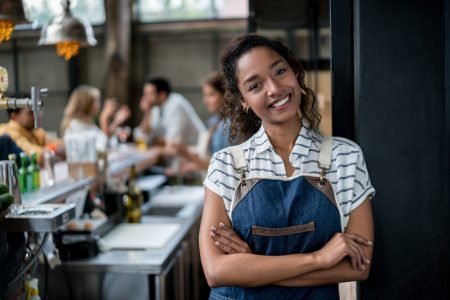 Here are 5 things bartenders can do to attract more regulars to make the bar experience better for all involved.

1. An Awesome Happy Hour
When it comes to winning over new customers so that they come back to your bar over and over, a 'killer' happy hour is key. If your bar offers awesome deals on drinks and food, you can convince customers to stop by during those times. Once they stop by, it becomes a part of their regular routine. And you'll have regulars that you can count on for consistent tips.

2. Create Photo-Friendly Opportunities
Be sure to create photo-friendly opportunities at your bar. This helps customers to remember that they had a great time while they were there. You can do this by hosting silly events to giving out free prizes. When customers come to your bar not knowing what exactly to expect, they'll be more likely to come back for more if they had a good time.

3. Make Sure There Are Plenty of Singles
Why would customers come to your bar versus all the other options? The answer is simple: the people. That is one thing that they won't be able to get anywhere else. Trivia games, speed dating, and other events that are likely to attract the single crowd.
If your bar is known as a place where singles are ready to mingle, guys and gals will hang out often. People will have more fun and will think of your bar as a great place to make new friends.

4. Reach Out to Your Neighbors
If you haven't had a chance to check out other restaurants, bars, and businesses in your neighborhood, now is the time to start. All you have to do is introduce yourself and offer the them discounts, free drinks or invitations to a special event at your bar. Or just tell them about the happy hour specials.
In no time, they'll start to feel like your old friends. Then on the days when your bar is slow, these are the people who will become the regulars that stop in for a few drinks just to support.

5. Learn Your Customers' Preferences
One way to turn customers into regulars is by getting to know them better. Find out their names and their favorite drink orders. If Julia always orders a dirty martini, be ready to pour that drink as soon as you see her walk into the bar.
Every time that you interact with a customer, you should always seem happy to see them and ready to serve them. Having a friendly attitude towards your customers is the best way to develop relationships to create regular customers.
Want to connect with people at your bar in a whole new way? Download the BOTY App on iTunes or Google Play for free!
It's pretty cool to respect bartenders and all service staff for that matter.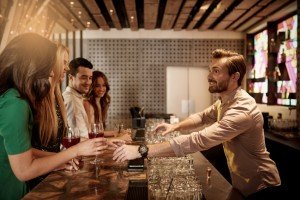 The Waiter Rule is no fiction. According to this rule, someone who is nice to you but isn't to a waiter is not a nice person. The attitude of a person towards restaurant staff is a kind of a poker hand that reveals his or her true character.
Rudeness in restaurants is very appalling. I recently witnessed a man harangue his waiter beyond all reason. Had the manager not intervened, I would have done so myself. Personally, I feel that this is indicative of disappearance of manners and loss of grace in the today's society.
Probably the two most important persons you think of when visiting a restaurant, are the bartender and the waiter. Bartenders are the ones who mixes and serves drinks behind a bar and they are the ones who interact with people directly during some of there best and worst moments. Oftentimes, people trust bartenders more than their therapists. Unfortunately, bartenders are not paid for their time like therapists.
A bartender is at work simply doing his job in order to pay his bills, like we all do. A good bartender will do his best to ensure that you are completely satisfied. However, bartenders are human and have feelings just like you. Your attitude towards them will greatly improve their service delivery to you and other people as well. Therefore, if you desire excellent service bring on your excellent behavior to your bartender.
Fact 1: Bartenders Are Not Superhuman
You probably expect that the bartender will bring everything you want as quickly as you want it. Bartenders typically do 10-12hr shifts on their feet all day, hours of prep work, and numerous hours of clean up. They also perform hours of catering to the demands of all types of people. Therefore, be a little patient and try to put your frustrations aside when he or she take some time to fulfill your order.
Fact 2: You Are Not the Only One Being Served
Sometimes, the speed of service at the bar is depended on the number of patrons present. You surely deserve decent service no matter how busy a bartender maybe. Nevertheless, your bartender will have to serve other folks so be considerate with slower service if the bar is packed.
https://botyapp.com/blog-tips-tipping-bartenders/
Fact 3: The Bartender Is Not Always the Cause of the Delay
Bartenders often take the blame when drinks take a while, food is late and when mistakes are made. Indeed, there are instances when this is completely justifiable. In most cases, however, most delays and errors are usually outside the bartender's control.  
Bartenders must multi-take like maniacs and are expected to do so many things at once like taking drink/food orders, processing credit card payments, remembering what everyone ordered, while getting requests from multiple patrons.  
And once your food order has been turned over to the kitchen, your bartender has nothing else to do besides waiting for your order to be delivered. Be mindful next time you get mad at the bartender for not moving as fast as you think they should move.
Fact 4: The Bartender Isn't Trying to Get Your Date
Bartenders must be friendly, charming and polite. Their job demands that they are cordial and happy towards all patrons. When the bartender smiles at your date, it doesn't mean that he or she is trying to get with him or her. Thus, there's no need for you to give your bartender those dirty looks because he is merely doing his work.
Fact 5: Tips Are the Best Way to Respect Bartenders
A generous tip is the way to respect bartenders if the bartender served you as you wished. Leaving a cash tip is also better than doing so on a card. I have friend who says that if you can't tip generously or do not believe in the tipping etiquette, you have no business drinking or eating out. Bartenders are there to make your experience at the bar a little more enjoyable. So be sure to show them more respect and tip them well because they are just doing their job, and need to pay their bills just like you.
Want to connect with people at your bar in a whole new way? Download the BOTY App on iTunes or Google Play for free!