"You're really going to order that?" he asks. Oh no, here we go again! Women who drink whiskey often have to deal with ridiculous comments from people who just can't help themselves.
For some reason, some people think that women and whiskey just don't go together and it's just silly. Just like anyone else, women can and should be allowed to enjoy a fine whiskey.
To help put an end to the stigma against women whiskey drinkers, here are 7 myths that need to die, like now.
Myth #1: Whiskey is just for men.
When some people think of whiskey they think of their grandfathers, cowboys, and other macho stereotypes. Shockingly, women are perfectly capable of enjoying whiskey too. No permission required!
Myth #2: You don't even know what you're drinking.
Yeah, yeah. Bourbon is made from corn and scotch is made from malted barley. If you want to learn about whiskey, just Google it. But at the end of the day, you don't need to know any of those facts to enjoy it.
In fact, since women whiskey drinkers aren't exactly the norm if you see a woman order a particular brand or type, she probably knows a thing or two about whiskey. She'll probably also be ready to school you on whiskey if you ask her so make sure you have your facts straight.
Myth #3: You won't like it if you drink it neat.
Oh, pu-lease. Who said every woman prefers daiquiris? Besides, a woman who takes her drinks neat is so rare that she's probably better at handling her liquor than most.
Myth #4: You're going to be hungover tomorrow.
Your body type is what determines your hangover, not your gender. Fun fact: You don't have to keep drinking until you're on the floor.
Myth #5: You can't actually enjoy the taste.
Research shows that women actually have more taste buds than men. That means that they can actually enjoy the taste of whiskey even more than men!
Myth #6: It isn't good to drink whiskey.
Excessive drinking isn't good for you either, bud. But no one said that you have to over indulge. Surprisingly, whiskey does have some health benefits.
Myth #7: You're just doing it to try to fit in with the guys.
Like women football fans, there are women who actually like whiskey. She also doesn't give a damn if you think that she's not 'ladylike.' Get over it!
You have your drink of choice and some women just happen to enjoy whiskey as their drink of choice. Don't worry, there's plenty of whiskey for everybody.
Instead, next time you see a woman carefully sipping on a stiff glass of Maker's Mark, why not chat with her? You might find out something interesting about her love for whiskey!



Want to connect with people at your bar in a whole new way? Download the BOTY App on iTunes or Google Play for free!
Let's face it, college students don't make that much money. Shocker! And the little they do make goes towards college expenses, student loans, and food.
All of this makes going out and having fun so difficult. But since your college years are supposed to be the best years of your life, you have to figure it out. You're not obligated to a home mortgage, kids or a spouse, so how best to get the most out of it with so little?
Drink On Campus
Okay, this can be tricky depending on your campus rules. However, the surefire way to have some fun and save money is to just get a six pack and hang out in your friend's dorm room or hit up a house party. It might not be as fun as hitting the bar, but saving money requires a few sacrifices.

Buy Lower Priced Drinks
Forget the shots! They go fast and the money adds up. Instead buy cheap beer. Most beers are pretty inexpensive and will not damage your pockets. If you have to have a shot or a cocktail, don't buy top shelf. The cheap, generic brands work just as well.
Go To College Only Bars
There is a huge difference between a college bar and tourist bar. College bars expect to have tons of students with little money. So this will fit better with your budget. Tourist bars jack up the prices because they understand that people who are on vacation like to spend money. Take the time to know which bars are college bars. You will enjoy cheaper drinks and make new college friends in the process!
Save For A Rainy Day
Instead of letting a few dollars burn a hole in your pocket, invest in a piggy bank. This way when your college buddies decide to go out, you already have some spare cash lying around ready to be spent. And instead of getting Starbucks every morning, ask your parents to buy you a small coffee pot to keep in your dorm room. Put the money you save into your piggy bank for your next bar outing!
Know When It's Happy Hour
While you are out at your favorite bar, study the happy hour menu like your cramming for an exam. These drink specials will help you stay within your budget. And do some math to figure out if it's cheaper to buy an individual beer or a pitcher. Using the skills you acquire in college will help you drink all night for a reasonable price.
Leave Your Credit Card 
Before you head out, decide how much you are willing to spend and only take that amount of cash. Leave the rest of the cash and your credit card at home so that you are not tempted to spend more once you put on your whiskey face. It's easy to go broke being undisciplined. Don't be the idiot who wakes up the next morning to say, "How did I spend $300 last night?"
Being a college student doesn't mean you have to be broke and stay in night after night. Just get creative with your spending and saving habits. Take time out to have fun! And if worse comes to worse, have one of your buddies buy for the night. You can treat them the next time around. You are only in college once after all!


Want to connect with people at your bar in a whole new way? Download the BOTY App on iTunes or Google Play for free!
After college, drinking with other adults now involves etiquette. In fact, you start to realize that getting hammered while everyone else is just sipping on a single glass of wine probably isn't the right move anymore.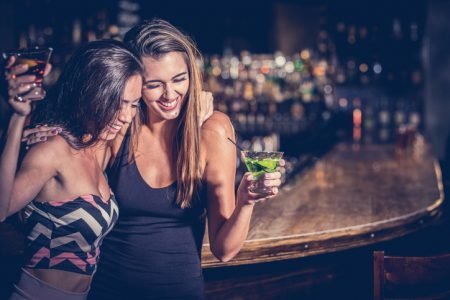 While the drinking rules have changed, there's actually still a lot of fun to be had when you go out drinking as an adult. Here are a few things you'll learn about drinking in college versus drinking in the real world.
Quality Matters
If you're over the age of 25 and you still drink booze from a plastic bottle, it's time for you to start making better decisions about your life. Not only does $10 vodka taste like gasoline, it gives you a hangover from hell.
Now that you're older it's time to start drinking better quality alcohol. This shows that you're better than other people, which is what being an adult is all about!
You Can Afford to Eat AND Drink
Once you hit your late 20's and 30's something magical happens: You're not actually broke anymore. That means you can be a bit choosier about which bars you go to and you'll even be able to afford a nice meal while you drink.
Having money to spend will make your night out much more enjoyable. Instead of eating questionable microwaved food from the gas station like you used to, now you can afford to order a cheese plate once you get to the bar.
Sunday Brunch
Sunday brunch is a gift from the heavens that you really can't appreciate until you start living in the real world. While college kids spend their Sundays on the floor with a hangover, you'll spend your Sunday with your friends at your favorite local brunch spot getting your avocado toast on.
You're More Responsible
Since your body can no longer handle what you used to put it through in college, suddenly responsibility finds you. You know that you can't go too crazy while drinking so you can actually make a schedule for the next day after you go out.
Unlike most young people who don't even turn over until noon and end up wasting the rest of the day after drinking, adults manage to get some important stuff done before they go back to work on Monday.
You Can Wear Nice Clothes When You Go Out
When you were in college, your choices of clothes for going out were mainly the items that you didn't care about. Anyone spewing on or the ones that you could unzip the fastest before nature calls.
Since going out to the bar as an adult is a lot more tame, you can wear that nice shirt or those shoes you just bought. After all, 'adulting' is all about showing off how much money you have so that people don't think you've failed at life!


Want to connect with people at your bar in a whole new way? Download the BOTY App on iTunes or Google Play for free!
So you are new on campus and looking for the coolest spots to hangout. A big part of your college experience is learning about the bar scene, or so every undergrad thinks.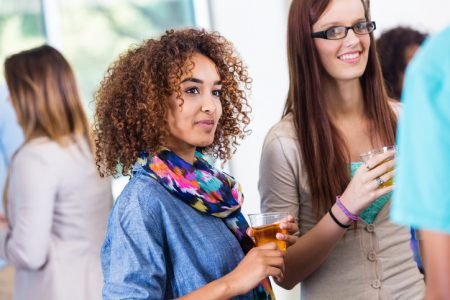 It's not hard to find the best local college bars near you. It's good to have a place to unwind, have fun and kickback with friends in between all of that studying.
So before you start looking, here are some helpful hints to help you on this mission.

1. Ask Around

If you are new on campus, it may take you a little while to adjust and to figure out the best places to go to meet people. That's okay though! You go to school with thousands of other college kids. If you don't know where the best bars are, somebody does. So just ask and you will be glad you did. Someone may even suggest a place you never heard of!

2. Google It

Ok, when in doubt. Google 'College Bars Near Me.' Just be cautious with this information though. Google may send you some place where nobody has ever been to. After you google it, be sure to scope the place out before heading there for a drink. If the place seems legit, go alone or with friends and throw back a few brews.

3. Just Go

I am sure you have passed that little tavern down the road often on your way to Sociology class. You never stepped into the place b/c it looks weird. Well if you want to find out if this is a cool, then just go and check it out. You never know until you go. What's the worst that can happen? You may meet some new friends at the bar. Just get a beer or two and take off if it's not your vibe. Life is too short to miss out on new experiences, so be gutsy and just go.
4. Look For Clues

You live on campus, right? There are community activity boards everywhere! If you have yet to find a great hang spot, check the physical and online bulletin boards. You will find local bars with bands and entertainment pinned up everywhere. Once you get a good clue, take note and definitely check it out. Seriously, it takes less work to find a good bar than it does to get an 'A' on your Biology exam.

5. Use the Right Bar Apps

There are many awesome bar apps that can help you find the right college bar to fit your needs. Use applications like the BOTY App to help you find the top bars and the best bartenders.
Keep in mind that college bars all have something different to offer. The best college bars will be close to campus, offer a variety of activities, have great drink specials and cater to a younger crowd. If you find a bar with these things, you just stumbled into a great college bar.
Want to connect with people at your bar in a whole new way? Download the BOTY App on iTunes or Google Play for free!
You want your bar to become the place "where everybody knows your name" or perhaps you just want a reliable stream of tips. Whatever your motivation is to attract new people to your bar, you need regular customers.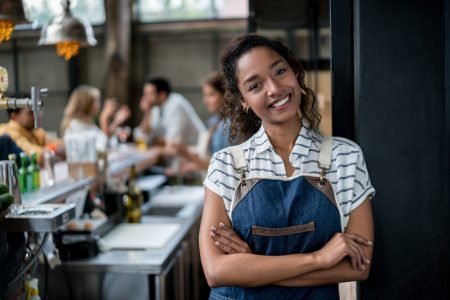 Here are 5 things bartenders can do to attract more regulars to make the bar experience better for all involved.

1. An Awesome Happy Hour
When it comes to winning over new customers so that they come back to your bar over and over, a 'killer' happy hour is key. If your bar offers awesome deals on drinks and food, you can convince customers to stop by during those times. Once they stop by, it becomes a part of their regular routine. And you'll have regulars that you can count on for consistent tips.

2. Create Photo-Friendly Opportunities
Be sure to create photo-friendly opportunities at your bar. This helps customers to remember that they had a great time while they were there. You can do this by hosting silly events to giving out free prizes. When customers come to your bar not knowing what exactly to expect, they'll be more likely to come back for more if they had a good time.

3. Make Sure There Are Plenty of Singles
Why would customers come to your bar versus all the other options? The answer is simple: the people. That is one thing that they won't be able to get anywhere else. Trivia games, speed dating, and other events that are likely to attract the single crowd.
If your bar is known as a place where singles are ready to mingle, guys and gals will hang out often. People will have more fun and will think of your bar as a great place to make new friends.

4. Reach Out to Your Neighbors
If you haven't had a chance to check out other restaurants, bars, and businesses in your neighborhood, now is the time to start. All you have to do is introduce yourself and offer the them discounts, free drinks or invitations to a special event at your bar. Or just tell them about the happy hour specials.
In no time, they'll start to feel like your old friends. Then on the days when your bar is slow, these are the people who will become the regulars that stop in for a few drinks just to support.

5. Learn Your Customers' Preferences
One way to turn customers into regulars is by getting to know them better. Find out their names and their favorite drink orders. If Julia always orders a dirty martini, be ready to pour that drink as soon as you see her walk into the bar.
Every time that you interact with a customer, you should always seem happy to see them and ready to serve them. Having a friendly attitude towards your customers is the best way to develop relationships to create regular customers.
Want to connect with people at your bar in a whole new way? Download the BOTY App on iTunes or Google Play for free!
Sometimes you can find yourself in a new city and when the sun goes down, you know it's time to party. But how do you pull off a bar crawl in a city that you've never been to and make it successful?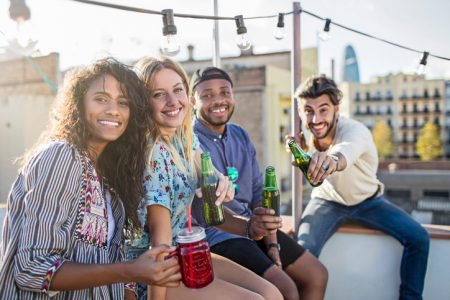 Never fear, help is here! With our best tips and the BOTY app, you'll be mingling with the locals in no time.
1. Study the Area Before You Go
Get to know what's up and what's down. Are there areas of the city that have a lot of restaurants and bars in a concentrated area? Scouting those areas first and how to get there is probably going to be your best bet in terms of finding a string of bars that you can spend all night in.
Are you looking for a laid back night at the dive bar or are craft cocktails more your speed? You should also decide on the type of bars that you prefer and check the crowd so that you don't end up walking into the local biker gang's hangout by accident.
2. Find Out What Time Things Close
In New York City, you'll notice that bars stay open until the wee hours of the morning so you can get your drink on until 2 am or later in many places. However, in other cities bars may close at 1 am or earlier.
By checking to see what time everything closes, you can make sure that you don't head out too late. That way you won't have to worry about not having enough time to close the deal or enjoy a few more rounds at a second or third bar.
3. Don't Forget to Include Food
A bar crawl that doesn't include a pitstop for food is a rookie's mistake. Don't end up spending your night taking in only liquid calories so that you're puking up vodka before the clock even strikes midnight.
Whether it's a food truck strategically located along the way or a sports bar that serves wings, getting food is the only way that you'll be able to keep going all night.
4. Don't Mix
The general rule of thumb whenever you're drinking, but is especially important if you're going to do a bar crawl, is that you do not mix liquors. Unless you plan on waking up the next day with a splitting headache and stomach pains that will just waste the rest of the time that you have in your new city, don't do it. Try to choose one type of alcohol and stick with it.
5. Be Prepared to Skip It
No matter how perfect you think your plan is, things can change along the way. A bar might not draw the crowd that you're looking for. Don't be afraid to skip that place and go to the next one on your list.
6. Mingle
Even if you don't speak the language, it doesn't hurt to try and say hello once you're at the bar. You might be pleasantly surprised to find that there are locals there that can speak your language. Don't forget, the whole point of a bar crawl is to have fun and you'll occasionally meet some really cool people. So make it happen!


Want to connect with people at the bar in a whole new way? Download the BOTY App on iTunes or Google Play for free!
A good bartender knows there are holidays and then there are drinking holidays.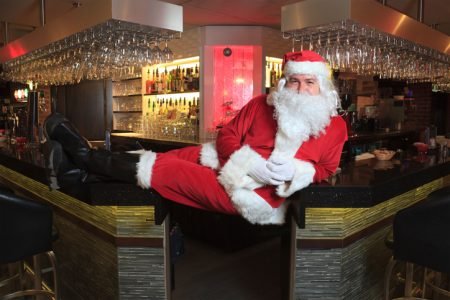 Drinking holidays are the days that your bar or tavern mostly likely will have a heavy flow of people coming into drink and have fun. These days can actually take a toll on the bartenders and servers. Yet they are also great days to make more money.
Survival Tip 1: Get Some Rest
Don't go into your shift unrested. Some bartenders have tried to work on a holiday on only a couple hours of sleep and can tell you it is unpleasant. Make sure the night before a big drinking holiday that you get a full 8 hours of sleep. You are going to need it!
Survival Tip 2: Wear Comfortable Shoes
Any bartender or server will tell you, it's a bad idea to wear dress shoes or heels on a day that you know you will be busy at work. Unless you are fine with pancake-size blisters and sore feet, wear a pair of comfy gym shoes instead. Your feet will thank you.
Survival Tip 3: Drink Plenty of Water
This is especially true if you are working on a really hot day. The last thing anyone needs is a dehydrate bartender passing out behind the bar. Also, when a customer offers you a shot, drink a shot of water or juice instead. It's better to be safe than sorry.
Survival Tip 4: Pace Yourself

It's important to serve as many people as possible in a timely manner, but don't allow customers to rush or take advantage of you. Pace yourself in order to make fewer mistakes and to keep your energy flowing throughout your shift. This will also help your tips to come in pretty steady.
Survival Tip 5: Don't Be Afraid To Cut It
People tend to let their guard down on holidays and you may see many of them get too drunk. Always be the smart bartender. If someone looks like they have had enough, cut them off and offer them a cab ride home.
Survival Tip 6: Be Aware of Longer Hours
On drinking holidays a lot of crazy things happen. Bartenders call in sick, go on vacation, or some simply just don't show up. Plus, it is busy and there may be more people than the bar may be able to handle. If you know in advance that you could possibly work longer than planned, it won't be so much of a problem.
Survival Tip 7: Be Prepared
Make sure you are prepared before the day. Overstock the bar, prep garnishes and set up a good workstation. It's better to be over prepared than not prepared at all.
Survival Tip 8: Look Out For Others
If you want the night to run smoothly, you and your co workers have to work as a team. If one of you is swamped, another should help out. If one of your co workers needs a breather, let them take a quick break and cover them. Working at a bar is hard work, it's even harder when it's busy and everyone is being selfish. Be a good team player and take care of your teammates.
Survival Tip 9: Stay Cool
Working the holidays can be very stressful. You are working and not enjoying time with your family. Sometimes your customers can be rude, obnoxious and unforgiving. No matter what the situation is you have to have patience and be understanding. Don't let anything get to you, it's just a job and you are there to work. If you remain calm regardless of what is going on around you, the night will go more smoothly and your tips will show it.
Survival Tip 10: Bring Protein Snacks
When you're busy, it is almost impossible to get a break. If it's allowed, bring peanuts, trail mix, an energy bar, raisins or a granola bar for a quick snack when you just can't get a way. It's important to have something that will help boost your energy and protein levels to help you make it through your shift. Of course if you get an official break, it's important to pack a lunch. Unfortunately bartenders may not get breaks during these busy shifts so don't forget to bring a snack.
Want to connect with people at the bar in a whole new way? Download the BOTY App on iTunes or Google Play for free!
Does traditional office work bore you? Maybe you hate being stuck in a tiny cubicle all day.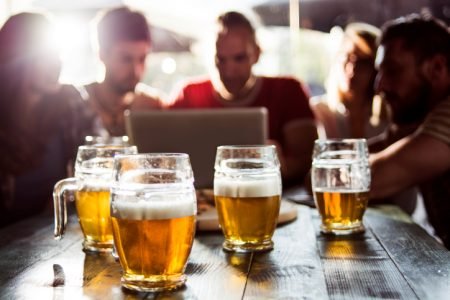 Or just maybe you hate working 9 to 5 in the traditional office setting. Whatever the reason, coworking could be what you are looking for. Coworking is a compelling option for small business owners, entrepreneurs, freelancers, startups and more. Here are 6 reasons to consider coworking at a bar.
1. You Avoid Coffee House Distractions
Have you ever been to Starbucks or Panera Bread during the day? They are packed with people working on their laptops. A busy coffee shop with it's noisy coffee machines and large number of people who frequent them is not always an ideal spot to work. Coworking at a bar during afternoon hours or early evening hours may provide less distractions and noise than your typical coffee house or traditional office.
2. You Are Tired Of Traditional Offices
You dislike sitting at a desk all day with your brown-nosing colleagues. And you hate the sound that the drinking fountain makes as people stop by it throughout the day. If any of this sounds like you, a traditional office may not be for you. Coworking from a local bar may feel more like home and could get your creative juices flowing. Non-traditional workspaces can increase productivity among workers, while traditional offices can make people filled stagnant.
3. You Hate the Traditional Networking Opportunities
You hate networking opportunities but your business needs it to survive. Coworking at at a bar helps with networking without you feeling forced to do it. Besides, you always meet interesting people at bars. It's a relaxing atmosphere which makes networking seem more fun.
4. You Need A Bigger Table
Are you tired of the small tables? Coffee shops always have those little tiny tables where you can barely fit your drink, let alone your laptop.  Working at these places  gives you limited space. If you hate small tables, a bar is definitely a great place to cowork from. Typically bars have big restaurant tables that will let you spread out your wings and have a bit more elbow room to work from.
5. You Prefer The Nightlife
If you prefer to work late afternoon or evening hours, coworking at a bar is probably a much better alternative for you. Not all of us are morning people. So if you are in need of a nontraditional office with nontraditional hours, coworking from a bar is a smart choice for you.
Coworking from a bar is not be for everyone. If some of the above signs relate to you, you might just have to give it a shot. There are many companies that offer coworking in nightclubs, taverns and bars. For more information about coworking at bars, check it out on https://botyapp.com/cowork.


Want to connect with people at the bar in a whole new way? Download the BOTY App on iTunes or Google Play for free!
It was only a few years ago that all but the most seasoned gin drinkers turned their noses up at the piney, floral liquor. We had the standards, Bombay, Tanqueray, and Beefeater, but not much else.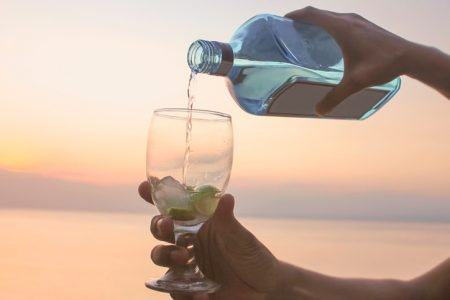 Now, gin is finally gaining back some of its well-deserved recognition. In this spirit, let's learn a little about the history of gin, how it's made, and the ways it's being used now.
A Brief History of Gin
Some historians believe that the origin of gin can be traced back to 11th century Italian monks. They mixed juniper berries in with their spirits to make them palatable. However, these early versions of the liquor were really nothing like the gin we are accustomed to today. It wasn't until some 600 years later during the Thirty Years War that the English stumbled across Dutch soldiers. They were drinking the stuff and got a taste for it themselves. Seemingly the soldiers had a few sips before entering battle, hence the term "Dutch courage".
Cut to a couple hundred years later and gin and its distillation were so popular in London that alcohol abuse and crime were rampant. Supposedly, 25% of private homes were also producing the stuff. Enter The Gin Act of 1736 which made gin unreasonably expensive to acquire or produce literally overnight. This act was repealed in 1742 and it's been more or less smooth sailing ever since.
What Exactly is Gin?
Generally speaking, gin is simply a spirit whose predominant flavor comes from juniper berries. However, there are four legally recognized categories of gin: "juniper flavored spirits" made by pot distilling with herbs and botanicals, "gin" made by the simple addition of juniper, "distilled gin" created by redistilling ethanol with juniper, and "London gin". Each category essentially consists of a subtle variation in the production process.
Beyond these categories, gin can include hundreds of plants, herbs, and other botanicals and is not tied to a geographical region like Scotch or whiskey. This rather loose definition makes for a truly varied market. Hendricks uses rose and cucumber while Bombay Sapphire uses almonds!
Gin is the perfect ingredient in a mixed drink. The classic Gin and Tonic is the conventional way to imbibe the floral liquor, but it can be found in many other timeless concoctions! One traditional drink, the Negroni, is equal parts gin, Campari, and sweet vermouth. Apparently this drink was invented on the spot when one Count Camillo Negroni in Italy requested his Americano be made stronger by substituting gin (!) for seltzer. You may also be surprised to learn that it's actually gin, not vodka, found in a traditional martini. In the mood for a bubbly cocktail? Try the French 75- gin, simple syrup, lemon juice, and champagne.
These days, bartenders have recognized gin's myriad uses and are using the spirit in some very interesting ways. A kombucha and gin cocktail? Sure, why not?
So, whether you're tipping back a Tom Collins or a Chai Tea Fizz, you've got some new facts to annoy your friends with.
Want to connect with people at the bar in a whole new way? Download the BOTY App on iTunes or Google Play for free!
It's always fun to have a night out at your favorite bar, right? Laughing at jokes and gulping down delicious cocktails with your friends is a guaranteed way to have a great time.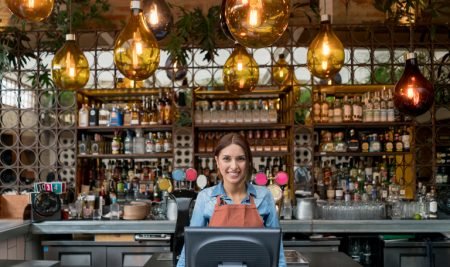 Have you ever wondered about the person serving you? While you're having lots of fun, the bartender works hard to make everything perfect. We found 10 amazing things bartenders never tell you!
Topped Off Might Mean Less Alcohol
There is a simple trick that bartenders do when a customer constantly wants a stronger drink. They simply fill a straw with pure spirits, so when you drink your cocktail, you will immediately believe there's a lot of alcohol in your drink (even if there is not).
A Trick with Red Bull Vodka
It's a common trick as well - when a customer orders a mixed drink made with Red Bull, the bartender uses only half of a can. That is so they can use the same can for two different customers. You will be charged for a full can but will be getting only half of it.
For this reason, many bars have a button for Red Bull drinks (they don't include the price of a whole can),  but there are bartenders who will give you Red Bull vodka instead of a can of Red Bull and a shot of vodka. Be aware.
Drunk = Less Alcohol
Bartenders always see when you're way over your limit but they may not cut you off. However, when you order a mixed drink, they pour the cocktail mixers properly and when it comes to alcohol, they just float a bit of alcohol on the top of the cocktail. It makes it smell like booze, which is probably the best way to make someone who consumed too much alcohol think they're drinking lots of it. But the alcohol content is minimal.
Be Nice = Free Drink
Of course, bartenders always try to mix the right amount of alcohol for cocktails, but they are people and can make mistakes. If you're paying attention and being nice to a bartender, you can simply ask what's going to happen with the drink that was mixed mistakenly and perhaps you can get a free drink.
House Liquor Gets You More
When bartenders use top shelf liquors, they try to mask their taste with creams, juice, and sodas. As a result, you pay for the liquor you're not going to enjoy or taste. What you can do is order the house liquor when ordering a mixed cocktail; you will not even be able to tell the difference.
The Sober Bartender
If you regularly go to bars, you've probably seen that bartenders make mistakes and take sips of cocktails to check their taste. And yet, they are sober. Bartenders know they can't work while drinking and have plenty of techniques to stay sober all night long.
A Good Bartender Is Like A Good Hairdresser
There are many bartenders, but the good ones are rare. If you know the one that makes your favorite cocktail straight up with a perfect twist, become a regular.
Bartenders Can Have A Signature Beverage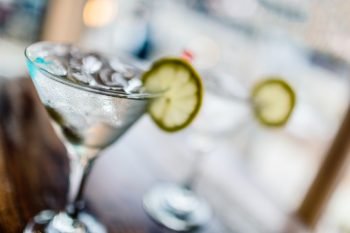 Even beginners can have signature drinks, so always ask. If you want to make your own cocktails, bartenders advise that you start with a base spirit, citrus, a liqueur, and a sweetener. The most important rule is to always taste as you go.
Bartenders Can Be Your Cupid
Bartenders are open-minded people and they don't mind helping you make connections at the bar. If you're alone and can't start chatting with strangers, ask a bartender whether they can introduce you to the regulars.
If you see someone that sparks your interest and don't know how to start a conversation, ask the bartender. Then buy them a drink and this way, you'll see whether the person wants the company.  
Want to connect with people at the bar in a whole new way? Download the BOTY App on iTunes or Google Play for free!
There are a lot of myths and stigmas going around about bar regulars. It's time to find out if there is any truth behind them.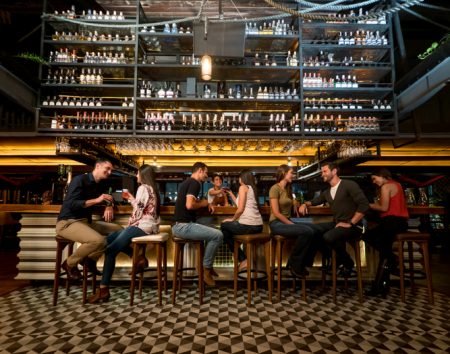 Have you ever noticed that if you frequent the bar too often, you are considered strange? Why are you here all the time? Why don't you drink at home?
Well some people don't like to drink at home or alone. Some people enjoy the social aspect of being in a bar setting.
Bar regulars enjoy going to the bar to share secrets and get the honest truth. Your favorite show growing up was Cheers, and you seek to go to the place where everyone knows your name.
We covered myths about bartenders before and now we discuss the folks in front of the bar.
Here are the some of biggest myths about bar regulars.
1. Bar regulars are all drunks
Myth: All of the bartenders and managers know who you are. Your favorite drink and seat are waiting for you when you get there, and everyone knows more about your personal life than you do. They realize when you've had enough and got your home address saved when it's time to call you an Uber. So maybe bar regulars are all drunks.
Reality: Nah… Not all people go to the bar on a regular basis to get drunk. Some love to confess their sins to their favorite bartender or bitch about their day at work to anyone who will listen. Others love hanging around other bar patrons and talk about everything from politics, sports, relationships and so much more. The bar is actually a really cool place to make new friends.
2. Bar regulars have no social life
Myth: You're at the bar all the time because you have no real friends. Your home life sucks and you come to the bar  everyday to drink your pain away. Bad people frequent the bar and if you go all the time, you must be one of them. Of course bar regulars have no social life. Right?
Reality: Well… Human beings are social animals and having a good social life is important for our mental health. But instead of socializing, we work, go home, watch tv, post on social media, repeat. Without positive, strong, and real-life relationships, both our minds and our bodies will fall apart. Yes the bar has weirdos and alcoholics, but so does your job. At least at the bar the truths are not hidden.
3. Bar regulars have no job
Myth: How can you be at the bar all the time if you have a job? You can be seen during the day shift at 11am as well during the late night at 1am. And you are there all the time. How do you do it? You drink all day, at different times a day so when do you work? So yes most of the bar regulars are unemployed.
Reality: Nope not true... The world is more mobile now and that gives peoples the ability to work from anywhere. And if you have two options to work from anywhere, one would be an island and the other would be at the bar. So bar regulars do have jobs that allow the flexibility to work from the bar. You should try it.  
4. Bar regulars are drug dealers
Myth: If you're at the bar all the time, day and night. That means one thing, you must be a drug dealer. And the bar is your place of work.
Reality: It's 2017, the security is too tight at the bar to allow drug deals to happen. Okay that was an exaggeration. Seriously, just because a person is at the bar all day and night buying everyone drinks doesn't mean a thing. They drink a lot because they are overwhelmed with how to spend that family inheritance. See it's all about perspective. Drug dealers are too busy to hang out at the bar all the time.
5. Bar regulars are emotionally screwed up
Myth: Who did you break up with this week? Is your wife cheating on you again? What did you get fired for this time? You are at the bar on a regular basis because your life is in constant turmoil and you need the bar to help process it all.  
Reality: All people are emotionally screwed up. At least at the bar you can accept that truth and deal with the issues. And what better way to figure things out than with others who are in shittier situations.
6. Bar regulars are looking for the hookup
Myth: You are just there to pick up chicks or dudes. What does your husband think about you being at the bar all the time?
Reality: Yeah so what. Everyone at the bar knows you so if you are a scumbag, everyone would know it and warn the hookup. So try again.
7. Bar regulars are creepy
Myth: All you do is sit at the bar alone and stare at the bartenders all night. You hope one day you get lucky and you will take one home.  
Reality: There are a few signs to determine if you are a creep or not:
The staring

You ask awkward questions

You won't give up

The stalking

You don't understand personal space

The rambling

You're too eager 
Whether you like it or not, the world is filled with creeps. So if you consistently do at least 4 of the 7, you are a creep.
Want to connect with people at your bar in a whole new way? Download the BOTY App on iTunes or Google Play for free!
There are people who love karaoke and then there are people who avoid it at all costs. We are here to tell you whether you sing or not, karaoke is a can't miss night at the bar. In fact, you can have an amazing time even if you just attend.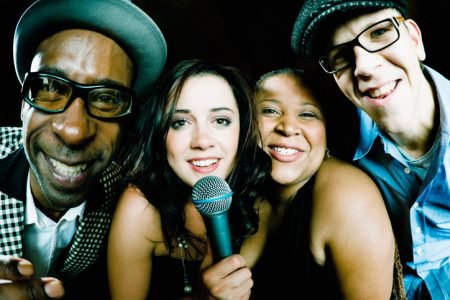 Here are 7 ways karaoke can lead to a great night out.
1. Five Minutes Of Fame
Whether you're an experienced singer, an amateur or have no singing talent at all, you get five minutes to shine among people you may not know. And since most people are already buzzed or drunk, you may appear to be an American Idol even if you sound terrible.
2. Laugh At and With Friends
Attending karaoke night with your friends may very well be one of the best nights ever. It is filled with laughter, inside jokes and funny memories that will last forever. Just make sure you record your friends so you can blackmail them later on.
3. It's A Stress Reliever
Music and singing has scientifically been proven to be a stress reliever. Add smiling and laughter to the mix and life appears to be so much better no matter what. So if you are having a bad day, it will take some stress off your mind. It really is a great way to unwind and it doesn't hurt to have your favorite drink in hand.
4. Karaoke Is Cheap Entertainment
Why pay hundreds for a concert when you can attend a karaoke night for cheap? Most bars do not have a cover charge, so it may only cost you a couple of drinks for a night of fun. Better yet, some bars offer a prize for the winner, so you may not want to miss out on your chance to win!
5. Meet New People
Karaoke attracts a different type of regular or bar goer. You will definitely meet new people that may be worth getting to know. It never hurts to expand your circle of friends or to look for your soulmate. Besides, if you end up wearing beer goggles, chance are tomorrow is a new day so it doesn't hurt to put yourself out there.
6. Confidence Booster
Getting up in front of people and singing takes guts. Step outside your comfort zone and explore a little. It is a confidence booster and it's easier to meet quality people once you let loose a little. And who knows, someone may like your voice and you could be the next contestant on 'The Voice.'
7. It's So Much Fun 
Sometimes, the normal bar scene gets boring. Change it up a little and karaoke is a great place to start. Sometimes, just sitting at a bar drinking can get quite boring. Have a little fun, take risks, and find new ways to enjoy your night out.
Make no mistake about it karaoke can be loads of fun. Next time your friends say let's check out the karaoke, be open minded and check it out! Honestly, what can it hurt?
Want to connect with people at the bar in a whole new way? Download the BOTY App for free!