Cinco de Mayo is almost here. If you don't speak Spanish, Cinco de Mayo translates to the fifth of May, which is just around the corner. Although Cinco de Mayo is a Mexican holiday, the party seems to be even bigger over here in the U.S.
You know what's better than celebrating Cinco de Mayo? Celebrating it in a packed bar! If you're looking for some great promotions your bar patrons will love, here are 5 ways to get this fiesta started!
Crazy Drink Specials
It's not called Cinco de Drinko for nothing. Instead of going with the usual Strawberry Margaritas and Tequila shots, why not offer your guests a little something different?
Get creative and serve up with some new Mexican-inspired drinks (Tamarind Margaritas or Horchata Cocktails) that your customers will be excited to try. If you can create a signature beverage that only your bar offers, you'll have a winner!
Cinco de Mayo Challenge
Host a challenge that takes place on the patio or at the bar. Create an awesome prize for the winners, such as a weekend beach getaway to the Bahamas. You can also do small giveaways, such as t-shirts, for everyone who comes to the bar.
A hot sauce contest or trivia contest is a great way to get the crowd going. Everyone will be sure to bring their friends along. You'll also be able to keep people in the bar longer.
Spread the Word and Get a Reward
Use BOTY App to hype up your celebration. Offer your fans an exclusive deal for spreading the word. You can give your customers a 10% discount, BOTY Points, offer a free drink for checking-in or entries to win the grand prize for the giveaway that you're hosting.
Celebrate All Weekend Long
This year, we're in luck because Cinco de Mayo falls on a Saturday. That means that you can actually keep the party going all weekend long. To keep people coming back for more, make sure that you offer different promotions for each night.
Start Friday off right by bringing in a local mariachi band to serenade your guests. Then make Saturday night into a crazy dance party.
Complimentary Tequila Tasting
Every hour on the hour from 7-10 p.m., offer a new brand of tequila for your customers to taste. Have servers bring around trays of shots for people to try so that they don't have to mob the bar area. Some ideas for tequilas that you can serve include Patron, Espolon, and Casamigos.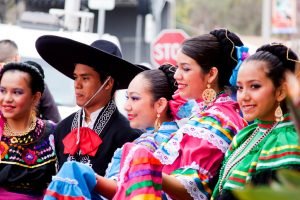 Regardless of what kind of crowd your bar attracts, remember that the goal is to have fun! So don't be afraid to get creative with your promotions this year so that you'll give everyone something to look forward to.
Want to connect with people at your bar in a whole new way? Download the BOTY App on iTunes or Google Play for free!
"You're really going to order that?" he asks. Oh no, here we go again! Women who drink whiskey often have to deal with ridiculous comments from people who just can't help themselves.
For some reason, some people think that women and whiskey just don't go together and it's just silly. Just like anyone else, women can and should be allowed to enjoy a fine whiskey.
To help put an end to the stigma against women whiskey drinkers, here are 7 myths that need to die, like now.
Myth #1: Whiskey is just for men.
When some people think of whiskey they think of their grandfathers, cowboys, and other macho stereotypes. Shockingly, women are perfectly capable of enjoying whiskey too. No permission required!
Myth #2: You don't even know what you're drinking.
Yeah, yeah. Bourbon is made from corn and scotch is made from malted barley. If you want to learn about whiskey, just Google it. But at the end of the day, you don't need to know any of those facts to enjoy it.
In fact, since women whiskey drinkers aren't exactly the norm if you see a woman order a particular brand or type, she probably knows a thing or two about whiskey. She'll probably also be ready to school you on whiskey if you ask her so make sure you have your facts straight.
Myth #3: You won't like it if you drink it neat.
Oh, pu-lease. Who said every woman prefers daiquiris? Besides, a woman who takes her drinks neat is so rare that she's probably better at handling her liquor than most.
Myth #4: You're going to be hungover tomorrow.
Your body type is what determines your hangover, not your gender. Fun fact: You don't have to keep drinking until you're on the floor.
Myth #5: You can't actually enjoy the taste.
Research shows that women actually have more taste buds than men. That means that they can actually enjoy the taste of whiskey even more than men!
Myth #6: It isn't good to drink whiskey.
Excessive drinking isn't good for you either, bud. But no one said that you have to over indulge. Surprisingly, whiskey does have some health benefits.
Myth #7: You're just doing it to try to fit in with the guys.
Like women football fans, there are women who actually like whiskey. She also doesn't give a damn if you think that she's not 'ladylike.' Get over it!
You have your drink of choice and some women just happen to enjoy whiskey as their drink of choice. Don't worry, there's plenty of whiskey for everybody.
Instead, next time you see a woman carefully sipping on a stiff glass of Maker's Mark, why not chat with her? You might find out something interesting about her love for whiskey!



Want to connect with people at your bar in a whole new way? Download the BOTY App on iTunes or Google Play for free!
Let's face it, college students don't make that much money. Shocker! And the little they do make goes towards college expenses, student loans, and food.
All of this makes going out and having fun so difficult. But since your college years are supposed to be the best years of your life, you have to figure it out. You're not obligated to a home mortgage, kids or a spouse, so how best to get the most out of it with so little?
Drink On Campus
Okay, this can be tricky depending on your campus rules. However, the surefire way to have some fun and save money is to just get a six pack and hang out in your friend's dorm room or hit up a house party. It might not be as fun as hitting the bar, but saving money requires a few sacrifices.

Buy Lower Priced Drinks
Forget the shots! They go fast and the money adds up. Instead buy cheap beer. Most beers are pretty inexpensive and will not damage your pockets. If you have to have a shot or a cocktail, don't buy top shelf. The cheap, generic brands work just as well.
Go To College Only Bars
There is a huge difference between a college bar and tourist bar. College bars expect to have tons of students with little money. So this will fit better with your budget. Tourist bars jack up the prices because they understand that people who are on vacation like to spend money. Take the time to know which bars are college bars. You will enjoy cheaper drinks and make new college friends in the process!
Save For A Rainy Day
Instead of letting a few dollars burn a hole in your pocket, invest in a piggy bank. This way when your college buddies decide to go out, you already have some spare cash lying around ready to be spent. And instead of getting Starbucks every morning, ask your parents to buy you a small coffee pot to keep in your dorm room. Put the money you save into your piggy bank for your next bar outing!
Know When It's Happy Hour
While you are out at your favorite bar, study the happy hour menu like your cramming for an exam. These drink specials will help you stay within your budget. And do some math to figure out if it's cheaper to buy an individual beer or a pitcher. Using the skills you acquire in college will help you drink all night for a reasonable price.
Leave Your Credit Card 
Before you head out, decide how much you are willing to spend and only take that amount of cash. Leave the rest of the cash and your credit card at home so that you are not tempted to spend more once you put on your whiskey face. It's easy to go broke being undisciplined. Don't be the idiot who wakes up the next morning to say, "How did I spend $300 last night?"
Being a college student doesn't mean you have to be broke and stay in night after night. Just get creative with your spending and saving habits. Take time out to have fun! And if worse comes to worse, have one of your buddies buy for the night. You can treat them the next time around. You are only in college once after all!


Want to connect with people at your bar in a whole new way? Download the BOTY App on iTunes or Google Play for free!
Tonight you're feeling adventurous so you're going to check out a bar you've never been to. As you approach the door, you start getting some weird vibes. Is this a college bar?
While we all love to reminisce about our college days, all of your drunken escapades have probably made you forget what a college bar is really like. If you're not sure what you're in for before it's too late, here are 5 dead giveaways that you're at a college bar.

1. Happy Hour Specials for Amateurs

The list of drinks on the happy hour specials (along with the lack of fancy glassware) is almost a dead giveaway that you're at a college bar. Let's face it: college kids aren't the most sophisticated drinkers so to them any drink that gets them wasted is more than good enough. Rum and Coke, Screwdriver, Jungle Juice, Fireball, and Jäger bombs are pretty much par for the course. But if you can stomach well drinks, what's not to love about getting your drink on for $5?

2. Bros on Bros on Bros

If there are groups of rowdy Bros slamming down shot glasses on the bar and they're already shit-faced even though it's only 6 pm, it's almost guaranteed that you're at a college bar. And if you're still not sure, just check to see if they're drinking Tequila. If the answer is 'yes' and you're not ready to bounce yet, here's a pro tip. Make sure to leave enough room for them to do their thing because they take any "oohhhh shit…" song, like LMFAO's 'Shots', literally.

3. It's Going Down While You're In Line

Another thing that Bros are well-known for is fighting at the bar. So if you see people getting thrown out for being too drunk as you're going in, that's a good sign that you're in for a night at a college bar. Another telltale sign is that the bouncer is eyeing people's IDs with the flashlight way too hard as you watch them squirm in line hoping that their fakes are good enough to get them in.

4. Awkward PDA

There's PDA and then there's the "OMG, do you guys realize that you're in public?" If you see couples doing way too much right in the middle of the bar, you're probably in a bar packed with horny college students. Unfortunately, after some people have had enough $5 drinks, virtually anything goes.

5. You're the Creepy Older Guy or Gal

If you're older than almost everyone in the bar, even by just a few years, there's a good chance that you're actually the creepy oldie and everyone's wondering why you're there. Scope out the crowd. Does everyone seem to be the same age except for you? Don't feel ashamed now. Just accept the fact that you're at a college bar! 
Want to connect with people at your bar in a whole new way? Download the BOTY App on iTunes or Google Play for free!
Sometimes you can find yourself in a new city and when the sun goes down, you know it's time to party. But how do you pull off a bar crawl in a city that you've never been to and make it successful?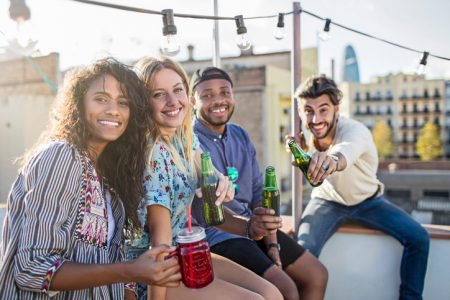 Never fear, help is here! With our best tips and the BOTY app, you'll be mingling with the locals in no time.
1. Study the Area Before You Go
Get to know what's up and what's down. Are there areas of the city that have a lot of restaurants and bars in a concentrated area? Scouting those areas first and how to get there is probably going to be your best bet in terms of finding a string of bars that you can spend all night in.
Are you looking for a laid back night at the dive bar or are craft cocktails more your speed? You should also decide on the type of bars that you prefer and check the crowd so that you don't end up walking into the local biker gang's hangout by accident.
2. Find Out What Time Things Close
In New York City, you'll notice that bars stay open until the wee hours of the morning so you can get your drink on until 2 am or later in many places. However, in other cities bars may close at 1 am or earlier.
By checking to see what time everything closes, you can make sure that you don't head out too late. That way you won't have to worry about not having enough time to close the deal or enjoy a few more rounds at a second or third bar.
3. Don't Forget to Include Food
A bar crawl that doesn't include a pitstop for food is a rookie's mistake. Don't end up spending your night taking in only liquid calories so that you're puking up vodka before the clock even strikes midnight.
Whether it's a food truck strategically located along the way or a sports bar that serves wings, getting food is the only way that you'll be able to keep going all night.
4. Don't Mix
The general rule of thumb whenever you're drinking, but is especially important if you're going to do a bar crawl, is that you do not mix liquors. Unless you plan on waking up the next day with a splitting headache and stomach pains that will just waste the rest of the time that you have in your new city, don't do it. Try to choose one type of alcohol and stick with it.
5. Be Prepared to Skip It
No matter how perfect you think your plan is, things can change along the way. A bar might not draw the crowd that you're looking for. Don't be afraid to skip that place and go to the next one on your list.
6. Mingle
Even if you don't speak the language, it doesn't hurt to try and say hello once you're at the bar. You might be pleasantly surprised to find that there are locals there that can speak your language. Don't forget, the whole point of a bar crawl is to have fun and you'll occasionally meet some really cool people. So make it happen!


Want to connect with people at the bar in a whole new way? Download the BOTY App on iTunes or Google Play for free!
A good bartender knows there are holidays and then there are drinking holidays.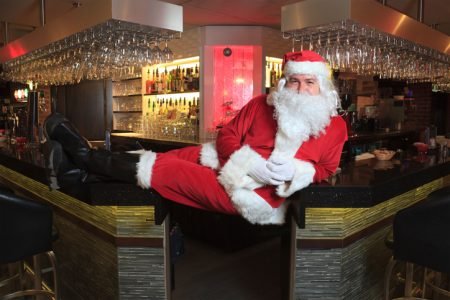 Drinking holidays are the days that your bar or tavern mostly likely will have a heavy flow of people coming into drink and have fun. These days can actually take a toll on the bartenders and servers. Yet they are also great days to make more money.
Survival Tip 1: Get Some Rest
Don't go into your shift unrested. Some bartenders have tried to work on a holiday on only a couple hours of sleep and can tell you it is unpleasant. Make sure the night before a big drinking holiday that you get a full 8 hours of sleep. You are going to need it!
Survival Tip 2: Wear Comfortable Shoes
Any bartender or server will tell you, it's a bad idea to wear dress shoes or heels on a day that you know you will be busy at work. Unless you are fine with pancake-size blisters and sore feet, wear a pair of comfy gym shoes instead. Your feet will thank you.
Survival Tip 3: Drink Plenty of Water
This is especially true if you are working on a really hot day. The last thing anyone needs is a dehydrate bartender passing out behind the bar. Also, when a customer offers you a shot, drink a shot of water or juice instead. It's better to be safe than sorry.
Survival Tip 4: Pace Yourself

It's important to serve as many people as possible in a timely manner, but don't allow customers to rush or take advantage of you. Pace yourself in order to make fewer mistakes and to keep your energy flowing throughout your shift. This will also help your tips to come in pretty steady.
Survival Tip 5: Don't Be Afraid To Cut It
People tend to let their guard down on holidays and you may see many of them get too drunk. Always be the smart bartender. If someone looks like they have had enough, cut them off and offer them a cab ride home.
Survival Tip 6: Be Aware of Longer Hours
On drinking holidays a lot of crazy things happen. Bartenders call in sick, go on vacation, or some simply just don't show up. Plus, it is busy and there may be more people than the bar may be able to handle. If you know in advance that you could possibly work longer than planned, it won't be so much of a problem.
Survival Tip 7: Be Prepared
Make sure you are prepared before the day. Overstock the bar, prep garnishes and set up a good workstation. It's better to be over prepared than not prepared at all.
Survival Tip 8: Look Out For Others
If you want the night to run smoothly, you and your co workers have to work as a team. If one of you is swamped, another should help out. If one of your co workers needs a breather, let them take a quick break and cover them. Working at a bar is hard work, it's even harder when it's busy and everyone is being selfish. Be a good team player and take care of your teammates.
Survival Tip 9: Stay Cool
Working the holidays can be very stressful. You are working and not enjoying time with your family. Sometimes your customers can be rude, obnoxious and unforgiving. No matter what the situation is you have to have patience and be understanding. Don't let anything get to you, it's just a job and you are there to work. If you remain calm regardless of what is going on around you, the night will go more smoothly and your tips will show it.
Survival Tip 10: Bring Protein Snacks
When you're busy, it is almost impossible to get a break. If it's allowed, bring peanuts, trail mix, an energy bar, raisins or a granola bar for a quick snack when you just can't get a way. It's important to have something that will help boost your energy and protein levels to help you make it through your shift. Of course if you get an official break, it's important to pack a lunch. Unfortunately bartenders may not get breaks during these busy shifts so don't forget to bring a snack.
Want to connect with people at the bar in a whole new way? Download the BOTY App on iTunes or Google Play for free!
Does traditional office work bore you? Maybe you hate being stuck in a tiny cubicle all day.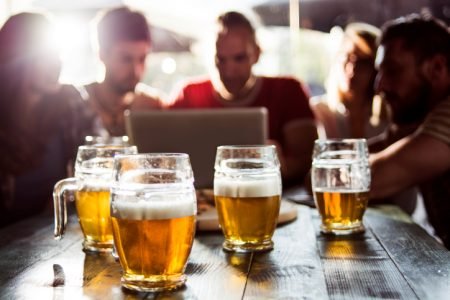 Or just maybe you hate working 9 to 5 in the traditional office setting. Whatever the reason, coworking could be what you are looking for. Coworking is a compelling option for small business owners, entrepreneurs, freelancers, startups and more. Here are 6 reasons to consider coworking at a bar.
1. You Avoid Coffee House Distractions
Have you ever been to Starbucks or Panera Bread during the day? They are packed with people working on their laptops. A busy coffee shop with it's noisy coffee machines and large number of people who frequent them is not always an ideal spot to work. Coworking at a bar during afternoon hours or early evening hours may provide less distractions and noise than your typical coffee house or traditional office.
2. You Are Tired Of Traditional Offices
You dislike sitting at a desk all day with your brown-nosing colleagues. And you hate the sound that the drinking fountain makes as people stop by it throughout the day. If any of this sounds like you, a traditional office may not be for you. Coworking from a local bar may feel more like home and could get your creative juices flowing. Non-traditional workspaces can increase productivity among workers, while traditional offices can make people filled stagnant.
3. You Hate the Traditional Networking Opportunities
You hate networking opportunities but your business needs it to survive. Coworking at at a bar helps with networking without you feeling forced to do it. Besides, you always meet interesting people at bars. It's a relaxing atmosphere which makes networking seem more fun.
4. You Need A Bigger Table
Are you tired of the small tables? Coffee shops always have those little tiny tables where you can barely fit your drink, let alone your laptop.  Working at these places  gives you limited space. If you hate small tables, a bar is definitely a great place to cowork from. Typically bars have big restaurant tables that will let you spread out your wings and have a bit more elbow room to work from.
5. You Prefer The Nightlife
If you prefer to work late afternoon or evening hours, coworking at a bar is probably a much better alternative for you. Not all of us are morning people. So if you are in need of a nontraditional office with nontraditional hours, coworking from a bar is a smart choice for you.
Coworking from a bar is not be for everyone. If some of the above signs relate to you, you might just have to give it a shot. There are many companies that offer coworking in nightclubs, taverns and bars. For more information about coworking at bars, check it out on https://botyapp.com/cowork.


Want to connect with people at the bar in a whole new way? Download the BOTY App on iTunes or Google Play for free!
It's always fun to have a night out at your favorite bar, right? Laughing at jokes and gulping down delicious cocktails with your friends is a guaranteed way to have a great time.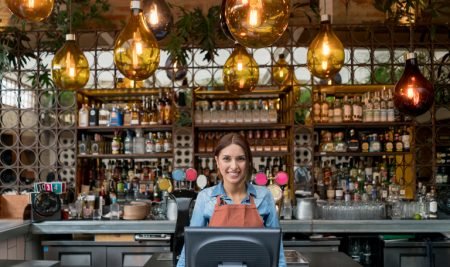 Have you ever wondered about the person serving you? While you're having lots of fun, the bartender works hard to make everything perfect. We found 10 amazing things bartenders never tell you!
Topped Off Might Mean Less Alcohol
There is a simple trick that bartenders do when a customer constantly wants a stronger drink. They simply fill a straw with pure spirits, so when you drink your cocktail, you will immediately believe there's a lot of alcohol in your drink (even if there is not).
A Trick with Red Bull Vodka
It's a common trick as well - when a customer orders a mixed drink made with Red Bull, the bartender uses only half of a can. That is so they can use the same can for two different customers. You will be charged for a full can but will be getting only half of it.
For this reason, many bars have a button for Red Bull drinks (they don't include the price of a whole can),  but there are bartenders who will give you Red Bull vodka instead of a can of Red Bull and a shot of vodka. Be aware.
Drunk = Less Alcohol
Bartenders always see when you're way over your limit but they may not cut you off. However, when you order a mixed drink, they pour the cocktail mixers properly and when it comes to alcohol, they just float a bit of alcohol on the top of the cocktail. It makes it smell like booze, which is probably the best way to make someone who consumed too much alcohol think they're drinking lots of it. But the alcohol content is minimal.
Be Nice = Free Drink
Of course, bartenders always try to mix the right amount of alcohol for cocktails, but they are people and can make mistakes. If you're paying attention and being nice to a bartender, you can simply ask what's going to happen with the drink that was mixed mistakenly and perhaps you can get a free drink.
House Liquor Gets You More
When bartenders use top shelf liquors, they try to mask their taste with creams, juice, and sodas. As a result, you pay for the liquor you're not going to enjoy or taste. What you can do is order the house liquor when ordering a mixed cocktail; you will not even be able to tell the difference.
The Sober Bartender
If you regularly go to bars, you've probably seen that bartenders make mistakes and take sips of cocktails to check their taste. And yet, they are sober. Bartenders know they can't work while drinking and have plenty of techniques to stay sober all night long.
A Good Bartender Is Like A Good Hairdresser
There are many bartenders, but the good ones are rare. If you know the one that makes your favorite cocktail straight up with a perfect twist, become a regular.
Bartenders Can Have A Signature Beverage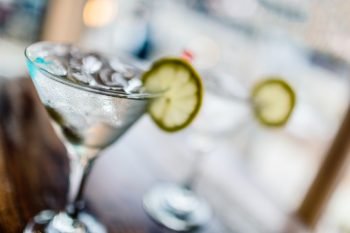 Even beginners can have signature drinks, so always ask. If you want to make your own cocktails, bartenders advise that you start with a base spirit, citrus, a liqueur, and a sweetener. The most important rule is to always taste as you go.
Bartenders Can Be Your Cupid
Bartenders are open-minded people and they don't mind helping you make connections at the bar. If you're alone and can't start chatting with strangers, ask a bartender whether they can introduce you to the regulars.
If you see someone that sparks your interest and don't know how to start a conversation, ask the bartender. Then buy them a drink and this way, you'll see whether the person wants the company.  
Want to connect with people at the bar in a whole new way? Download the BOTY App on iTunes or Google Play for free!
There are people who love karaoke and then there are people who avoid it at all costs. We are here to tell you whether you sing or not, karaoke is a can't miss night at the bar. In fact, you can have an amazing time even if you just attend.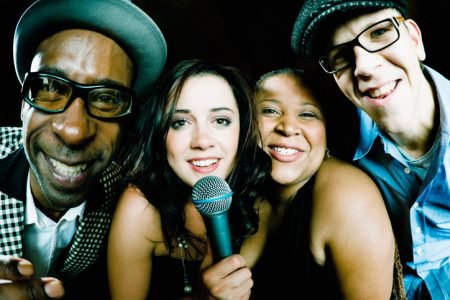 Here are 7 ways karaoke can lead to a great night out.
1. Five Minutes Of Fame
Whether you're an experienced singer, an amateur or have no singing talent at all, you get five minutes to shine among people you may not know. And since most people are already buzzed or drunk, you may appear to be an American Idol even if you sound terrible.
2. Laugh At and With Friends
Attending karaoke night with your friends may very well be one of the best nights ever. It is filled with laughter, inside jokes and funny memories that will last forever. Just make sure you record your friends so you can blackmail them later on.
3. It's A Stress Reliever
Music and singing has scientifically been proven to be a stress reliever. Add smiling and laughter to the mix and life appears to be so much better no matter what. So if you are having a bad day, it will take some stress off your mind. It really is a great way to unwind and it doesn't hurt to have your favorite drink in hand.
4. Karaoke Is Cheap Entertainment
Why pay hundreds for a concert when you can attend a karaoke night for cheap? Most bars do not have a cover charge, so it may only cost you a couple of drinks for a night of fun. Better yet, some bars offer a prize for the winner, so you may not want to miss out on your chance to win!
5. Meet New People
Karaoke attracts a different type of regular or bar goer. You will definitely meet new people that may be worth getting to know. It never hurts to expand your circle of friends or to look for your soulmate. Besides, if you end up wearing beer goggles, chance are tomorrow is a new day so it doesn't hurt to put yourself out there.
6. Confidence Booster
Getting up in front of people and singing takes guts. Step outside your comfort zone and explore a little. It is a confidence booster and it's easier to meet quality people once you let loose a little. And who knows, someone may like your voice and you could be the next contestant on 'The Voice.'
7. It's So Much Fun 
Sometimes, the normal bar scene gets boring. Change it up a little and karaoke is a great place to start. Sometimes, just sitting at a bar drinking can get quite boring. Have a little fun, take risks, and find new ways to enjoy your night out.
Make no mistake about it karaoke can be loads of fun. Next time your friends say let's check out the karaoke, be open minded and check it out! Honestly, what can it hurt?
Want to connect with people at the bar in a whole new way? Download the BOTY App for free!
There is something beautiful buried inside of all of us that helps us be aware of ourselves and our world. What if the bar was the place to help us improve this concept called consciousness?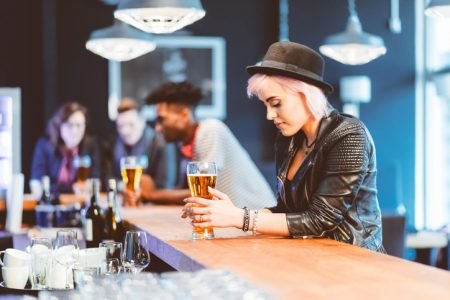 Now that's different! How does consciousness and the bar even end up in the same sentence? Well keep reading.
Consciousness is defined as the state of being awake, and aware of your surroundings. If someone asked you to explain what that means, could you do it?
We all have it and experience it, but yet it's so hard to explain. We are not going to spend a great deal of time trying to uncover the scientific meaning of being conscious. Because really smart people have been trying to do that for years. It has a lot to do with how the brain operates and who really understands that? We will focus on tips for improving your awareness using the bar, which is very important in developing your state of consciousness.
You need to hang around other people and avoid isolation in order to be happy. Social isolation is a state of complete or near-complete lack of contact between an individual and society. Not only do we need to communicate with others, we need to interact with them face to face. So social media doesn't count! And the bar is one of the best places to get this social interaction.
Here are some tips to improve your awareness at the bar.
Get to Know You
The bar is the place to go if you want to be honest and hear the truth from others. Liquid courage helps people lose their inhibitions and feel free to be more open. So the goal is to use that magic to have a realistic conversation with you. Grab a drink and talk to yourself. It sounds crazy but is it really? We spend so much time living on everyone's terms but our own. It doesn't hurt to be brutally honest and the bar helps bring that out.
Tackle Your Emotions
We get so caught in the routine of life. Go to gym, school, work, sleep, eat, and repeat. Week after week, month after month, we do the same things over and over. We get so caught in living that we forget to 'live.' Part of living is learning who we are and understanding how we make decisions.
Emotions play an important role in how we think and behave. They influence the choices we make about our lives big and small. So take a few shots at the bar and figure out what triggers your emotions. Acknowledge them because they are valid. Track and manage them best by understanding what they are and why you have them. And work not to feed into the triggers to stay in control of them.
Understand Your Body
Be aware of how you feel before and after drinking alcohol. Understand why you drink and what it represents in helping you solve problems. Learn and listen to your body and give it what it needs. Going to the bar doesn't imply you need to get drunk while there. Drink to uncover some things that may be suppressed due to being so busy with the distractions of your daily life.
Know the Consequences and Repercussions
Bad consequences usually come after drinking lots of alcohol. But what if you knew that going in and approached it differently? First off, it helps to understand your tolerance. Drinking brings out our raw emotions and exposes things that we hold back naturally because we are just so busy. When you understand the consequences and repercussions of your actions, it will help you avoid being impulsive and have regrets later.
Study Other People
One of the tricks to improving states of consciousness, is experiencing the realities of life. Watch people at the bar and pay close attention to them. Study their actions and watch what they do. Liquid courage allows people to be brave and be willing to speak and act fearlessly. Listen to folks and learn from them. You will be surprised what a random person will tell you after a few rounds of Jameson. It may help you figure some things out.
Be Aware of Your Surroundings
Pay attention to the bartender, managers, security and other bar goers. This is a good representation of everyday people attempting to solve the life puzzle. Keep track of everything going on around you. Process this information and develop the ability to perceive things critically. Spend more time at the bar connecting with people versus being consumed with 'friends' & followers on the social networks. Seek to learn about the world in its true element as much as possible.
Go at it Alone
We are constantly busy consumed with others and not enough time is spent on improving our own character. When your brain is consumed by some activity, it starts focusing on that. Nowadays, everyone is preoccupied with social media in some way, that they forget about self introspection. Trying to live your life similar to others and impress them at the same time can be disastrous. They may not who they really appear to be, but yet their day to days consumes your thoughts. Go to the bar alone and meet new people. Grasp what really goes on in the 'real' world with people who frequent the bar just like you.
Learn to Meditate
Meditate at the bar? WTF…  Wait listen! You need to develop your perception so you can learn to be more aware. When you meditate, you observe your thoughts and emotions from the outside.
So why do it at the bar and how? While meditating is typically done in silent and relaxing places, it is also not about shying away from things that make you feel uncomfortable, difficult or distracting. Sitting in a relaxed place alone is not exclusive to other forms of meditation. Bringing that mindset and awareness with us as we shop, go to the bar, or interact with complete strangers is very important as well. So grab a table or sit at the end of the bar and try it. We promise you won't look like a dummy and it's even a good conversation starter.
If you don't drink, you can still practice this technique. The bar is a good place for social interactions and to get valuable perspectives of the world. And if you do drink and looking to build your awareness at the bar, grab an Uber or Lyft when your done.
Want to connect with people at the bar in a whole new way? Download the BOTY app for free!
We've all heard the stories! Someone has too much to drink at a bar, gets in their car to drive home, and has an accident. However, there's another aspect to this that only bartenders and wait staff have to think about: their personal liability in this situation.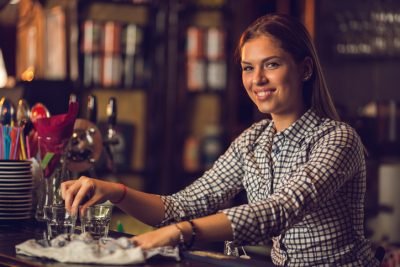 We're often told that the victim of a drunk driving accident can sue the bar. This happens when the perpetrator was allowed to get intoxicated to the point of being dangerous. But, there's often some confusion as to whether or not this is actually the case.  We'd like to clear that up.
Read on for some useful info about your personal responsibilities as a bartender and how to protect yourself and your customers.
Dram Shop Laws
Dram Shop laws, and SIP laws (sales to intoxicated persons), are the set of rules that govern how an establishment can be held accountable for injuries incurred due to a patron's drunkenness.  In general, it works like this. If a person becomes intoxicated at a bar and then causes some sort of injury to another person, both the establishment and the perpetrator can be held accountable.  
These laws vary state by state, but almost every state has one. In some places they extend to social gatherings as well. This means if you host a party and over-serve someone, you could be liable for any damage they cause. This is especially true if you are serving alcohol to minors. Who in some states can sue you if they themselves sustain an injury.  So, if you have a get together at your house and someone causes an accident or hurts another person on the way home, you could be held accountable.
What Does This Mean for You as a Bartender?
Under Dram Shop laws, it is the establishment that can be held responsible for injuries caused by an inebriated person. However, while it may be the bar that pays the fine, there's nothing protecting you from action your bosses may take against you. It does not seem fair that any part of someone else's decisions and behaviors can fall on you or where you work. But it is the unfortunate reality of the service industry.
How to Protect Yourself and Your Place of Work
The legal parameters that define drunkenness outside of just strict blood alcohol concentration differ wildly state by state. It can sometimes be vague and very subjective.  However, they are important to know. Because they are the deciding factors of whether a bar can be held liable for a patron's actions or not.  
Generally speaking, you shouldn't be serving someone who is "visibly intoxicated", known to be an alcoholic, or a minor.  Protect yourself and your establishment by knowing the signs of drunkenness such as slurred speech, stumbling, bloodshot eyes, etc.  If you encounter these things, don't risk serving the person.  Grab a manager if you feel uncomfortable or nervous about cutting someone off.
It's also a great idea to talk to your boss about enrolling the staff in a certification class like TIPS.  These classes teach servers and bartenders how to keep themselves and their customers safe. They can also be a defense against liability should an issue arise.
Disclaimer: We are not lawyers so please consult one if you have any questions about serving, liability, injury, or anything else.
Want to connect with people at the bar in a whole new way? Download the BOTY App for free!
Have you ever wanted to become a bartender and learn about mixing really good cocktails?