That bittersweet time of the year is upon us – the end of the summer, the start of the new school year. Americans around the country are ready to celebrate one last time, and the BOTY team wants to help make sure this season goes out with a bar-like bang.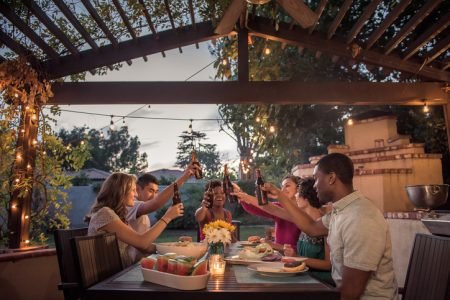 Whether you're hosting a mega barbecue with hundreds of people or plan to have a few close friends over, there are plenty of drink ideas on this list to whet your taste buds. Best of all? We made sure they're all easy to make and even easier to drink.
Here are the 10 ultimate drinks you should be serving up this Labor Day Weekend.
Watermelon Sangria
When the sun is out, Sangria is always a good idea. Round up the last of the season's watermelons to make this cocktail, and literally enjoy the fruits of your (easy) labor. Note: this recipe will need a blender. Full instructions here.
Ingredients: 1 large watermelon, 1 bottle (750 ml) white wine, 2 cup rum, 1 cup club soda, ⅓ cup lime juice (about 6 limes), 2 limes thinly sliced, 2 cup assorted fresh fruit (blueberries, strawberries, pineapple, etc)
Best served in: pitcher and glasses
Bourbon Peach Sweet Tea
Whether you're celebrating Labor Day weekend in the South or not, everyone loves themselves a glass of sweet tea. And this one will literally knock your socks off if you drink too many.
Ingredients: 2 oz bourbon, 2 oz peach preserves, 1 oz fresh lemon juice, dash of aperol, sweet tea to top, sprig of thyme and lemon slice to garnish
Best served in: mason jar
Millionaire Sour (virgin)
There's no reason your non-alcohol drinking guests should have to drink boring soda. This cocktail is sure to make them ask for seconds and even thirds.
Ingredients: 2 oz lemon simple syrup, 2 oz ginger ale, ¼ cup crushed ice, ¼ shot grenadine, lemon slice and cherry for garnish
Best served in: lowball glass
Cherry Beer Margarita 
How can you say goodbye to summer without having a margarita? This version will yield you a whole pitcher at a time and includes beer, which gives it a unique taste and extra potency.
Ingredients: 1 12 oz can frozen limeade concentrate, 12 oz cherry flavored soda, 1 (12 oz) bottle of light beer, 12 oz tequila, lime & cherry for garnish, salt for rim
Best served in: margarita glass
Spiked Pink Lemonade
Simple yet elegant, and a whole lot of yummy, this cocktail is a crowd pleaser. Best part? You get to make a whole pitcher of it at a time. Perfect if you'll be hosting a large party.
Ingredients: 1 bottle (750ml) vodka or gin, 5 cups lemonade, 2 cups cranberry juice, 3 cups ginger ale, lemon slices
Best served in: pitcher or punch bowl & glasses
Mojito Slushies 
It's time to put that blender to good use one more time before the summer's over. This frozen take on the popular rum drink will wow your taste buds.
Ingredients: ½ cup fresh lime juice (4-6 limes), ¼ cup agave, ⅓ cup fresh mint leaves, zest of 2 limes, ½ cup light rum, ice, mint sprigs for garnish
Best served in: highball glass or mason jar
Lemon Drop Jello Shots 
Shots aren't for everyone, but for those who partake, nothing says party like a jello shot. This one is inspired by the delightfully easy to shoot Lemon Drop. We suggest making double – these will go down the hatch fast. Full instructions here.
Ingredients: 1 3 oz box lemon flavored gelatin, 1 cup boiling water, 4 oz lemon or citrus vodka, 2 oz triple sec, ¼ cold water
Best served in: shot glasses
Electric Iced Tea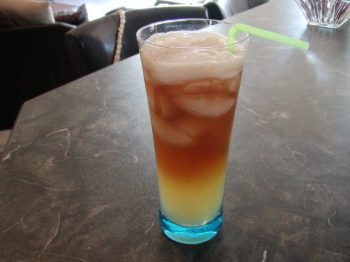 Photo courtesy of Food.com
Depending on the type of day you're looking to have, this spin on the classic party drink can make or break it. Note bene: this concoction is not for the lightweights, and will likely have hangover repercussions. You've been warned.
Ingredients: ½ oz blue curacao, ½ oz light rum, ½ oz gin, ½ oz vodka, ½ oz tequila, 1 oz sour mix, splash lemon lime soda
Best served in: highball glass
Rum Sunset 
Photo courtesy of delish
A rum-y take on a tequila sunrise, this refreshing cocktail is delicious and beautiful to look at. Get the instructions on how to get the perfect ombre effect, here.
Ingredients: 12 oz orange juice, 3 oz light rum, 2 tbsp grenadine, lime slices for garnish
Best served in: highball glass
Sparkling Pear Punch (virgin) 
If you're having over a lot of people, punch is a great way to go. Here's one all the minors and designated drivers will appreciate. Mix it up, set it out, and let 'em have at it.
Ingredients: 2 cups pear juice, juice of 1 lemon, ½ cup sugar, 2 liters ginger ale, sliced fresh pear
Best served in: punch bowl & cups
From all of us here at the BOTY – have a happy, fun, and safe Labor Day Weekend!
Want to connect with people at your bar in a whole new way? Download the BOTY on iTunes or Google Play for free!