Bartending is a career that consist of a variety of venues to work at. When most people think about bartending jobs they automatically think about the stereotypical bartender who works at a bar. However, the types of places that bartenders can work at are endless. This career path really has many wonderful opportunities around the world. There are many nontraditional places bartenders work.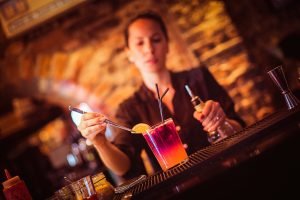 Most bartenders work at nightclubs, bars, hotels, restaurants and catering companies. However, there is a whole range of fun venues and atmospheres that a bartender can work at.
Fairs
Bartenders can work in beer tents and restaurant stands at any local county or state fair. There is also the possibility to travel with the fair, that will give a chance to experience new places and meet new interesting people along the way.
Amusement Parks
There are so many amusement parks across the world including Disneyland, Six Flags, and numerous water parks. These parks have bars and food stands that serve alcohol. Everyday at an amusement park is filled with fun and adventure. If you like working in entertaining places bartending for an amusement park is the way to go.
Golf Courses
Golf courses and country clubs are quite enjoyable to work for. The tips are usually better too. This is a job that can be indoors or outdoors. I know a few bartenders who work at golf courses that have told me how they love that they get to drive golf carts to deliver drinks to their customers. This is a bartending job that never gets dull.
Casinos
Casinos jobs are fast-paced in very amusing atmospheres. If you like meeting new people all the time and enjoy working in a faster environment you might consider bartending at a casino. Las Vegas casinos has been a promising location for many bartenders.
Themed Venues and Events
There are so many themed venues and events like the Renaissance Faires, Medieval Times, circuses, the race horse tracks and historical reenactments that are always looking for bartenders. It's even more exciting if you get to play a character bartender while serving drinks.
Cruise Ships
Destination bartenders are such amazing jobs. If you don't get seasick, this is a great experience for anyone. People are always so happy and friendly while they are on vacation which makes bartending so much more enjoyable.
Sporting Events
Football arenas, baseball stadiums, basketball courts, and even hockey arenas are always looking for bartenders. If you love sports and cheering for you team, this might be a great job for you.
Adult Arcade Centers
From Dave and Busters to Whirlyball, an adult arcade center is truly one of the most interesting and enjoyable places to work as bartender. These places really bring out the kid in all of us.
Concerts
Who wouldn't love bartending at concerts? Great music, serving drinks, and happy customers. This is another fast-paced environment, however, everyday is different with all types of music genres and bands coming in.
Movie Theaters
Some of the newer movie theaters that serve food also serve drinks, such as some of the IMax theaters. It's not a heavy drinking venue, however it is a great job for the laid-back bartender. The atmosphere is a bit slower but you aren't having to deal with people who have had too much to drink all the time.
This is only a short list of the options available for bartenders. There are drinking venues all over the world which allows you to have a wide range of jobs and different types of environments from the more sophisticated venues to all types of entertainment venues. Bartending is one of those jobs that you can do anywhere. This is a huge plus for bartenders who want to live in different areas. Overall the job market for bartenders is booming. So, go ahead, think outside of the box and go for the job that really makes you happy!
Want to connect with people at your bar in a whole new way? Download the BOTY on iTunes or Google Play for free!