Does traditional office work bore you? Maybe you hate being stuck in a tiny cubicle all day.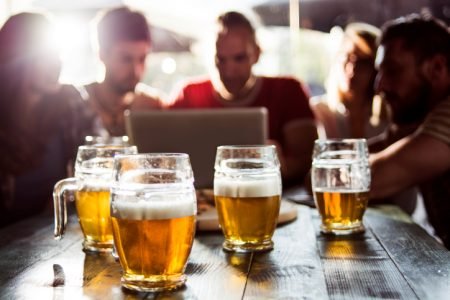 Or just maybe you hate working 9 to 5 in the traditional office setting. Whatever the reason, coworking could be what you are looking for. Coworking is a compelling option for small business owners, entrepreneurs, freelancers, startups and more. Here are 6 reasons to consider coworking at a bar.
1. You Avoid Coffee House Distractions
Have you ever been to Starbucks or Panera Bread during the day? They are packed with people working on their laptops. A busy coffee shop with it's noisy coffee machines and large number of people who frequent them is not always an ideal spot to work. Coworking at a bar during afternoon hours or early evening hours may provide less distractions and noise than your typical coffee house or traditional office.
2. You Are Tired Of Traditional Offices
You dislike sitting at a desk all day with your brown-nosing colleagues. And you hate the sound that the drinking fountain makes as people stop by it throughout the day. If any of this sounds like you, a traditional office may not be for you. Coworking from a local bar may feel more like home and could get your creative juices flowing. Non-traditional workspaces can increase productivity among workers, while traditional offices can make people filled stagnant.
3. You Hate the Traditional Networking Opportunities
You hate networking opportunities but your business needs it to survive. Coworking at at a bar helps with networking without you feeling forced to do it. Besides, you always meet interesting people at bars. It's a relaxing atmosphere which makes networking seem more fun.
4. You Need A Bigger Table
Are you tired of the small tables? Coffee shops always have those little tiny tables where you can barely fit your drink, let alone your laptop.  Working at these places  gives you limited space. If you hate small tables, a bar is definitely a great place to cowork from. Typically bars have big restaurant tables that will let you spread out your wings and have a bit more elbow room to work from.
5. You Prefer The Nightlife
If you prefer to work late afternoon or evening hours, coworking at a bar is probably a much better alternative for you. Not all of us are morning people. So if you are in need of a nontraditional office with nontraditional hours, coworking from a bar is a smart choice for you.
Coworking from a bar is not be for everyone. If some of the above signs relate to you, you might just have to give it a shot. There are many companies that offer coworking in nightclubs, taverns and bars. For more information about coworking at bars, check it out on https://botyapp.com/cowork.


Want to connect with people at the bar in a whole new way? Download the BOTY App on iTunes or Google Play for free!
Coworking is undoubtedly changing the way we work and is making waves across the globe. Yet, while there are hundreds of cowork brands that host millions of individuals in brick and mortar facilities, only a few forward-thinking companies are taking the concept to the next level by incorporating, none other than, the bar!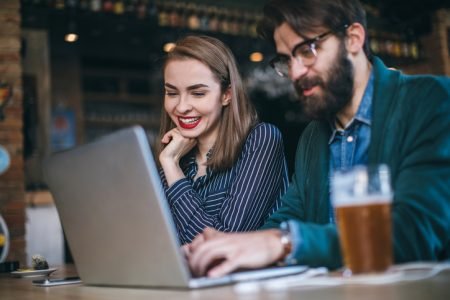 We put our heads together to come up with a few reasons why (co)working from the bar makes perfect sense.
1. Longer Work Hours
With last call not happening until 2am in some states, you have a much longer window of time to be productive. Sure, you may decide to shut down around midnight, but when working from the bar, you at least have that option.
2. Unlikely Connections
You never know who you'll be seated next to, which makes bar working exciting and always new! Just imagine getting settled for a bar work session and looking up to see that one of the area's most well known business pros just plopped down next to you… serendipity at its finest!
3. More Natural Interactions
Mixing it up with people at the bar is kind of like going to a networking happy hour, but without the pressure and uncomfortable introductions. Sit at the bar for an hour or two, and you're likely to spark up a conversation with someone you've never met about something you may or may not discuss often.
4. Differing Opinions
Free flowing convo with the new people you've connected with will undoubtedly spark a charged up conversation. These viewpoints and opinions, as different from yours as they may be, are valuable and can add something new to your business thought process...Embrace 'em.
5. Free Wifi
Every red-blooded professional needs access to wifi and most restaurants offer it to guests, at no charge, to entice them to stay longer and eat more. Save your hotspot storage and soak up theirs.
6. Built-in Distractor
In the case you don't want to go to the bar to spark up conversation with all the cool people you'll meet, just pop in your headphones and bury yourself in your laptop. Chances are no one will bother you, thus allowing for a distraction-free work session.
7. Free focus group
Use your barmates (and even the bartender) to talk through new business ideas that you're considering. Or get their opinion about who to hire or fire. They'll be able to provide you with unbiased opinions and, quite possibly, useful data that could otherwise cost you lots of money to obtain from a professional.
8. Food
Traditional cowork spaces don't have this option on a regular basis, and when they do, it's up to members to clean up their own mess. Bars, however, come with full menus and staff to clean up. Less hassle for you... and you'll need something to soak up the alcohol.
9. Drinks
Of course! Why work at a cowork space that only offers members beer when you can go to a bar and get the whole shabang! That drink (or two) may be just what you need to get your creative juices flowing and get you into your work groove.
10. Fun!
Bars are fun… drinking (when done responsibly) is fun… and if you're doing what you love, your work is fun too! Here's to making awesome things happen... Cheers!


Want to connect with people at the bar in a whole new way? Download the BOTY App for free!