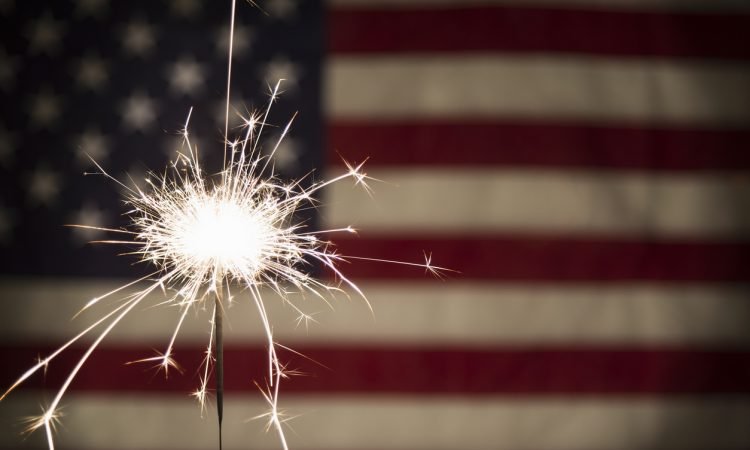 America: land of the free, home of the brave, birthplace of the cocktail. This great country of ours has produced many of the world's most important inventions, with the cocktail (in our humble opinion) being high up on that list.
This 4th of July, raise a glass to everything the US of A stands for, one of them being the right to mix a mean drink. Whether you plan to hang at the bar, or backyard it by the barbecue, here are 5 classic cocktails you should stir up (or order) when you celebrate this great nation's independence.
Blue Lagoon
Show you're true blue with this delightful concoction that tastes like summer in a glass. Good to note: it's not as potent as others on this list, so you can drink more of them.
Ingredients: 1 oz vodka, 1/2 oz blue curacao, lemonade
Best served in: highball glass
Frozen Strawberry Margarita
Cool down with this classic frozen version of everyone's favorite warm weather drink. Just proceed with caution – these are sweet, but they're also powerful. Pro tip: make sure your blender is functioning before or you'll see some disappointed faces.
Ingredients: ¼ cup sliced fresh strawberries, 1 ½ cups tequila, 1 oz lime juice, ½ oz triple sec, 1 tsp white sugar, 1 cup ice cubes
Best served in: margarita glass
Beer Punch
What's a party without a bowl of punch? Easy to throw together and super tasty, salute your country's love of beer with this spin on a party punch.
Ingredients: 12 oz Sprite, 2 ½ cups pineapple juice, 6 bottles/cans of your favorite beer, 2-3 splashes of cranberry juice (throw in slices of lemons, limes and oranges for garnish)
Best served in: punch bowl, cups
Lemon Shandy
[Semi-true] fact: everyone likes a shandy. And this one will have people singing your praises for the rest of the summer.
Ingredients: ¼ cup lemonade, 1 cup pale ale, sprig of mint for garnish
Best served in: beer glass
Cherry Sangria
Give a nod to Washington with this sweet take on Sangria. You should probably double this Cherry Sangria recipe – it's so yummy that it's sure to disappear fast.
Ingredients: 750 ml Moscato wine, ⅓ cup amaretto liqueur, 1 (12 oz) bag frozen cherries, club soda (2-3 splashes per individual cup)
Best served in: mason jar
From all of us here at the BOTY – have a happy, fun, and safe Independence Day!
Want to connect with people at your bar in a whole new way? Download the BOTY on iTunes or Google Play for free!