A successful bar can be a local place to hang out or an expensive craft cocktail bar.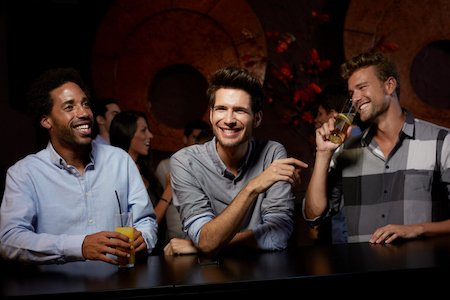 Here are the top things that make for a successful bar no matter who their audience is or the type of bar it is.
The Concept
To be successful, a bar needs to have a clear identity. From the decor to the types of drinks it serves, everything is carefully selected to remain on theme. 
Promotions 
People love special events and discounts. The most successful bars make sure to host new promotional campaigns all the time to keep people coming back for more. From advertising on different platforms, including social media and radio, to flyers and signs. The best bars know that promotions make things much more interesting. 
Dedicated Staff
From the bartenders to the wait staff, top bars make sure that they always deliver competent customer service. This includes making sure that bartenders and kitchen staff have in-depth knowledge about and expertise in making the foods and drinks that they sell.
They also take pride in delivering great service. Incompetent or lazy workers won't last a day in a successful bar. Because the owners truly understand how important the staff is to their business. 
The Crowd
Awesome bars attract awesome people. No matter what night you go to a successful bar, you already know that you'll have a good time. 
A Great Atmosphere
Successful bars always deliver a great atmosphere. Whether it is by choosing the right lighting or making sure that there is plenty of comfortable seating. These bars know what their customers want and deliver it. 
Location
Location is key in real estate and it also makes all of the difference when it comes to successful bars. The bar is easy to find and may even be located in a place that makes it easily accessible to impromptu visitors.
Keeps Up With Changing Times
While most bars aren't in competition to become the trendiest spots around, successful bars typically make an effort to keep up with changing times. Whether it's done by adjusting the decor or by changing the drink menu, successful bars know when it's time to do something new. 
Merch
The most successful bars often have branded products that they either giveaway or sell in order to make the bar experience memorable. These items help to bring back returning patrons and attract new ones. They are even used to help the bar go viral on social media, which also attracts even more patrons. 
No matter what type of bar you go to, you know that there's something special about a place when you go there. It also shows that success isn't simply luck when it comes to creating a great bar.
Want to connect with people at your bar in a whole new way? Download the BOTY on iTunes or Google Play for free!