Tonight you're feeling adventurous so you're going to check out a bar you've never been to. As you approach the door, you start getting some weird vibes. Is this a college bar?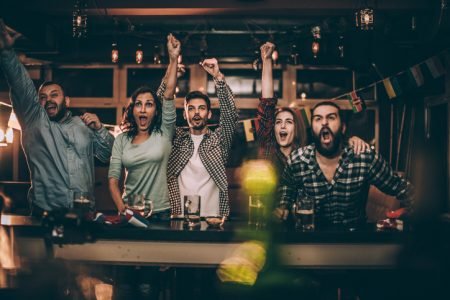 While we all love to reminisce about our college days, all of your drunken escapades have probably made you forget what a college bar is really like. If you're not sure what you're in for before it's too late, here are 5 dead giveaways that you're at a college bar.

1. Happy Hour Specials for Amateurs
The list of drinks on the happy hour specials (along with the lack of fancy glassware) is almost a dead giveaway that you're at a college bar. Let's face it: college kids aren't the most sophisticated drinkers so to them any drink that gets them wasted is more than good enough. Rum and Coke, Screwdriver, Jungle Juice, Fireball, and Jäger bombs are pretty much par for the course. But if you can stomach well drinks, what's not to love about getting your drink on for $5?
2. Bros on Bros on Bros
If there are groups of rowdy Bros slamming down shot glasses on the bar and they're already shit-faced even though it's only 6 pm, it's almost guaranteed that you're at a college bar. And if you're still not sure, just check to see if they're drinking Tequila. If the answer is 'yes' and you're not ready to bounce yet, here's a pro tip. Make sure to leave enough room for them to do their thing because they take any "oohhhh shit…" song, like LMFAO's 'Shots', literally.
3. It's Going Down While You're In Line
Another thing that Bros are well-known for is fighting at the bar. So if you see people getting thrown out for being too drunk as you're going in, that's a good sign that you're in for a night at a college bar. Another telltale sign is that the bouncer is eyeing people's IDs with the flashlight way too hard as you watch them squirm in line hoping that their fakes are good enough to get them in.
4. Awkward PDA
There's PDA and then there's the "OMG, do you guys realize that you're in public?" If you see couples doing way too much right in the middle of the bar, you're probably in a bar packed with horny college students. Unfortunately, after some people have had enough $5 drinks, virtually anything goes.
5. You're the Creepy Older Guy or Gal
If you're older than almost everyone in the bar, even by just a few years, there's a good chance that you're actually the creepy oldie and everyone's wondering why you're there. Scope out the crowd. Does everyone seem to be the same age except for you? Don't feel ashamed now. Just accept the fact that you're at a college bar! 
Want to connect with people at your bar in a whole new way? Download the BOTY on iTunes or Google Play for free!