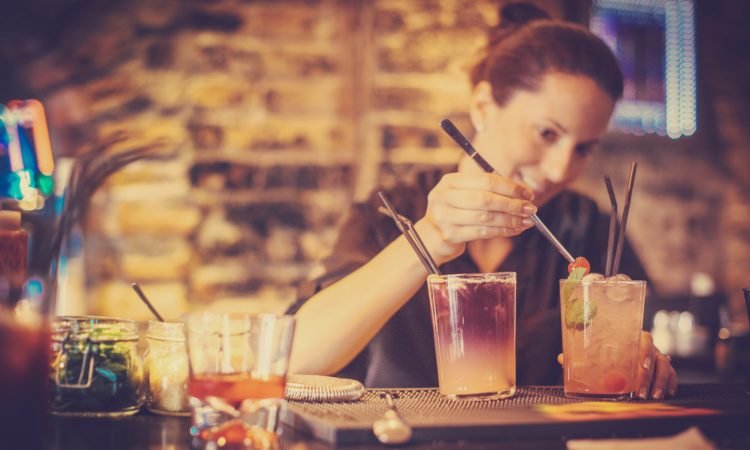 You probably have heard the terms bartender and mixologist. However, you most likely didn't know there is a difference between the two. Often times this difference may seem vague, however the biggest distinction between the two is education.
Mixologists take more online and college courses than a bartender. In fact, some bartenders have no formal education at all. Other than that, there is a fine line between the two. If person works in an upscale establishment or restaurant they are mostly like a mixologist and have a higher pay scale. However, some mixologists who work in smaller venues or restaurants may have the same pay scale as the average bartender. So what makes a good mixologist?
I once heard that mixology was a culinary approach to mixing drinks. With that being said, a truly great mixologist is often times not the social butterfly that a bartender can be. Instead they are the masters of artistically appealing and delectable drinks.
Learn Everything You Can About Mixing Drinks
A bartender or bartender chef can mix great drinks and create a pleasant atmosphere for their customers. A mixologist is in the corner somewhere making a masterpiece. Both bartenders and mixologists mix drinks but a mixologists turns it into an art. Both are needed to make the bar run smoothly and bring in customers. Yet a mixologist needs to know everything they possibly can about mixing drinks.You aren't there to tap the keg. The ability to mix a great drink is a combination between science and art. The proper education really is the key to becoming a good mixologist.
Here are a couple links to websites that will show you bartending and mixology schools across the United States:
Also, check out books like: 'The Modern Mixologist: Contemporary Classic Cocktails' by: Tony Abou-Ganim, Mary Elizabeth Faulkner, Mario Batali. The more you learn, the better your career will be.
Practice, Practice and Practice Again
This sounds redundant however, the only way to get better at anything is repetition. Practice at home with friends and family and look for feedback. Try mixing new drinks as often as possible. Practicing will allow you to know how well you are doing. If you are having trouble with certain drinks or bar methods check out websites that offer tips to aspiring mixologists.
The website 'Try Cocktail' (http://trycocktail.com/tips-tricks/) has easy tips and tricks for beginners.
Be Creative and Different
Any good bartender can make a good bloody mary, but it takes creativity to make a masterful meal out of a bloody mary, especially one that is different and unique. Try mixing new drinks every now and again. Your place of employment may have a set way to make drinks, however some establishments welcome creativity and new designs to drinks. Don't be afraid to think outside of the box. Learn culinary skills for great garnishes and how to create a great dessert drink. If you can mix creatively and produce fun drinks that people love you will open up the door to great career possibilities.
Test Your New Drinks Before Serving Them To Customers
This is a no brainer. Don't mix a new concoction and serve it without ever trying it yourself. The last thing you want to do is serve a bad mix drink to anyone. Also, some establishments and bars have a select set of drinks that you are approved to make. Before selling any new type of drink be sure to get an okay from management. Getting approval first will make you job a whole lot less stressful.
A good mixologist has style and class. They are well educated in the art of mixing drinks and have achieved these skills through practice and knowledge. A leading mixologist will be creative, as well. Take the time to really know how to mix a good cocktail. You will definitely boost your employment opportunities if you master these skills.
Want to connect with people at your bar in a whole new way? Download the BOTY on iTunes or Google Play for free!