I'm sure we've all been in those situations where we've seen unruly behavior at a bar. And you watch the bartenders suffer through it all. If you are a newbie and not sure of the proper conduct to follow. Here are 5 things that you don't ever do at the bar.
.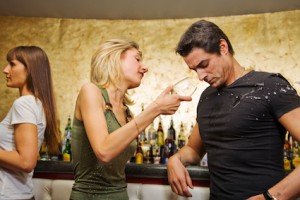 Beg for Drinks at Closing Time
There's a reason why it's called closing time. That means that the bar is done for the night.  While you are leaving the bar at 3am, the bartenders and other staff have to stick around for an hour or so. They are left cleaning up and stocking the supplies for the next day. So don't be that unruly person who begs for more drinks when it's time to go.
Make a Mess
Don't be the person that rips up coasters and labels and leave scraps all over the floor. This is just extra trash the bartenders have to clean up at the end of the night. Be respectful of the bar and remember that it is a work establishment, not your living room.
Throw Money
Don't be the person tossing money or your ID on the bar.  Making it rain may work at the strip club, but not at the bar.  If the bartender has their hand out to accept your money or ID, do not be a jerk and throw them onto the bar. For one it is very rude and disrespectful to the bartender. And two you will probably have to wait a very long time for your drinks to arrive.
Make your Drinks Stronger
Listen, do not tell your bartender that your drinks are not strong enough. Mixing drinks is all about ratios and if your drink is not up to your standards, it probably means that the bar has pre-specific liquor amounts to use on a particular drink. If you find that you would like your drink stronger ask for a 'double' which means you will have to pay extra for it.
Use your Glass as a Trash Can
Please do not put your trash in your glass. I know some people who do this thinking it will make things easier for the bartender to clean up. But it actually makes it more difficult. Someone has to take the time and effort to scrap your old food and napkins/coasters/paper out of the glass. So please just remember that the next time you try to help, you're making it worse.
You have to remember that a bar is a place of work not your living room and that the staff are employees not your servants. Treat the bartenders with the respect they deserve, be kind and courteous, don't become too intoxicated, and know what it is you want to order. If you are new to the bar scene, just remember these few things of what not to do and you should be able to have an enjoyable night.
Want to connect with people at your bar in a whole new way? Download the BOTY on iTunes or Google Play for free!